This Leonardo DiCaprio meme is a great way to celebrate pointing out the obvious.
As actors go Leonardo DiCaprio is an A-lister among A-listers and after appearing in countless films his face is well-known to almost everyone with an optic nerve. With that sort of output it's no surprise that his image has generated more than a few memes, the most recent of which is simply an image of the actor…pointing at stuff.
The frame is taken from a scene in Quentin Tarantino's Once Upon A Time In Hollywood and people are using it to illustrate their enthusiasm for pointing out both things that please them and things that are very obvious or redundant.
Here are some of the best Leonardo DiCaprio pointing memes we had time to find.
1.
when someone says the title of the movie in the movie pic.twitter.com/8iqOQkjttF

— Mike Scollins (@mikescollins) April 5, 2020
2.
When batman begins begins pic.twitter.com/8SG6QeLvR3

— 🅱️radley (@BradleyWalsh0) April 6, 2020
3.
when the face comes off in FACE OFF pic.twitter.com/jfxvccHKa3

— kambole (@kambolecampbell) April 5, 2020
4.
when the Women are Little pic.twitter.com/GmYUl0daJN

— caitie delaney (@caitiedelaney) April 5, 2020
5.
When Harold and Kumar go to White Castle pic.twitter.com/xeGRg25EEx

— giacomo andersæn (@Jac0bAnd3rs0n) April 5, 2020
6.
when they call each other by each other's names in call me by your name pic.twitter.com/6D6vTMV8K7

— Harrison Renshaw (@RenshawHS) April 6, 2020
7.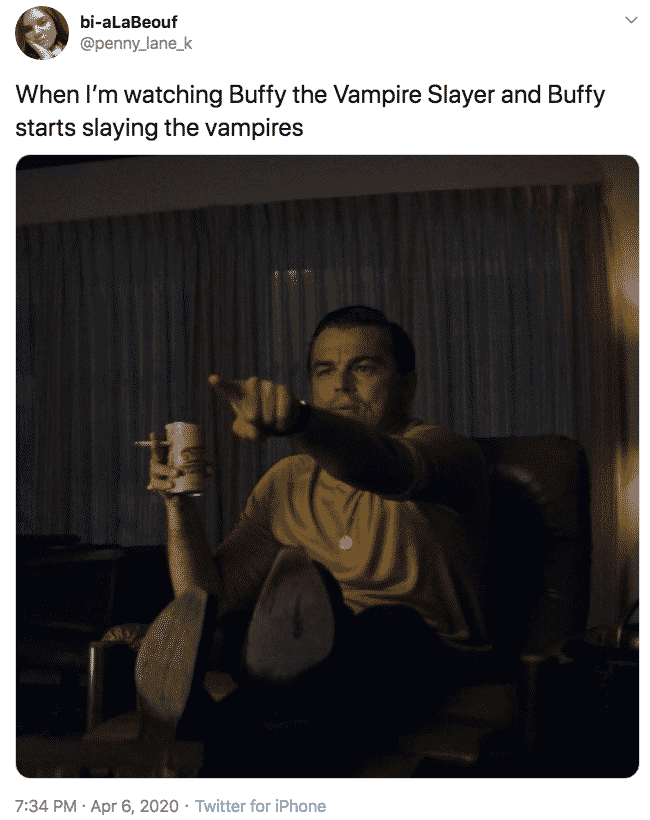 8.
When you rewatch infinity war and doctor strange says "we're in the endgame now" pic.twitter.com/I9qETVu8PR

— ayse🤠 (@floofyseb) April 6, 2020
9.
Me throughout watching The invisible man pic.twitter.com/BaCy7VfUdo

— Kee🗽 (@Kee_Bully19) March 1, 2020
10.
Me when I see a Cheesecake at The Cheesecake Factory! pic.twitter.com/VqZ99aD20t

— Americana at Brand Memes (@americanamemes) April 5, 2020