Maisie Williams has played Arya Stark on Game of Thrones since 2011, but she had her first (and possibly last?) sex scene on Sunday night's episode, "A Knight of the Seven Kingdoms," which aired less than a week after the actor turned 22. It was also the 69th episode of the show, so, you know, nice.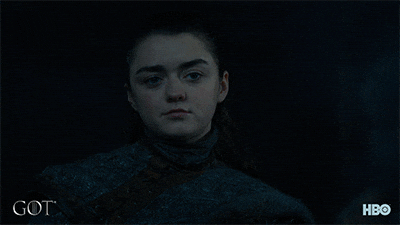 In a sexual encounter that was thankfully somehow neither incest nor rape, Arya lost her virginity to blacksmith Gendry, who is actually the bastard son of King Robert Baratheon.
And people on Twitter lost their damn minds. Some people were totally here for it, but others couldn't help but still think of Arya as a little girl.
me watching Arya and Gendry knowing Maisie Williams is 22 but in my head she's still 12 #GameOfThrones pic.twitter.com/JO3UCyP5Gt

— allison (@allie_jay13) April 22, 2019
Sophie Turner, who plays Arya's sister Sansa on the show, posted a hilarious Instagram saying that since it was Easter, the writers wanted to have Gendry "hop hop hopping into that pussaaaaay."
But the funniest response came from Williams herself, who on Tuesday tweeted, "if u feel uncomfortable just know that my mother and my step dad and my 2 sisters and my 4 brothers have all probably watched this too ahahakillmeehehe."
if u feel uncomfortable just know that my mother and my step dad and my 2 sisters and my 4 brothers have all probably watched this too ahahakillmeehehe

— Maisie Williams (@Maisie_Williams) April 23, 2019
Speaking to Entertainment Weekly, Williams explained that she initially thought the scene in the script was a joke because that's happened on the show before. "At first, I thought it was a prank. I was like, 'Yo, good one.' And [the showrunners were] like, 'No, we haven't done that this year.' Oh f—k!"
Of the scene itself, she recounted:
In the beginning, everyone was really respectful. No one wants to make you feel uncomfortable which kind of makes you feel more uncomfortable, because no one wants to look at anything that they shouldn't look at, which in turn makes you feel like you look awful because everyone is kind of like— [Williams averts her eyes]. You want people to act more normal.
It was also a little awkward for Joe Dempsie, the actor who plays Gendry, who's 9 years older than Williams. He told EW:
"It's obviously slightly strange for me because I've known Maisie since she was 11, 12 years old. At the same time, I don't want to be patronizing toward Maisie — she's a 20-year-old woman. So we just had a lot of fun with it.
Williams told EW she was happy she'd gotten to do the scene, because it gives Arya an element of relatability that the audience doesn't usually see.
It was really interesting because it's a very human relationship for Arya. This is something she's stayed away from, an emotion we've never really seen her engage with. David and Dan [the writers] were like, 'It's the end of the world, what else would you have her do?' This may be is a moment where Arya accepts death tomorrow, which she never does — 'Not Today.' So it was that moment where she says, 'We're probably going to die tomorrow, I want to know what this feels like before that happens.' It'sinteresting to see Arya be a bit more human, speak more normally about things people are scared of.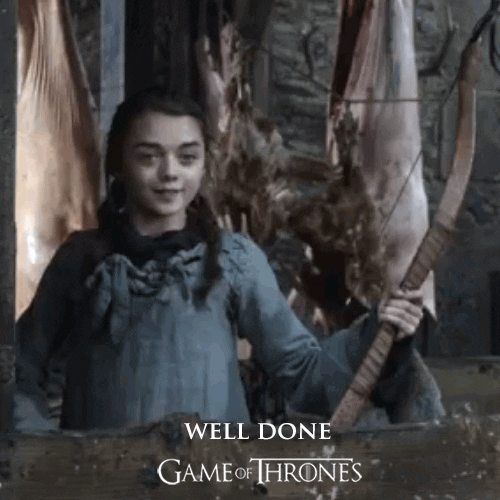 h/t: Entertainment Weekly