Remember when you were in school and you had homework? That was pretty much the bane of every school-age kid's existence. Why did we have to do homework, when we already spent so much time doing schoolwork in school? It wasn't fair, I was certain of that then and I'm certain of it now. And I never fail to be grateful for the fact that as an adult, I don't have homework anymore. I do have actual work, but for that I get paid. I also don't have to write any last-minute papers or cram for exams. Nope, I do not miss school at all.
So when one student was asked by his teacher to write an essay explaining why he didn't do a homework assignment, his honest response was so relatable that the internet couldn't help but love it. His essay went viral in a tweet sent out by his cousin, @_Lyddz.
Her tweet read, "So my cousin and his wife got an email from their sons teacher. He didn't do his hw so she asked him to write a paper saying why he didn't do his hw and this is what she got…"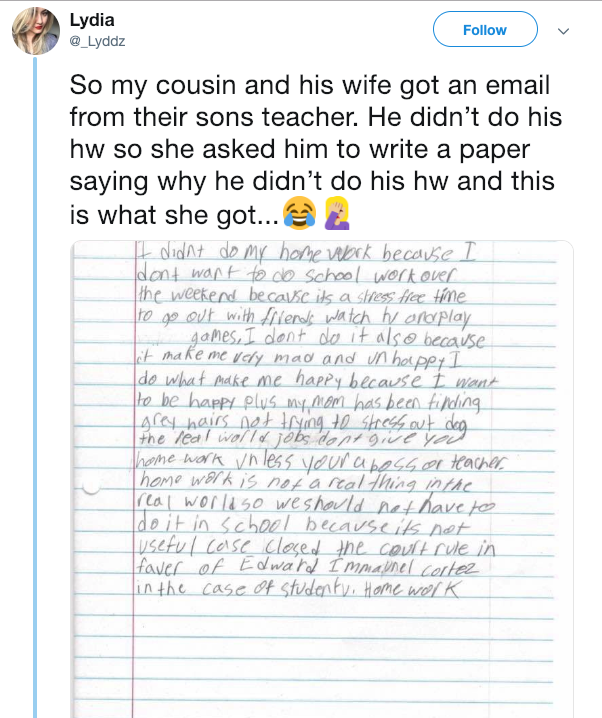 The essay, which was evidently written by a boy named Eddie Cortez, reads,
"I didn't do my homework because I don't want to do school work over the weekend because its a stress free time to go out with friends, watch tv and pay games. I dont do it also because it make me very mad and unhappy I do what make me happy because I want to be happy plus my mom has been finding grey hairs not trying to stress out dog the real world jobs don't give you homework unless your a boss or teacher. homework is not a real thing in the real world so we should not have to do it in school because its not useful case closed the court rule in favor of Edward Immanuel Cortez in the case of student v. Homework."
He really presents an airtight case. And people on social media definitely agreed.
😂😂 why couldn't I be this smart that young??

— Lydia (@_Lyddz) February 14, 2019
If I was the teacher I wouldn't even know what to say, shit….if that was my son I wouldn't know what to say😂 THE KID AINT WRONG!!

— LINDSEY (@MiSSLiNDZO) February 14, 2019
— Lydia (@_Lyddz) February 14, 2019
"Plus my mom been finding grey hairs not trying to stress out dog" 😂

— 💕Chuuuchiii (@Chuuuch_) February 14, 2019
His teacher reading that while reevaluating her own life: pic.twitter.com/1c8eVdYO7f

— ✨🌺 A. (@AnthaHK) February 14, 2019
I mean the points he made were 100% valid….I do what makes me happy

— IG: NikkiSchwayze (@Parris_noHILTON) February 14, 2019
Facts 👏🏾👏🏾👏🏾👏🏾🙌🏾🙌🏾🙌🏾🙌🏾😂😂😂😂😂

— Nicole Brooks (@GemInINikki6) February 15, 2019
Other people pointed out that his presentation makes it sound like he might do some lawyering in his future.
He about to grow up and be a lawyer

— Lex Senpai (@GalanJustin) February 14, 2019
A lawyer with zero homework 😂

— Lydia (@_Lyddz) February 14, 2019
I think you become a lawyer because you LIKE homework lol

— Kevin Smith (@SharnDM) February 14, 2019
One of the better descriptions of being a lawyer is that we do homework for a living.

— Marc Whipple – Legal Inspiration! (@legalinspire) February 14, 2019
Lawyers probably have the most homework than anyone

— 🎙🎞🌵🐾Trissi Batts🎓🌱📓🏞👩🏽‍💻 (@modestlyratchet) February 14, 2019
Well all that is gonna change with this kid…

— an embarrassment on main 👻🐀 (@LigOFE) February 14, 2019
This kid is going to do big things. Or not. Definitely one or the other.
h/t: @_Lyddz