A wedding is often the biggest and most expensive day in a couple's shared life. It requires loads of reservations, deposits, and traveling relatives. Most affianced people hire an entire extra person to organize the day, it's so complicated, and their job is to make sure the whole thing goes off without a hitch. Imagine pouring all this money, time and energy into your wedding, and then just as you're about to walk down the aisle…the lights go out. That's exactly what happened when NYC's blackout interrupted Amy Rosenthal and Craig Silverstein wedding on Saturday.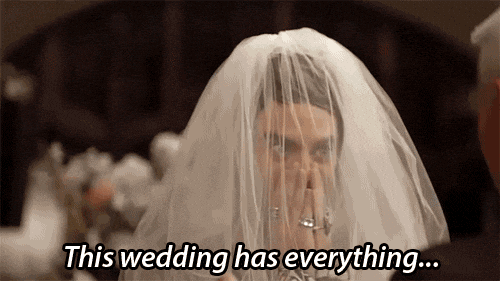 Amy Rosenthal and Craig Silverstein were set to get married at the Plaza Hotel, when a Con Edison malfunction cut out electricity from 72nd Street to the West 40s. Broadway basically went as dark as it gets, thousands of people were trapped on the subway, and Craig and Amy's wedding was looking like it was about to be canceled. But they prevailed!
The New York Times reports that the Rosenthal-Silverstein crew decided the show must go on. Everyone got out their phones and shone a light on the bride and groom.
"A lot of people thought it was on purpose," said the bride's brother, Justin Rosenthal, "like some kind of mood-lighting situation."
For the reception, the band played all their instruments that didn't depend on power—so there were no epic electric guitar solos as we have all come to expect at weddings. Instead, they played the saxophone, trumpet, and violin, and stuck to classics that the guests could sing along with, since there weren't any microphones.
The guests were astounded by how everyone stepped up to make what could have been a disaster into an incredibly memorable and beautiful evening:
That's my friends and yes the wedding definitely did not go as planned but WOW did people step up and make it incredible. Beautiful bride and groom, amazing flowers, entire wedding singing to help the band since they no mics, and they danced the night away!

— Irene Shulman Palmeri (@IraShul) July 14, 2019
When your friends' wedding gets hit by a blackout and everyone rallies to make it epic… https://t.co/XMd9qnF84n

— Geoff (@gfgeorge3) July 14, 2019
Yay Amy & Craig!!! Truly the best wedding ever! That's how you make lemonade out of lemons 🙂

— Jenna Autuori (@FITNESSjenna) July 14, 2019
Apparently, Amy and Craig weren't the only people dealing with a blackout on their wedding night. New York City is a hot spot for romance:
Got a couple engaged in my carriage, and one married and on their way to the reception in my carriage during the #BlackoutNYC2019. Congratulations to another happy couple who made the best of it! #CarriageOn https://t.co/hUGHBml1cU

— Christina Hansen (@CarriageCavalry) July 14, 2019
Love prevails, even in the dark. And hopefully they'll also get some of their money back on the catering.