In case you haven't been online today and you live under a rock and don't check social media, there's been a lot of tea spilled over the last 24 hours in the Kardashian/Jenner world. According to multiple reports and outlets, Khloé Kardashian and Tristan Thompson have broken up—again—over a cheating scandal—again. However this time, things are very, very personal.
https://www.instagram.com/p/BfL9-g2lbWw/
TMZ reported on Tuesday that on Sunday night, Tristan Thompson threw a party, which Jordyn Woods was invited to. Jordyn Woods, of course, is Kylie Jenner's infamous BFF that goes everywhere and anywhere with Kylie. Reports indicated, however, that Tristan and Jordyn were getting pretty damn close with each other—she was sitting on his lap and the two were making out. Scandalous, right?
After the reports broke, Hollywood Unlocked CEO Jason Lee posted a video to the Hollywood Unlocked Instagram page, saying that one of his reporters was also at this party and saw everything go down. He went into details about what actually happened at the party—saying Jordyn stayed at Tristan's place until 7 A.M.
If that wasn't enough—Khloé herself, her best friend Malika, and family friend Larsa Pippen all responded to Lee's video—essentially, confirming what went down between Tristan and Jordyn.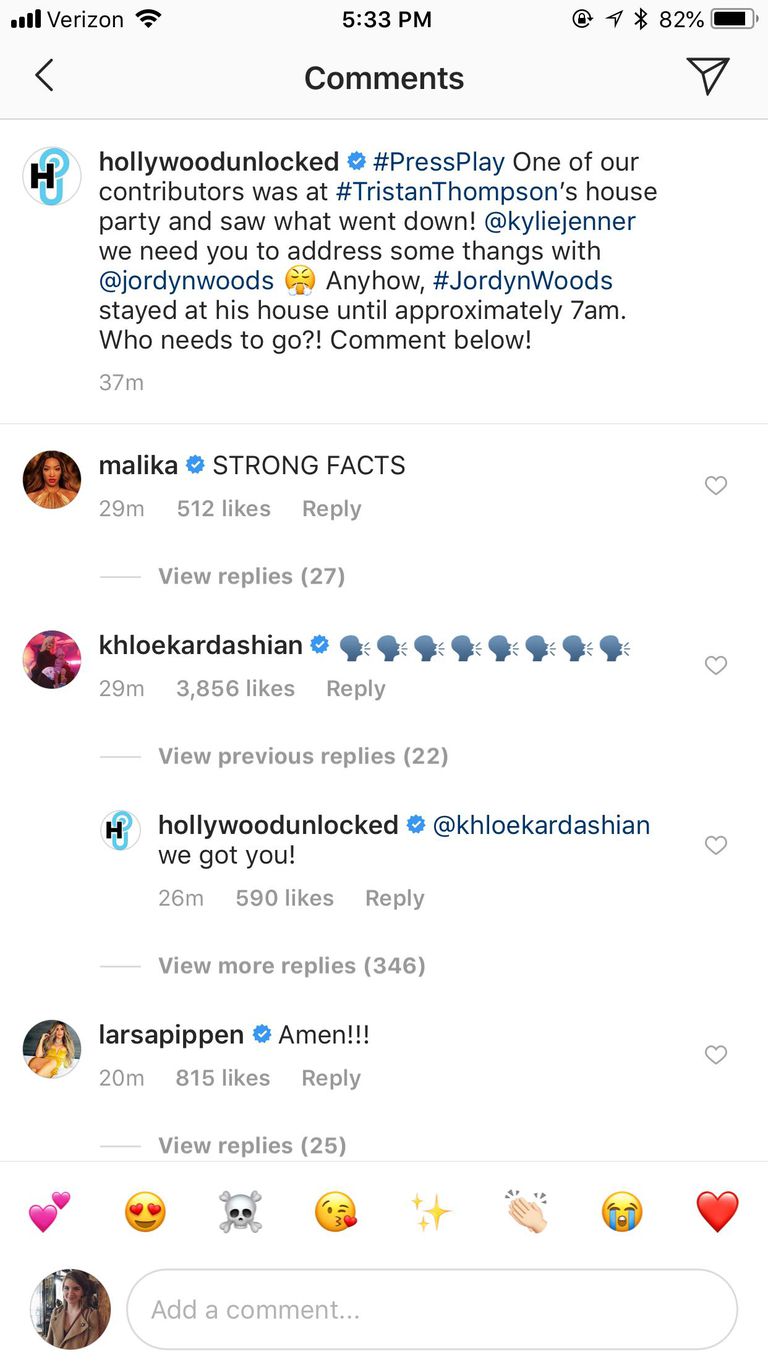 Obviously, this is some grimey, savage drama. The fact that someone so close with their family would do this to Khloé truly proves that you cannot trust anyone. And, people online immediately began coming for Kylie Jenner.
https://www.instagram.com/p/BsyNWv8nNBt/
https://www.instagram.com/p/BsEvFwcnqk6/
https://www.instagram.com/p/Br9pHPnHWVL/
If you follow Kylie, you'd know that she is constantly posting photos with Jordyn. The two are closer than close—they go on vacation together, they've gone into business together, they spend practically every day together. But, now, fans are telling Kylie it's time to let this friendship go.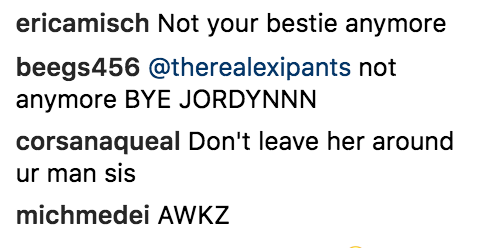 People on Twitter also decided to jump in with some requests.
Bitch Kylie has to beat Jordyn asssssssssa cause bitch you got me and my sister fucked up

— .michael.🌻🤞🏾 (@Honey_Bew_Child) February 19, 2019
Kylie better drop Jordyn.

— literal crickets (@cosmeticlovato) February 19, 2019
Stormi when Kylie kicks Jordyn out of her mansion pic.twitter.com/ApIeHSwumU

— Stormi Webster (@stormisnapchats) February 19, 2019
Kylie better beat Jordyns ass that's all I got to say

— breezy (@breeezyymariee) February 20, 2019
Poor Khloe .. and with Kylie best friend. That's too close to home. She been in ya crib and around your child. She better beat her ass 😂

— 💋 (@SexxyKeyy) February 19, 2019
So far, neither Jordyn nor Kylie has issued any statements on the situation. But, damn, this tea is going to be scorching hot.