There are many different ways to protest.
As Americans across the country have emerged from their months-long coronavirus quarantines they are throwing themselves into a growing social movement to protest against police brutality and the killing of George Floyd. Some do this with chants and signs, while some take more extreme measures. And while the overriding emotion of the protests is righteous anger and a forceful call for positive social change, some are using humor to needle, roast, and mercilessly troll the cops.
Now grab a doughnut and enjoy these acts of comedic resistance.
1. This invitation for honesty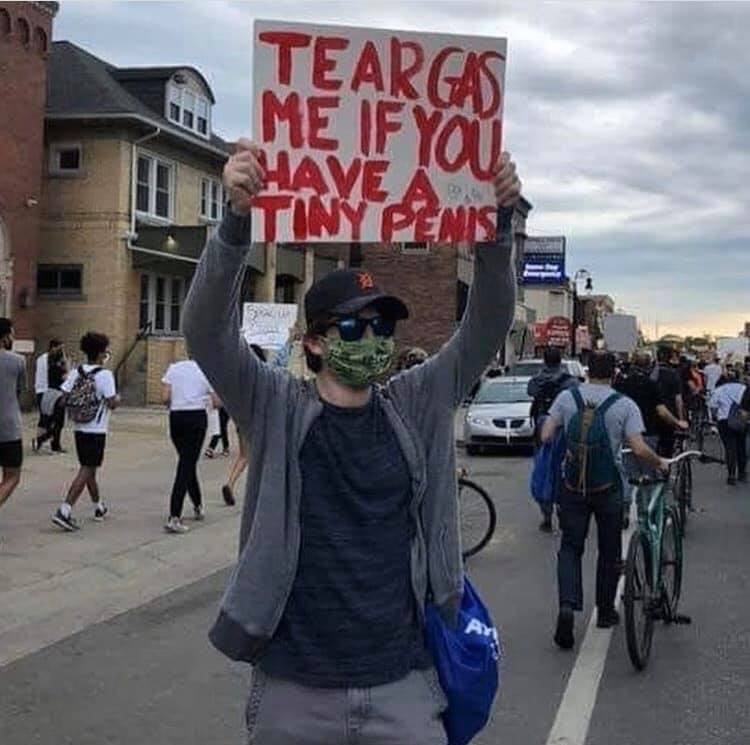 2. This "Imperial March"
Protesters in France trolling the cops with the Star Wars theme. pic.twitter.com/OlHLr4o4Sw

— Booklover Jim (@goodoldcatchy) June 6, 2020
3. This Kendall Jenner Pepsi ad callback
I can't believe someone actually did it. pic.twitter.com/GgNe3Ftbnr

— Bravo Lima Mike (@PeaDeeKay) June 4, 2020
4. This song of the summer
— kylee (@tomakeupwityou) May 31, 2020
5. This even doofier (and therefore better) "Imperial March"
This dude trolling the police with Star Wars – Imperial March is exactly the Twitter content I am here for today…pic.twitter.com/zh5R7zm70c

— Rex Chapman🏇🏼 (@RexChapman) June 5, 2020
6. These pearls before swine
UPDATE: it's swine feed https://t.co/xYVECuIxGw pic.twitter.com/HELkEEuzwk

— Zane Sparling (@PDXzane) June 7, 2020
7. This fishing expedition
that dude and these people (and all the others doing the fishing-for-cops thing with donuts, seen quite a few) are giving me life. world-class trolling as an art form! pic.twitter.com/TZQB7ECblq

— Caitlin Hardee (@Vnlasteamer) June 5, 2020
8. This beach day vibe
An ongoing thread of people laughing at or trolling cops. pic.twitter.com/KIVUBATzZ6

— Jeeyon Shim, dirt goblin 👹 (@jeeyonshim) June 7, 2020
9. This cop-free fruit stand at the Capitol Hill Autonomous Zone in Seattle
On one corner: a hot dog stand. Facing it: a "No Cop Co-op." Music behind me, chants in front. This is the Capitol Hill Autonomous Zone. #seattleprotests pic.twitter.com/F5yillqymV

— Casey Martin (@caseyworks) June 10, 2020
10. This fresh coat of paint on Trump's doorstep
DC Mayor Muriel Bowser had "BLACK LIVES MATTER" painted on 16th St. leading directly to the White House!

She wanted it to be "clear that this is DC's street" ahead of a huge protest planned for Saturday. #BlackLivesMatter pic.twitter.com/CjwVJGRT1R

— THE NEIGHBORHOOD TALK (@TNHTalk) June 5, 2020
— Planet (@planetlabs) June 5, 2020