As a teacher, I always learn a lot from my students.
(Mostly I learn things I definitely could have gone the rest of my life without knowing.)
One of the biggest lessons I get every day in the classroom is vocabulary. While I like to think of myself as a "young, relatable" teacher, there are tons of slang words that I have no idea about—even if I am only 26-years-old.
It seems that I'm not the only educator who thinks this way. Recently, Twitter user @mewtaliv2 shared photos of a running list their Professor keeps of new slang words he learns from their students.
https://twitter.com/mewtailv2/status/1123292185582084096
Some of these words—Iconic.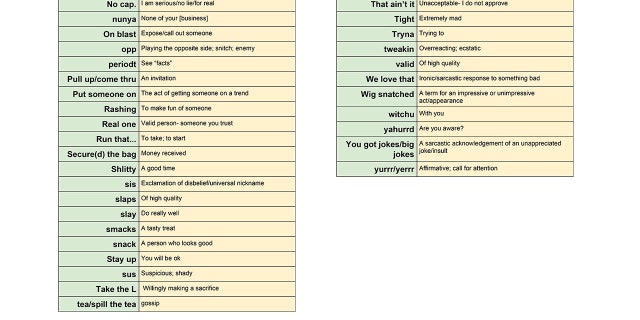 It's a complicated time pic.twitter.com/3OvG2zlZAI

— meh walsh (@gay_disco) May 1, 2019
Period, pull up, come thru—honestly, truly, iconic.
I high key appreciate this Professor's dedication to expanding his vernacular.
I'm dead, your sociology professor is high key a real one 🤣

— dummy (@globethrobbers) April 30, 2019
The fact he teaches sociology is what makes this special.

— 💨 (@BlvckCloud_) May 1, 2019
ACTUAL sociology

— Forceurvania (LONG LIVE CASTLEVANIA) (@Seovania) April 30, 2019
This entire list slaps.
The Twitter user ended up sharing the entire PDF list so we can see all of the epic words present. I truly am in awe.
I've never been more proud to work in the field of education than I am right now.
h/t: Twitter