Horror master Stephen King is known for his scary stories and lately, he's been super critical of Elon Musk's management of Twitter.
Side note: You probably know that Musk took over Twitter last month and, since then, things have been kind of insane, right?
He's laid off half of Twitter's workers, introduced a controversial new blue checkmark system, and recently gave an ultimatum to remaining employees: Do 'extremely hardcore' work or get out.
King has taken shots at Musk's management style in the past. Like this tweet from earlier this month.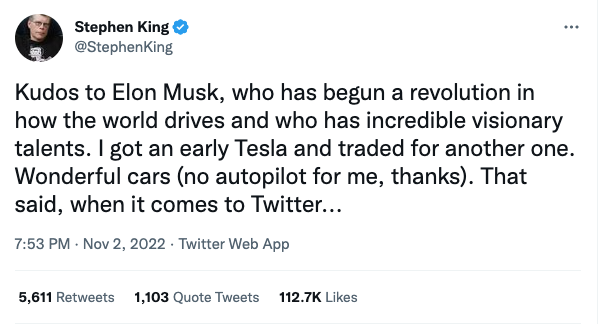 It seems like others agree. Since Musk took over Twitter, nearly one million users have deactivated their accounts.
That's according to the analysis firm Bot Sentinel which analyses more than 3.1 million accounts to track inauthentic behavior on Twitter.
Sentinel founder Christopher Bouzy told MIT Technology Review: "We have observed an uptick in people deactivating their accounts and also Twitter suspending accounts."
He said that they believe the uptick in departures "is a result of people upset with Elon Musk purchasing Twitter and deciding to deactivate their accounts in protest."
So lots of people don't like the new ownership. Especially Stephen King.
But he wasn't done. Recently, King dragged Musk again with another tweet.
This simple statement nonetheless ended up trending on Twitter. And of course, a lot of people had thoughts.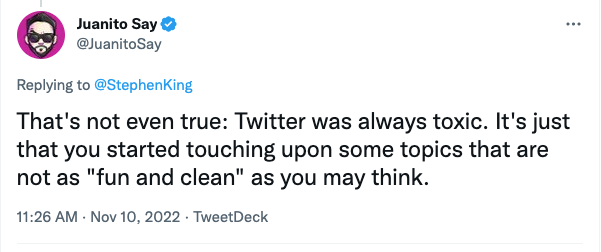 Others who paid $8 for their new checkmark seem to be enjoying the new regime though.


More power to them, we guess. But for lots of people, Twitter isn't what it used to be.
Interestingly, Musk has suggested that his time as CEO of Twitter may be short. In recent court testimony over his Tesla compensation, Musk said: "I expect to reduce my time at Twitter and find somebody else to run Twitter over time."
Which will be music to Stephen King's ears!
h/t: Uproxx