Most brides would frown on guests showing up to a wedding wearing white. Audrey Moore asked them to come in their old wedding dresses.
The actress felt that it was "sad that most women only get to wear their wedding dress once," according to a Reddit post written by her husband, producer/writer Jesse Lumen. "So we invited all the women coming to our nontraditional wedding to wear their old wedding dresses again."
On the day of the wedding, dozens of women showed up in their wedding gowns. "I'm the last of my friends to be married and I went to most of their weddings. They're all such beautiful women inside and out and I had heard so often that they were really sad they couldn't wear their wedding dress again," Moore told TODAY. "So then I decided I really wanted to be surrounded by a bunch of my beautiful princess brides and have a magical, fun day together."
All the women were worried about outshining Moore on her big day. She jumped on the Reddit thread to elaborate: "I knew I was wearing blue but kept it a secret from everyone except my dressmaker, and my hair and makeup artist. I'd been to almost all their weddings and knew they'd be in white. Plus I'm 5'10. In heels I was 6'1. I told them, "I DARE you to upstage me."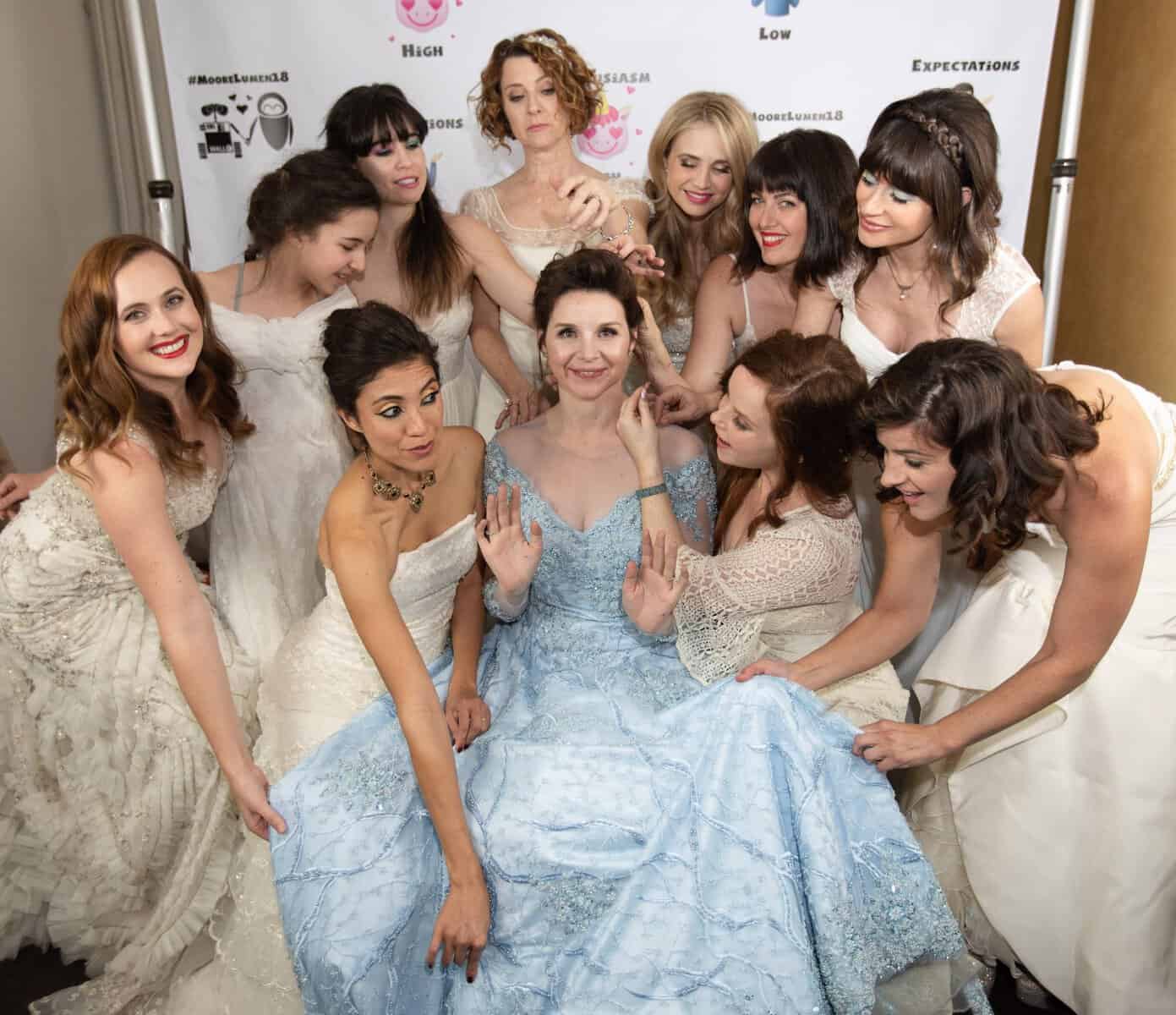 Those who had never been married were either asked to come dressed in character, or in "that one dress they only wore once."
"Some women borrowed wedding dresses from their mothers or other family members," Lumen wrote on Reddit. "If they didn't have a wedding dress or didn't want to wear one, we asked people to wear black and white or a costume!"
Moore herself donned a beautiful icy blue ("something blue") princess gown. Once she realized how closely it resembled Elsa's gown from Frozen, she decided to add the cape to really complete the Disney look.
The online response to the Moore-Lumen wedding has been nothing but positive.
"I told my seamstress I'm so excited to dress up as Elsa and Cinderella for every costume event till it turns to threads," Moore wrote on Reddit. "She was a bit horrified by the thought of her dress being worn to costume events but she's used to me by now."
h/t Today