Getting married is one of life's most precious milestones, but planning a wedding? Not so much. It's an exhaustive process that always goes over budget and requires delicate balancing of friends and family's idiosyncrasies. Brides are inherently given a certain amount of space to be their biggest diva self, but one bride is taking the term "bridezilla" all the way down the aisle. Or rather, an aisle in South America, as you'll see below.
This is the best thing I've ever read. pic.twitter.com/tLQ4HEmpYA

— 👁️⃤🌐👁️⃤ emily (@grumpstorm) August 25, 2018
A post has been going viral, purporting to be from a bride who called off the wedding, left the groom, and will go backpacking in South America.
In the bonkers screed, the bride went off on the "C—NTS" who have "ruined" her "marriage and life" — because they wouldn't pay $1500 a piece for the wedding.
Background info from Susan's cousin pic.twitter.com/v6xcJdk4kW

— 👁️⃤🌐👁️⃤ emily (@grumpstorm) August 25, 2018
That's right, this bride expected her guests to pony up $1500 (per person!) for the privilege of attending her wedding in Aruba.
She then went off the rails when the guests understandably didn't want to pay for the couple's extravagant $60,000 wedding.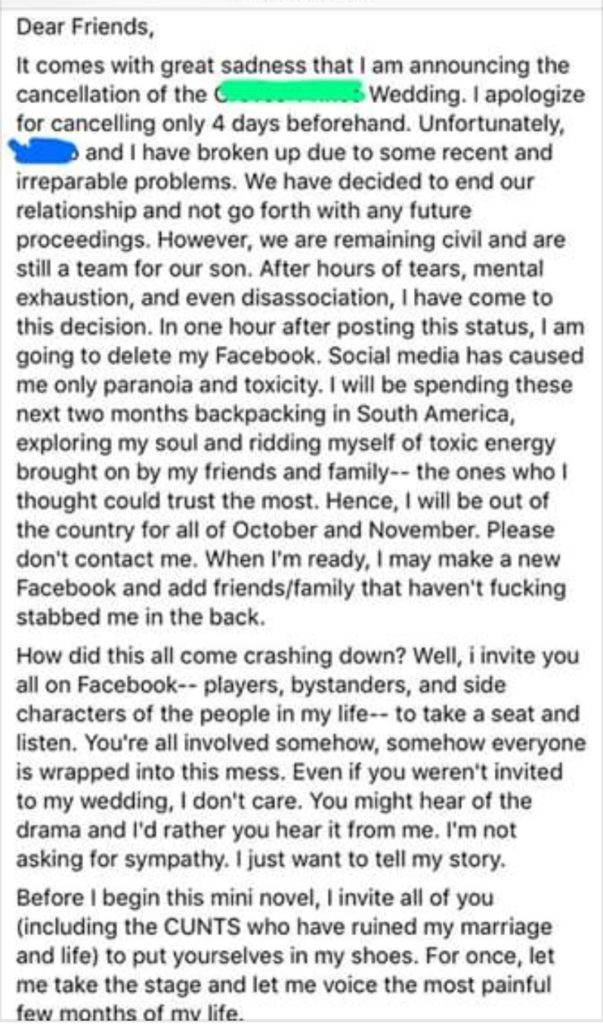 "I SPECIFICALLY, I mean SPECIFICALLY asked for cash gifts. How could we have OUR wedding that we dreamed of without proper funding? We sacrificed so much and only asked each guest for around $1,500…Like, we made it CLEAR. If you couldn't contribute, you weren't invited to our exclusive wedding," she wrote.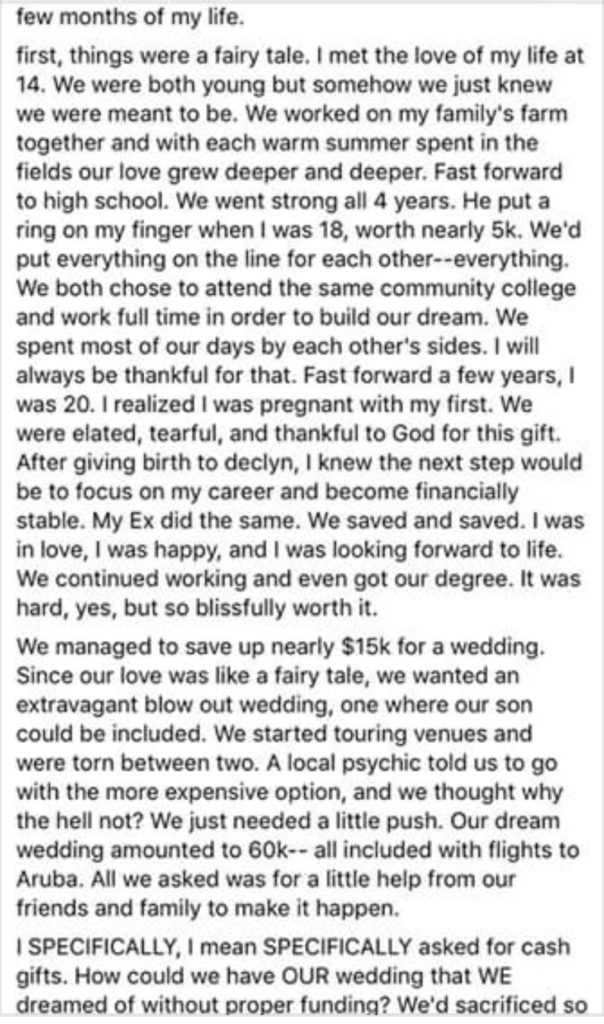 "I became unraveled. I realized my dream wedding was becoming a nightmare," wrote the bridezilla. "Then it got worse."
She went on to explain how her now-ex suggested the pair get eloped in Las Vegas to cut down on costs—a suggestion which caused OP to absolutely lose her mind. "He wanted [one of] those cheap, raggedy, filthy, whore like Vegas weddings. I mean WHAT the f—ck?? Was he out of his mind?"
The runaway bridezilla saved special ire for the maid of honor. The MOH's crime? Telling the bride that maybe she should have a wedding within a budget, without expecting others to foot the bill.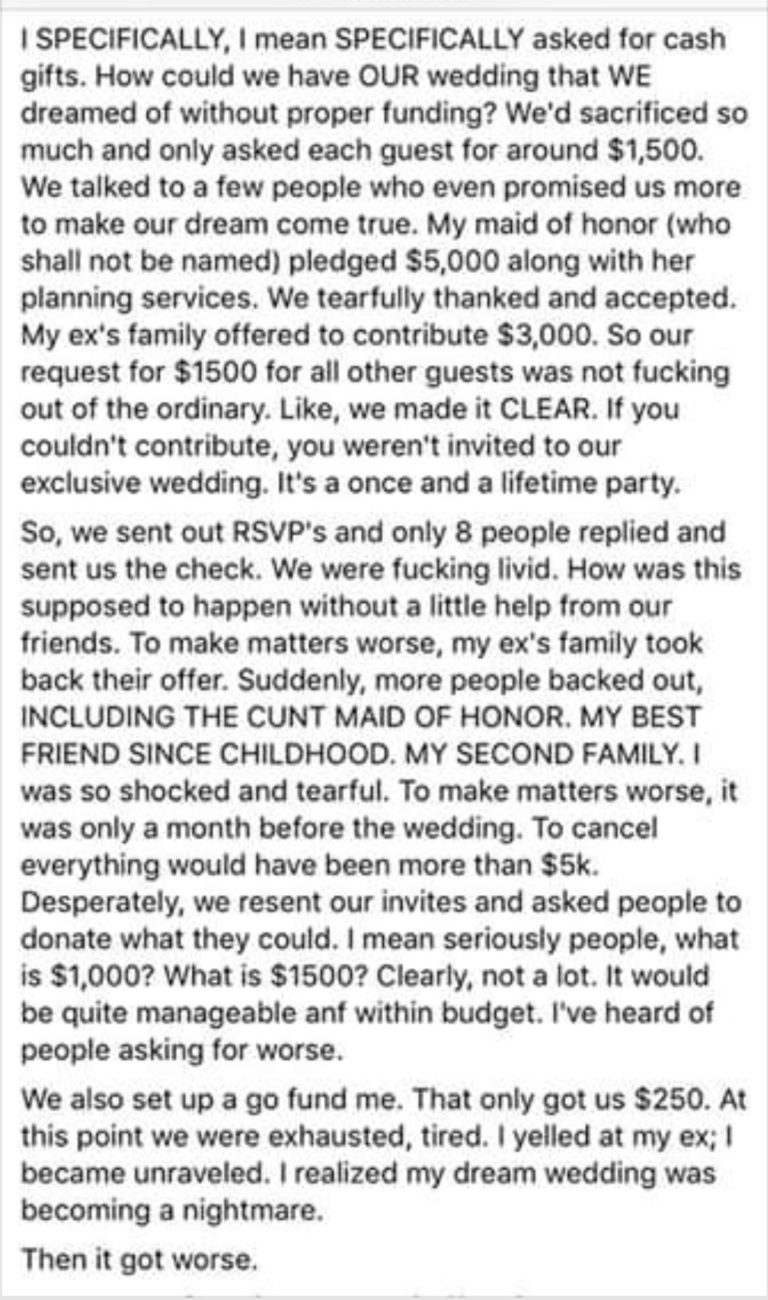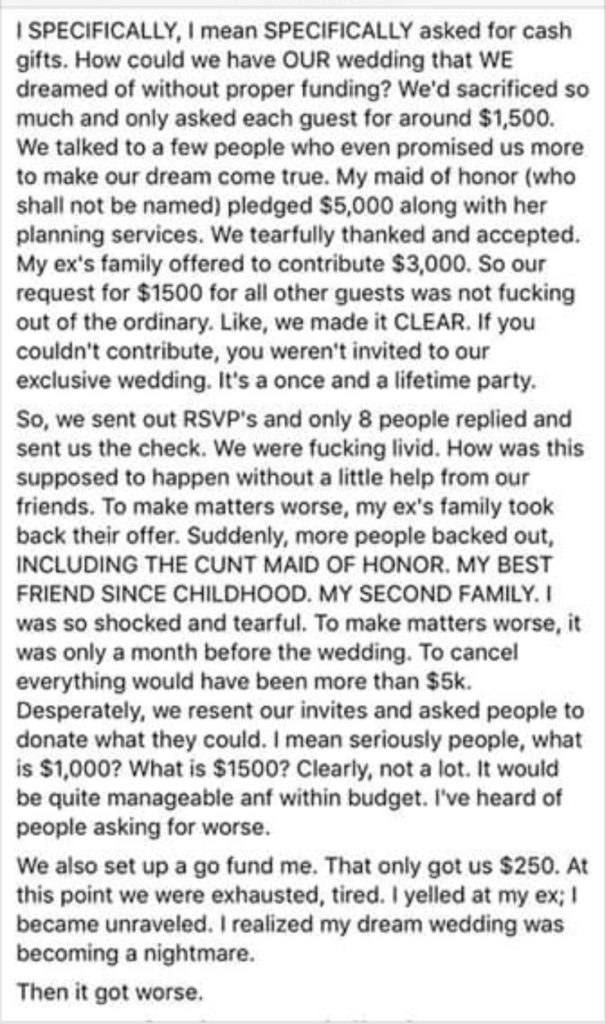 Desperate to raise the funds for her "blowout" wedding, the bride started a GoFundMe (which only netted them $250), resent invites, and lowered the asking price to $1,000. "I mean seriously people, " she wrote, "what is $1,000? What is $1,500? Clearly not a lot."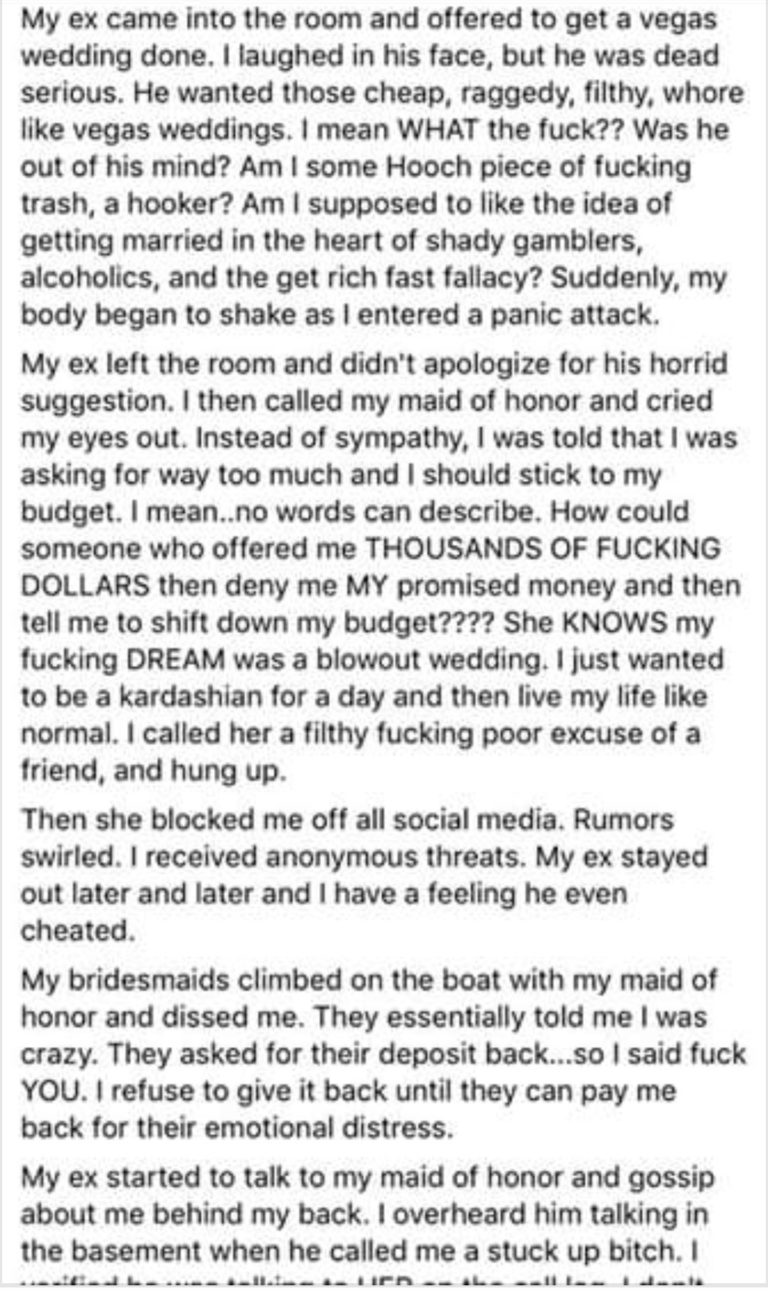 Obviously, the friends and family of the bride were appalled at her behavior, and began distancing themselves.
The MOH blocked her on social media, the bridesmaids "dissed" her, and she even suspected the groom of cheating on her.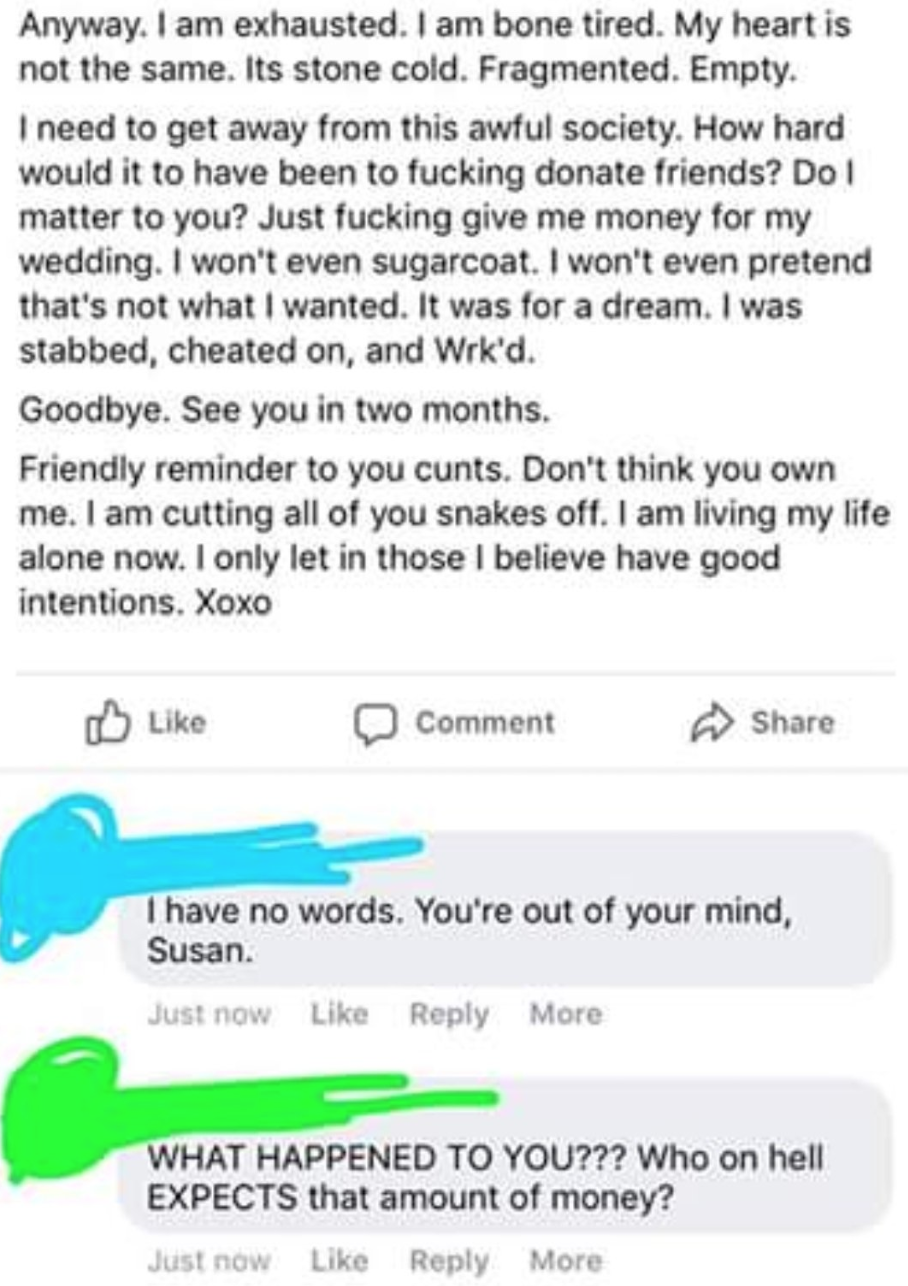 The plot thickened when a response, purporting to be the bride's cousin, popped up. In the post, the cousin writes that the bride has always been obsessed with a luxury lifestyle, and is "especially envious of the Kylie Jenner."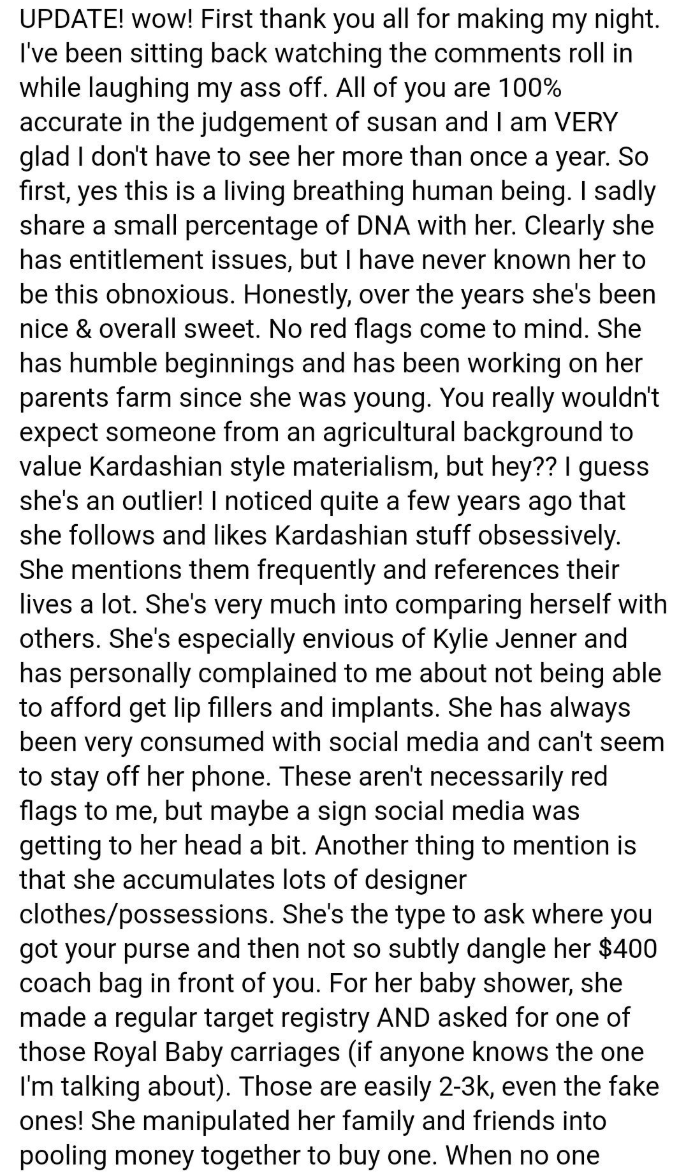 The post concludes that the bride won't make good on her threat to go to South America, because she has a child, and doesn't even speak another language.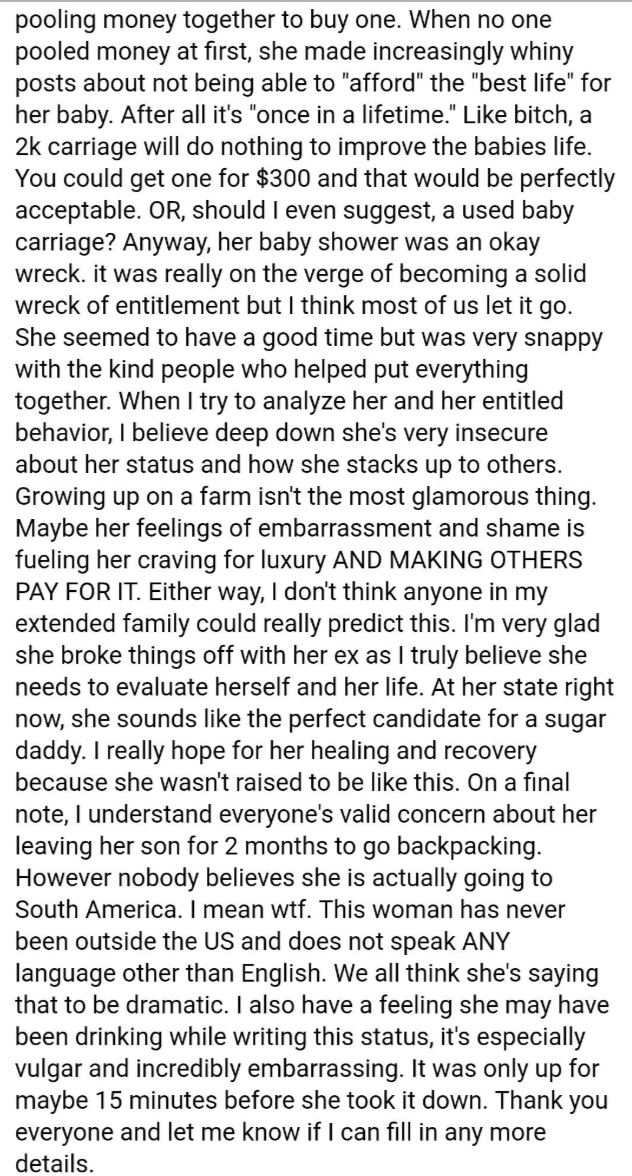 Social media predictably lost it, with many expressing shock at the bride's outrageous demands. Suddenly, bridal meltdowns over centerpiece designs don't seem so awful.
this woman would have murdered her husband within 2 weeks.

— tdtbaa (@tdtbaa) August 25, 2018
Team #CUNTMAIDOFHONOR

— You, Sir, (@BSTheTruth) August 25, 2018
if 1.5k is "nothing" to you, then you can easily afford to pay a 60k wedding by yourself… just saying

— Desert Stream~ (@JRPGoddess) August 26, 2018
I want to do theatre again just so I can audition with her post as my dramatic monologue

— Marla Caceres (@MarlaCaceres) August 26, 2018