Kanye West does not seem to be doing too great right now. After announcing he was running for president, and a series of public appearances, it seemed like he and his wife were expressing conflicting opinions on the state of his mental health. West has a lot of resources at his disposal. In fact he is a billionaire. So is Kim Kardashian, as he celebrated with a yet another strange tweet. There's no way to know how these private concerns are being handled, but one would hope with excellent care that a billion dollars can provide.
Basically, it's unclear where his head is at right now, but West is still posting on social media as normal, and seems to be going through all the motions of running his many empires. That includes fashion. On Sunday, he posted pictures of his new Yeezys, the YZY D Rose. They are….really something.
YZY D Rose coming soon pic.twitter.com/SqHdj4SUrg

— ye (@kanyewest) August 9, 2020
I'm not much of a fashionista myself, so maybe people who really follow the trends can see something there that I don't. But they look absolutely hideous, I think? Does that seem right to you?
For a minute I wondered if the D Rose Yeezys have some aerodynamic quality of other groundbreaking feature that makes them somehow perfect for running and walking. But then Derrick Rose's wife, Alaina Anderson, shared a video of herself wearing a pair, and it looks like she's about to fall down:
YZY x D Rose is DIFFERENT.
: https://t.co/zgvh37VZZ3 pic.twitter.com/KBiLk9SIrG

— Complex Sneakers (@ComplexSneakers) August 9, 2020
Maybe Kanye doesn't have to sell too many Yeezys to break even on production or it's just a vanity project for him. He just needs a few of his rich friends to buy a pair and post some shots of it to feel complete. Or maybe he thrives off negative attention, because these shoes sure got that.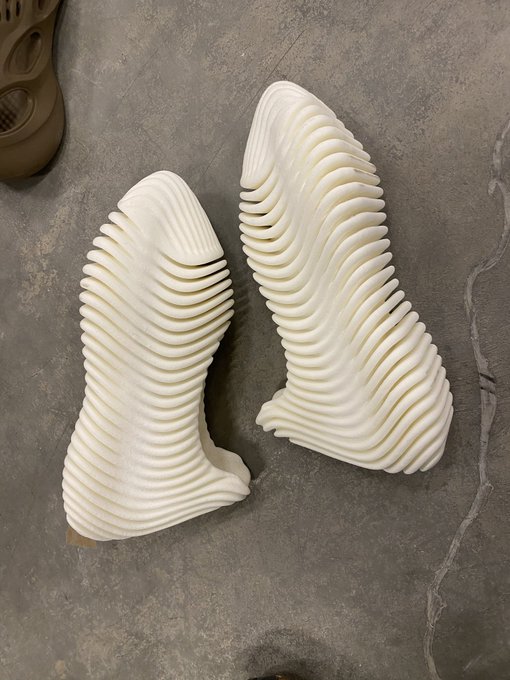 It's almost too way to make fun of these shoes, but I still laughed at everyone who compared them to a fish fillet. Look, maybe you can't afford a pair of these impractical and ugly shoes, but Kanye is still giving us all the gift of roasting the crap out of them:
1.
Looks like this veggie slicer pic.twitter.com/lSJNPI2QKj

— Lola (@okguuuurl) August 9, 2020
2.
Nice, I've always wanted to rock nice polo & jeans with tilapia skeleton https://t.co/2cNR2Nuamv

— Four-eyed Edo boy™ (@Alex_Houseof308) August 9, 2020
3.
bro selling fossils https://t.co/AbyIq2vbKW

— zendaya enthusiast (@nobitchniqqaz) August 9, 2020
4.
This shit vibrate? https://t.co/vc0VQ7hHCW

— TswanaManWithPower (@David_Gabaocoe) August 9, 2020
5.
I got mine already pic.twitter.com/6soZHJZ93N

— Mike Orozco (@CRISPYxDRIP) August 9, 2020
6.
— nick ✨ (@nickkvalladares) August 9, 2020
7.
Looks like he's about to dip them into soy pic.twitter.com/Sb9wv96Ykz

— Carls (@russian_doll25) August 9, 2020
8.
these are tilapia filets https://t.co/gYXWbBRemC

— JP (@jpbrammer) August 9, 2020
9.
That's actually a rare pasta noodle called Bigatoni

— DeVancouver (@Devancouver) August 9, 2020
10.
YZY x D Rose is DIFFERENT.
: https://t.co/zgvh37VZZ3 pic.twitter.com/KBiLk9SIrG

— Complex Sneakers (@ComplexSneakers) August 9, 2020