During this pandemic, lots of people who work in jobs that are low-paying have suddenly been deemed essential by the government. Because they are—we need people who stock grocery stores and make deliveries for society to function, especially when everyone is in quarantine. You'd think that since this is finally becoming so obvious, "essential workers" would be compensated much better by the companies depending on them. For the most part, they're not.
Reports from Walmart workers have varied widely, but Twitter user @milkvap had a tweet about what the business is allegedly handing out as a thank you has gone viral for how dismal company rewards appear to be.
They write, "My best friend works at WalMart. This is what he just received instead of extra pay or benefits."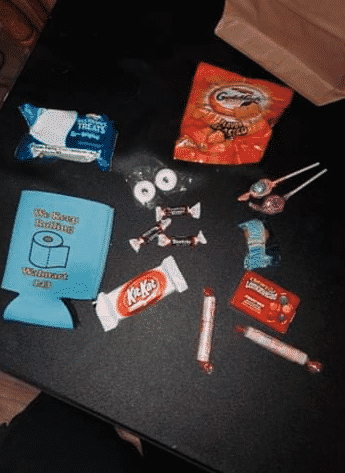 The pictures show a thank you note and a scattered assortment of Halloween candy and a few sheets (sheets!) of toilet paper. It's pretty dismal. At least one other person in the replies says they experienced the same thing:
Can confirm! My fiance is an essential worker there and he brought this home. They also took away hazard pay after only 1 week and took the quarterly bonus out of the NEXT bonus. So they'll get paid LESS than usual during the pandemic. Nobody's talking about it, so they win.

— Miss♡Candle (@_MissCandle_) May 25, 2020

Others in the replies have protested, saying that the package seems to be from the store's management, not Walmart headquarters. Some have insisted that Walmart is giving out bonuses, but that seems to wildly vary from place to place and is determined by how long people have been at the store and if they're considered full-time. Walmart has notoriously abusive labor and union-busting practices, so it's unclear why people want to give them the benefit of the doubt, but here we are.
Whether it's real or not, there are lots of people with stories about the terrible ways they've been compensated or thanked for risking their lives while companies rake in the profits.
1.
Saw this sign in my local family dollar. pic.twitter.com/6voJe9RYHk

— Karen Brookshear (@KLBrookshear) May 24, 2020
2.
Whole Foods handed out these shirts for their workers to wear on the day they announced they'd no longer be getting hazard pay. The back is covered with "heroic values" pic.twitter.com/huFTk8ptKA

— The_Confusled (@TheConfusled) May 24, 2020
3.
My 'favorite' is the drink cozy with the toilet paper printed on it, which is far less useful than an actual roll of toilet paper would have been.

— ☭ is love (@ErichSBloodaxe) May 24, 2020
4.
I work for the post office and this is what I got instead of a pay raise. pic.twitter.com/6nlGS8vF5I

— haleyッ (@katlyfff) May 24, 2020
5.
What a vibe. They put 70% of their staff on 8 weeks unpaid leave pre-furlough scheme but yh sending this squished cream egg shows you rly care pic.twitter.com/lN4HVPyoAR

— Jodie (@jxdie_wxbb_) May 24, 2020
6.
("I am essential", my bad!) pic.twitter.com/YbU3tV8CYY

— MeeMee Cooper brain with an ass girl (@HeartlessCrone) May 24, 2020
7.
The district manager of my store bought us pizza, (with store funds), without asking what we wanted or telling us it was happening. It was his way of saying thank you for doing a whole fucking bunch of tasks and overtime. He ordered a meat lovers and a sausage. Im vegetarian.

— PoliCLITical (Vote Green 2020) (@PolCLITical) May 24, 2020
8.
— Chris Smalls was right (@Pnutbuttershoes) May 24, 2020
9.
My old boss would make a loaf of pumpkin bread for all of us to share

— elbiejay (@lisabeej) May 24, 2020
10.
My dad works for one of the biggest banks if the country and has worked 11 hours a day for the last few months. This came in an envelope the other day with a "thank you" letter. pic.twitter.com/VK4dxWhULe

— what? (@ApsaraKingz) May 24, 2020