In June, a map outlining each state's fast food preference caused uproar and was later revealed as a prank. Well, the map has resurfaced and the internet is tearing itself apart over it again. Time is a flat circle.
Barstool Sports' Twitter account originally tweeted the map on June 5. The map references 2020 data from "the Public Information and Statistics Society," a made-up name.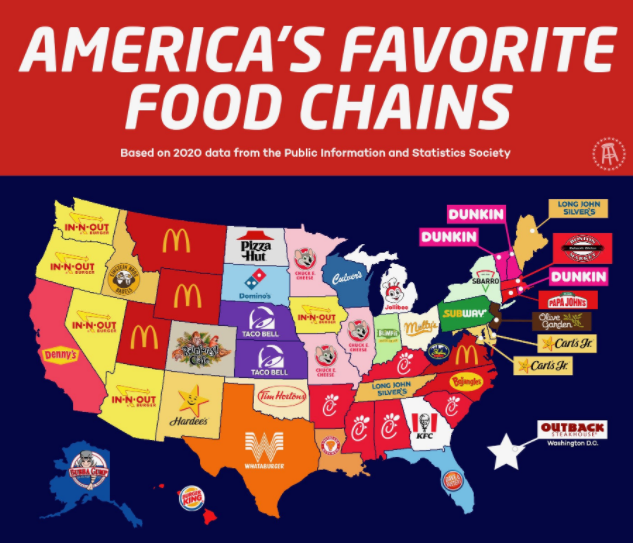 In honor of National Fast Food Day, Lights, Camera, Pod — Barstool's podcast — decided to do some serious trolling by unearthing the divisive fast food map.
Here are America's favorite FOOD CHAINS by states.

What is your state's favorite? #NationalFastFoodDay pic.twitter.com/cp5T7nzi0e

— Lights, Camera, Pod (@LightsCameraPod) November 16, 2020
And once again, it's June all over again.
Oh well, at least we can pass the time by perusing this beautiful sea of fussiness. Below are the top 15 reactions to the fast food map.
1.
A few bones to pick with this horseshit:

1. In-N-Out is trash. Warm garbage.
2. Long John Silvers in ME? Are you on crack?
3. Just pencil in Dunkin for all of New England.
4. Sbarro in NY? Are you retarded?
5. It's Chik-fil-A in VA, not even close.
6. Chuck E Cheese's??? pic.twitter.com/KHDoU46rki

— astroblaccc (@astroblaccc) November 16, 2020
2.
who in their right mine says "My favorite fast food chain is Chuck E Cheese" https://t.co/M9ZTRDWZsi

— SirKnight (@itsSirKnight) November 16, 2020
3.
This map is not about restaurants, it's clearly an elaborate coded message, but how to decipher 🤔

— Daniel (@alacrates) November 17, 2020
4.
no new jerseyan worth their salt would want to go to an olive garden when we are practically italy 2 https://t.co/MdJNd4WmcW

— Qipao | ArmInAss (@stalesprites) November 16, 2020
5.
I'm from Chicago and I live in Maine. This is all wrong. https://t.co/y36Qocf7aT

— Shay Stewart Bouley (@blackgirlinmain) November 17, 2020
6.
I request a recount

— Adam "Tex" Davis (@AdamTexDavis) November 17, 2020
7.
IOWA DOESN'T EVEN HAVE IN-N-OUT https://t.co/zKnlSg6oDD

— Salty (@TheSaltyBun) November 16, 2020
8.
WTF is a Meltys? Did you just make that up?

— Trenton Mackey 🏳️‍🌈 (@i_is_derpy) November 17, 2020
9.
The only time I've even seen a rainforest cafe was when I fell asleep in one in California https://t.co/HAfyxKgcwU

— bastard (@MadBadAsh0203) November 17, 2020
10.
No way PA is subway. Why eat garbage when there's hoagies.

— @jackvader (@jashwa215) November 17, 2020