It doesn't really matter what you celebrate this time of year.
Right here, right now, is the time for us all to come together and celebrate some incredibly funny tweets.
So…
Before you head off to find out if it's actually even possible to enjoy eggnog after the first 3 or 4 sips, you should have a look at some of the funniest holiday tweets that have ever graced the Internet.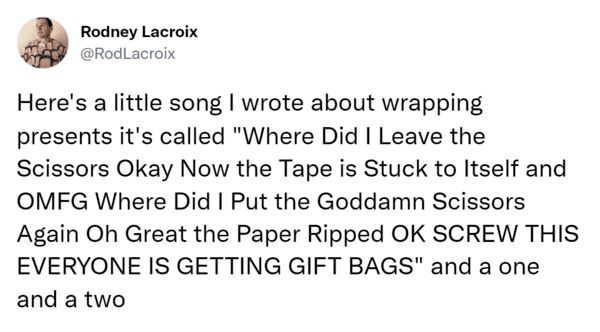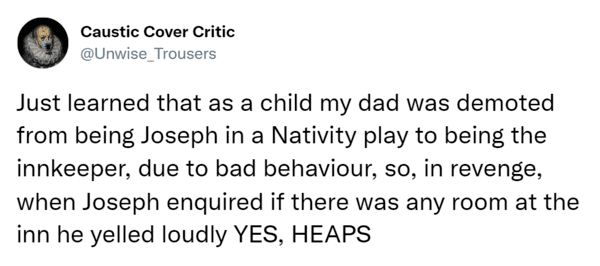 me: i wrote you a song, it's called 'rudolph the red nose reindeer'
rudolph: it better not be about my nose
me:
rudolph: sing the song keith

— k e e t (@KeetPotato) October 27, 2016
One of my 4 nephews just brought me wine and said, "Here's your Christmas juice," and now he's the one I'm leaving everything to.

— Kendra Alvey (@Kendragarden) December 25, 2015
[heaven]
ME: Lord?
JESUS: My son
ME: I have an important question
JESUS: I know…The meaning of life is f-
ME: Is Die Hard a Christmas movie?

— Todd 'Papi' Carlos (@TheToddWilliams) December 20, 2016
It doesn't feel like I'm truly home for the holidays until I've taken my parents' phones and said "Here let me show you" at least 25 times.

— Ari Scott (@ariscott) December 19, 2016
On the 13th day of Christmas, my true love said to me, "I think I might be a hoarder."

— Jen Statsky (@jenstatsky) December 18, 2012
Don we now our gay apparel pic.twitter.com/x1PEMKYoFD

— Renekton Bot (Jolly) (@RenektonBot) November 6, 2016
Any tree can be a Christmas tree if you yell at your family around it.

— Snorklhuahua (@weinerdog4life) December 12, 2012
Just once I'd like to see a big event-movie trailer that opened with "THIS HANNUKAH, IN A THEATER NEAR YOU…"

— Dreidel Lozenge™ (@LostCatDog) April 16, 2015
if you like christmas so much why don't you merry it

— fro vo ho (@fro_vo) December 23, 2013
"Um wow okay"
-all of Santa's other reindeer

— hannah (@TribalSpaceCat) December 14, 2014
My mom has been attending her own personal Ugly Christmas Sweater Party every holiday season since '88.

— Amber (@amburgklur) December 16, 2012
If I don't see two minivans lock reindeer antlers for a Target parking space, what are the holidays even about?

— Elizabeth Hackett (@LizHackett) December 15, 2016
"How about… we change the 6 to a 7?"
"I love it!"
–board meeting at the company that makes novelty sunglasses for New Year's Eve

— Meowrin (@marinhubka) December 17, 2016
My cat forgets what a Christmas tree is every year and it's wonderful pic.twitter.com/LlY3lx5BnJ

— August J. Pollak (@AugustJPollak) December 2, 2016
"I don't trust Muslims, they have some funny beliefs and customs," he said while dragging a pine tree into his living room for some reason

— ♡ brian essbe ♡ (@SortaBad) November 26, 2016
We Wish You A Merry Christmas is my favorite because it's like 'I hope you have a good holiday now give me some pudding or I'm not leaving'.

— SpaceGirl Eggnogito (@iamspacegirl) December 4, 2016
How about, instead of saying "Merry Christmas" or "Happy Holidays," everyone just shuts the fuck up?

— crappystuffforjerks (@somecleverthing) December 6, 2016
Being a good husband is realizing that all the free time you used to have is now owned by anyone who invites your wife to a holiday party.

— Kalvin (@KalvinMacleod) December 10, 2016
For someone that has a Christmas special, Charlie Brown has a pretty Jewish disposition.

— Michelle Wolf (@michelleisawolf) December 17, 2012
Things I enjoy once a year
– Christmas
– My birthday
– Vacation
– the Super Bowl
– Sex (some years)

— Br&on the Cow (@Brampersandon_) May 21, 2015
"Instagram is being attacked by pictures of couples in front of Christmas trees!"

"Quick, counter attack with animals in reindeer antlers"

— ᴄʜʀɪs (@ChrisScarlette) December 24, 2014
Me: [covered in ketchup] Santa Sauce is coming to town
Wife: Stop
M: Happy Hollandaise
W: I'm leaving
M: …and mayo your Christmases be white

— Sean Leahy (@thepunningman) December 13, 2016
[Christmas party]

"Ok let's open presents starting youngest to oldest"

Grandpa: this is bullshit!

Vampire: dude, seriously?

— Steve Suckington (@SteveSuckington) March 22, 2015
On the worst day of Christmas my true love gave to me: Grown Ups 2 on 3D TV

— GiftcardPowder (@fartpowder) December 14, 2013
[searches 'Chanukah']
Did you mean Hanukah?
I DON'T KNOW, GOOGLE. NO ONE DOES.

— rachel lichtman (@rachelichtman) December 18, 2014
I don't believe in killing perfectly healthy Christmas trees for decorative purposes. When I kill a tree, it's strictly for pleasure.

— Frank Whitehouse (@WheelTod) December 10, 2015
All I want for Christmas is for someone to pay off my debilitating student loans…but I guess this mug is good too, thanks.

— Julia Yorks (@juliayorks) December 21, 2015
For some reason there are ants all over my Christmas tree, from the presents at the bottom all the way up to the McRib tree topper.

— Peach Grenade (@peachgrenade) December 18, 2012
Worst things the parents do on Home Alone:
3. Never punish Buzz
2. Forget one of their kids
1. Try to make everyone drink milk with pizza

— Rob Fee (@robfee) December 28, 2015
Nothing like opening Christmas gifts to remind you that the people you're closest to in the world know absolutely nothing about you.

— Julius Sharpe (@juliussharpe) December 22, 2014
"Oh, God, sorry, I'd love to talk and catch up, but, ah, man, I'm just…I'm petting this dog right now, so…" — me at a christmas party

— maggie mull (@infinitesimull) December 16, 2012
Joseph: More like "Joseph Christmas"
Mary: we heard you the first time

— ceeks (@70Ceeks) December 21, 2014
My mom already asked me to make a Christmas list so I did pic.twitter.com/D8wSnTflst

— Sage Boggs (@sageboggs) November 4, 2014
"Hello relative. You look one year older than Christmas last year due to the progress of time. Here is your necessary gift." – Holiday talk

— Michael (@Home_Halfway) December 20, 2015
Get into the Christmas spirit by remembering how cool Joseph was about an invisible guy impregnating his lady Mary.

— kelly oxford (@kellyoxford) December 8, 2011
Little known fact: literally every spelling of Hannukah is correct. Channukah? Hannhooka? Chewbacca? Channing Tatum? All fine.

— Jessie (@NicCageMatch) December 17, 2014
My favorite Christmas carol is the one where they blame the weather for their social anxiety and just stay home.

— maura quint (@behindyourback) December 18, 2014
Hope everyone's enjoying their Christmas Eve with Kony still out there

— The Dogfather (@matt___nelson) December 25, 2015
Rudolph the Red Nosed Reindeer is my favorite Christmas story about how Santa's reindeer are bigots until they need someones help.

— Elizabeth (@Elizasoul80) December 17, 2016
My wife hates when I give her a Christmas/birthday combo gift but thats what she gets for being born in May

— Clint Grohl (@MrBrokeIt) December 17, 2012
The Hannukah miracle is that the menorah oil lasted 8 extra days. I recreate this miracle with every tube of toothpaste.

— Terry F (@daemonic3) November 28, 2013
do all your christmas shopping stoned so you're also surprised when they open your gifts

— kristen drum (@kristendrum) December 7, 2016
SON: Dad, I'm gay.
DAD: "Okay."
SON: I also don't think Die Hard is a Christmas movie.
DAD: "Get out of my house!"

— Tommytinselstuff (@Tommytoughstuff) December 14, 2015
'Twas the night before Christmas

And all through the zoo

Every creature was stirring

It was a zoo.

— Max Dylan Ash (@mynameisntdave) December 15, 2015
The older you get the more holidays become about keeping your father off a ladder

— shut up, mike (@shutupmikeginn) November 27, 2014
*Santa's Google search*
cheap labor
cheap labor not kids
magic cheap labor
elf for sale bulk
labor laws by country
north pole group travel

— Brian Doyle (@WritePlay) December 22, 2015
Scrooge: [evil his entire life]
Everyone: you're an asshole
Scrooge: please forgive me
Everyone: ok
Scrooge: Christmas
Everyone: Christmas

— paperwash© (@PaperWash) December 20, 2014
8 maids a milking is probably the only day of Christmas I can jack off to

— Jeffrey Hadz (@Hadzilla) December 11, 2013
How much longer?
Did you bring any snacks?
They want $5 for M&M's!
I wanna go home
Is it over yet?

– me watching my kids Christmas pageant

— Josh (@iwearaonesie) December 24, 2014

If you're looking for more Twitter fun, there are a ton of funny tweets for you to enjoy right here.
Save
Save
Save
Save