11.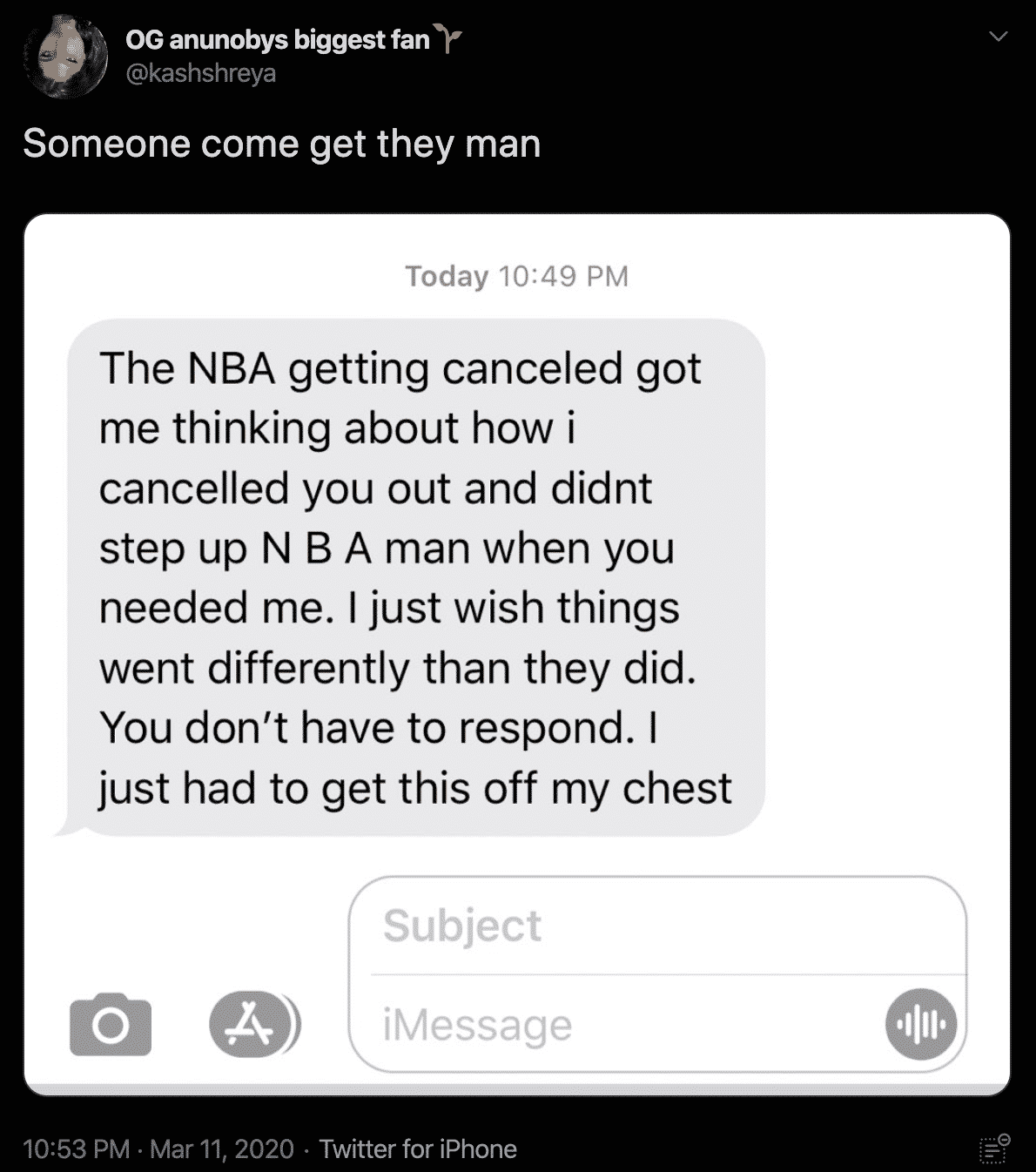 2.
Me in quarantine sending my dog to get me hot Cheetos pic.twitter.com/1Avx0JMlLo

— Nancy (@Wtfnancyison) March 19, 2020
12.
a little worried bc I have the same symptoms as Tom Hanks (tall, handsome, kind, everyman)

— Karen Chee (@karencheee) March 12, 2020
13.
Wash your hands like you're 19 and trying to get the X that a bouncer wrote on your hand in Sharpie completely scrubbed off

— maybe: clare (@clur19) March 8, 2020
14.
if u live with a significant other and think all the co-quarantining will cause u to break up, email me at megzukin at gmail dot com. i'm not writing a story im just messy and love drama

— meg zukin (@bymeg) March 13, 2020
15.
I have some questions about this graphic pic.twitter.com/RoOe93YvVq

— Jodi Beggs (@jodiecongirl) March 21, 2020
16.
me and my coworkers logging into all of our meetings remotely for the next couple of weeks pic.twitter.com/fpOYiHJLcl

— isha (@ikasliwal) March 9, 2020
17.
My professor just told me that if we get a whiff of smoke it's because another professor put the papers he was grading in the microwave to rid them of any chance of Corona Virus & then the papers caught on fire… I can't make this stuff up people

— emily perez (@Lou16em) March 10, 2020
18.
Me leaving the beaches of Mykonos to head back to the office after flying over for $87.94 during my lunch break pic.twitter.com/neUx3fvtqZ

— k. matt but kristyn works too (@kmatthewildcat) March 10, 2020
19.
Somewhere…somehow…some frat boy is planning a coronavirus themed date party

— march madison (@smoreilak) March 11, 2020
20.
My favorite part about working from home is that I can cry in my OWN bathroom

— Eileen Mary O'Connell 🌝 (@i_Lean) March 13, 2020