Poor Jeremy Renner. He was just trying to do something nice by launching an app for his fans to connect on. He thought maybe they could bond over their love of his work and even have some fun. What ended up happening, however, was that Renner and his fans got trolled so hard that now the whole thing has had to be shut down.
The app, aptly titled Jeremy Renner Official, had no verification system, thereby making it way too easy for trolls to infiltrate the app and even impersonate the actor. It became increasingly unclear that the whole user experience was a little chaotic and couldn't really continue on.
Renner announced the app's imminent closing to users via a push notification in a message that said only, "App coming down very soon…" However, he soon expanded on that brief thought by providing a more detailed explanation of his decision to close the app in a post… on the app. Ahem.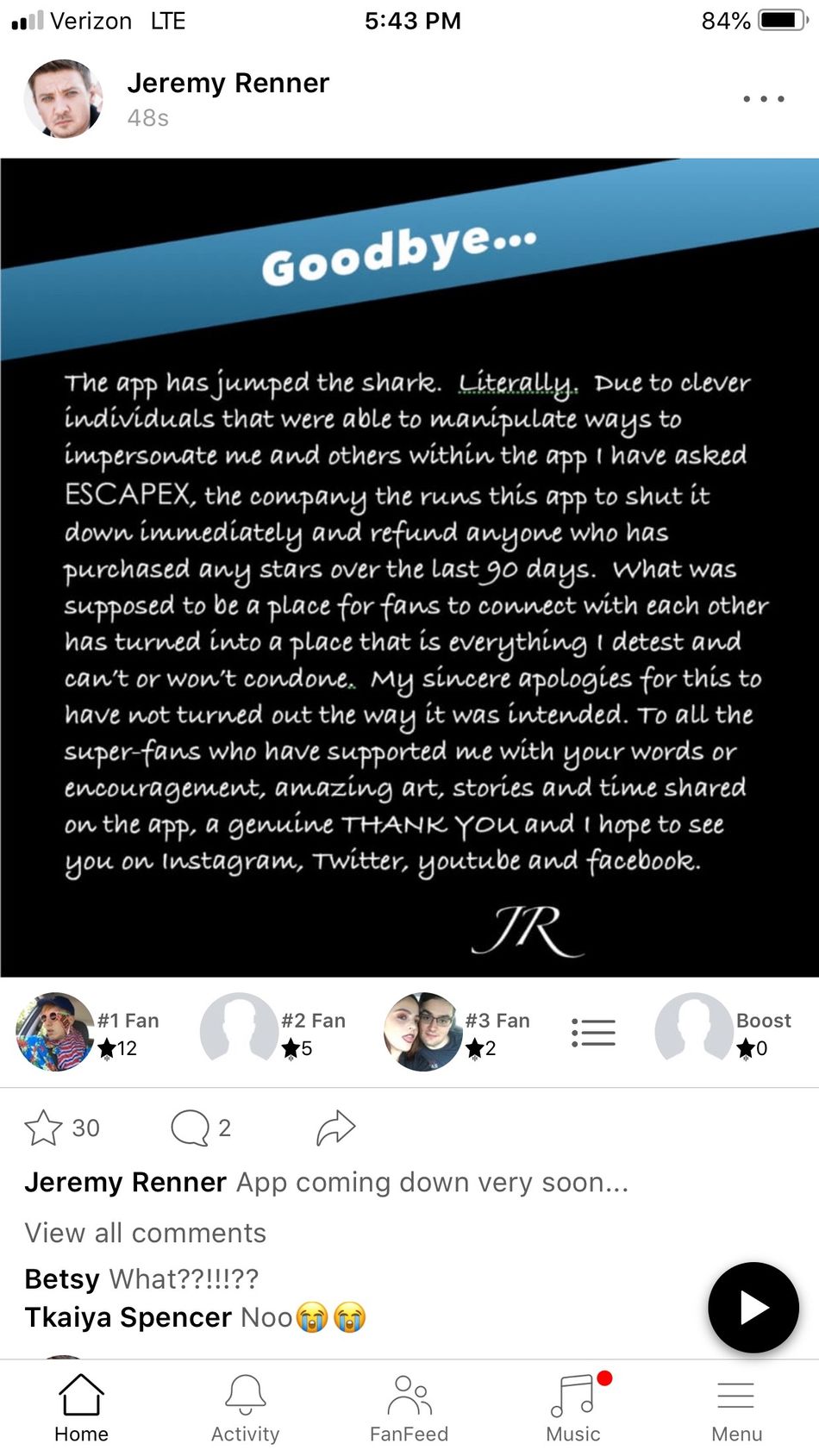 "Goodbye … The app has jumped the shark. Literally. Due to individuals that were able to manipulate ways to impersonate me and others within the app I have asked ESCAPEX, the company the runs this app to shut it down immediately and refund anyone who has purchased any stars over the last 90 days," Renner wrote.
"What was supposed to be a place for fans to connect with each other has turned into a place that is everything I detest and can't or won't condone," he continued.
"My sincere apologies for this to have not turned out the way it was intended. To all the super-fans who have supported me with your words or encouragement, amazing art, stories and time shared on the app, a genuine THANK YOU and I hope to see you on Instagram, Twitter, Youtube and Facebook."
The Jeremy Renner Official app launched back in 2017 but the recent spate of trolling was enough to make the star pull the plug on the whole operation. You see, guys? This is why we can't have nice things!!
1.
my wife and I announced our divorce on the official jeremy renner app pic.twitter.com/JXaG1mpqxN

— holiday season enjoyer (@KrangTNelson) September 5, 2019
2.
RIP Official Jeremy Renner App pic.twitter.com/PzRNWg4sLz

— Jules (@Julian_Epp) September 4, 2019
3.
Remake THE SOCIAL NETWORK about the Jeremy Renner app

— Russell Goldman (@russelltweetz) September 4, 2019
4.
i tried to take a screenshot of me "pretend" buying $99.99 worth of stars on the jeremy renner app but I used my thumb to take the screenshot and accidentally authorized the payment. I wish this was a joke pic.twitter.com/wvVXVDpMJs

— nicole boyce (@nicolewboyce) September 4, 2019
got my $99.99 back from jeremy renner hell ya I'll drink to that pic.twitter.com/KNCiSF6LzB

— nicole boyce (@nicolewboyce) September 5, 2019
5.
we could have had YEARS more jeremy renner content, more jeremy renner fandom drama, but no, you just had to go in there and make your little jokes to screencap and post here and now it's ruined for everyone

— LB Hunktears (@hunktears) September 5, 2019
6.
In the past few days the Jeremy Renner app has turned into the darkest corner of the internet pic.twitter.com/SuywxqLx7m

— Chris Baio (@OIAB) August 30, 2019
7.
sorry @Renner4Real pic.twitter.com/kJ6ZWw1hvK

— Danny Gonzalez (@dannygonzalez) September 5, 2019
8.
Working on a new project for Mr. Renner, hope he likes it: "The Porno-Free Jeremy Renner App." pic.twitter.com/OmnAXKy32O

— big time influencer guy on here (@boring_as_heck) September 5, 2019
9.
It is with a heavy heart that I must announce I have been banned from the Jeremy Renner app for this post. pic.twitter.com/uRFkwAcHjN

— silent nate, holy nate (@MNateShyamalan) August 30, 2019
10.
The Jeremy Renner app is pure chaos I can't get enough pic.twitter.com/OLmlPRxWlQ

— Ahsoka's Pay Pig (@JackKennedy) August 29, 2019
11.
(1/?) I'd like to take you through the Jeremy Renner app, if you haven't download it. This is what it looks like on your home screen, and the first thing you see when you open it: pic.twitter.com/jLbP3O5xmy

— wizard of loneliness (@WritesSir) August 29, 2019
12.
lmao they actually let my review of the jeremy renner app go up pic.twitter.com/6iKZ3fUx1P

— josh sorensen (@namebrandjosh) September 3, 2019
13.
This is what Jeremy Renner thinks was happening in his app when it was literally just people signing up pic.twitter.com/cCKmgi9aKV

— Ahsoka's Pay Pig (@JackKennedy) September 5, 2019
14.
is jeremy renner shutting down the jeremy renner app about jeremy renner by jeremy renner for fans of jeremy renner pic.twitter.com/Wed9IOO6Sh

— 🔪Knife Wife🔪 (@nemesismess) September 5, 2019
15.
I feel like they could have just made it so you can't make your username "Jeremy Renner" and that would have solved this problem but no they're just gonna delete the whole app pic.twitter.com/Huijq2E4CF

— Danny Gonzalez (@dannygonzalez) September 4, 2019