The older you get, the harder dating becomes. You become more set in your ways and irritated by your pet peeves. On the flipside, when you're young, you are less tolerant of insignificant things like your date owning a pair of bad sunglasses or having fat fingers. Dating is pretty much always hard, I guess. I once had to break it off with a girl who chewed with her mouth open. It may be petty, but it was a dealbreaker for me…and still is.
Comedian Joe Heenan recently asked, "What's the pettiest reason you broke up with someone?," adding his own petty breakup reason: "I broke up with a lassie once cause she microwaved bacon."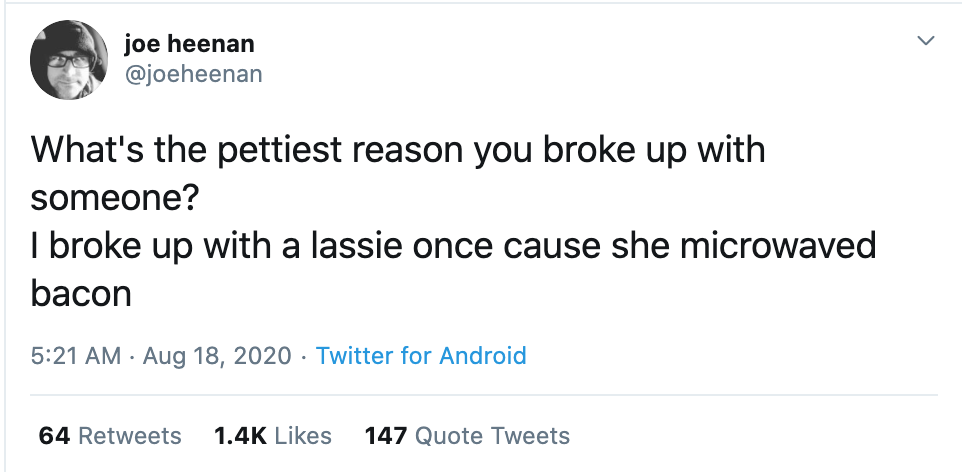 Read on to see some of the pettiest reasons for people's breakups…and see where you stack up.
1.
100% with her

— joe heenan (@joeheenan) August 18, 2020
2.
I broke up with someone because everytime he orgasmed he farted. Truth.

— Nope (@FebruaryStar22) August 18, 2020
3.
I got dumped for having red hair. My boyfriends Mum didn't want to risk having ginger grandchildren, so she made him dump me. He married a blonde and had two ginger kids..Karma. My Kids are blonde.

— Bingbong (@Bingbon02415540) August 18, 2020
4.
I'll do a different one here to the one I gave on Facebook 😂

He kept saying "that's lovely" during sex 😂😂😂

— Linda Ní hEdeáin 🧜🏻 (@LindaOkaythen) August 18, 2020
5.
We'd been on a few dates and went back to his after going out for dinner. He put Les Mis on and sang every word of Look Down at me really loudly, then after, led me upstairs, laid down on the bed, put his hands behind his head and told me to "hop on". Fucking public schoolboys.

— Missy (@MissyAero) August 18, 2020
6.
An ex once said to me "you make me quiver" it still makes me shudder and 🤮 that was it for me

— jo kilkenny (@jokilkenny) August 18, 2020
7.
She insisted on having a chat with me whilst taking a shit. With the door open. Like, she would actively try to engage me in conversation THEN open the door, like some kind of poop chat ambush https://t.co/SJp27KenEA

— Disappointed Optimist (@disappoptimism) August 18, 2020
8.
We shared a birthday. No room for that kind of nonsense in my life. It's my birthday. Not his.

— MsSGC (@ms_sgc) August 18, 2020
9.
I dated a man who used to lick each of his fingers (& thumbs) in turn after EVERY bite of every chicken wing that he ate. Licking sounds included. 🤢

— Breffni 'Wear a Mask' Burke (@BreffniBurke1) August 18, 2020
10.
My friend once gave someone the elbow after seeing them spread too much butter on their toast.

— Stevie Glover (@BeckydeWinter) August 18, 2020