I don't know how, but literally, all of these are true — you right after reading these hilarious tweets.
1. What are you up to? Oh, that's cool. What are you up to?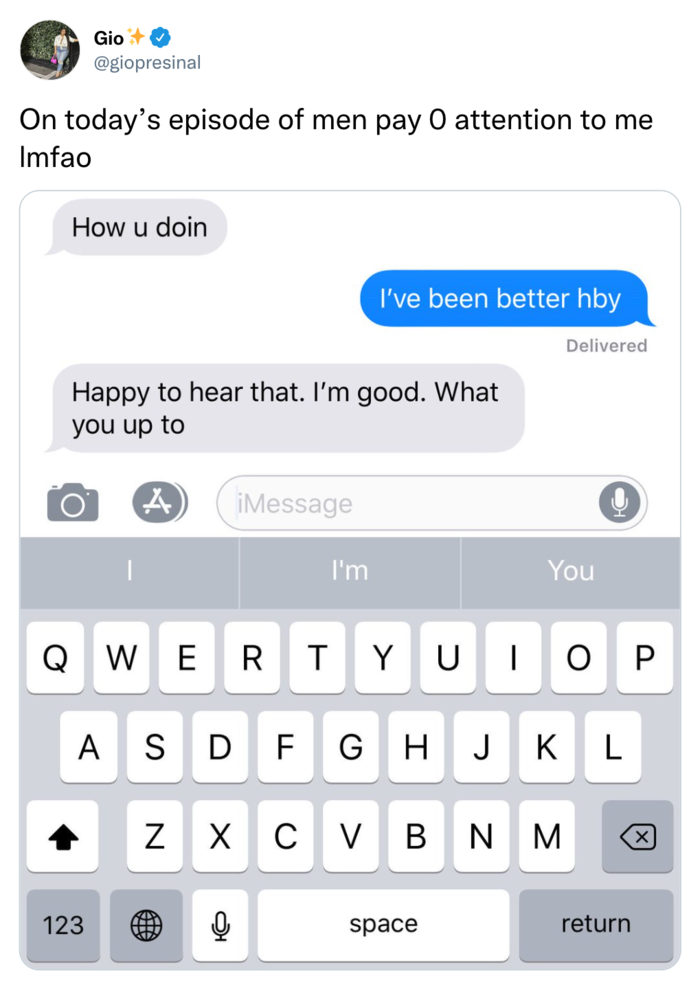 2. My weight is a defense against the aristocracy.
2. It's Britney, b*tches.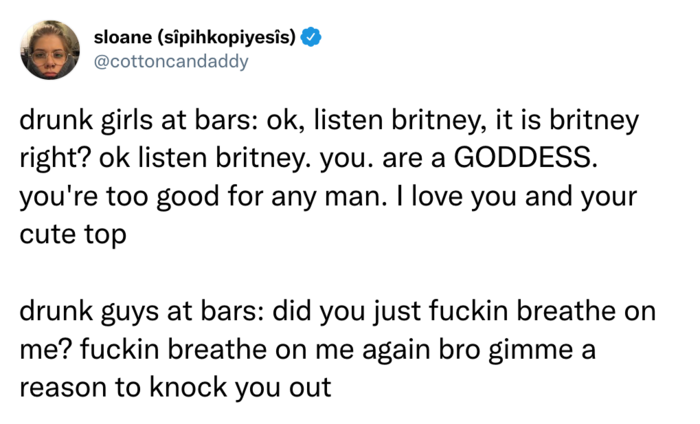 3.
attention men: pls stop telling us you want to go down on us for "hours". thats way too long. we have stuff to do. i've got a lasagne cookin

— Beth McColl (@imteddybless) October 6, 2016
4.
hey sorry just gotta swing by madewell real quick to touch every item in the store then leave

— grace perry (@perryjetaime) May 24, 2018
5.
LADIES imagine this,

It's 15 years from now. You're not at a shitty baseball game, you're in hawaii for the weekend. With your wife. You're a lesbian. You can't have kids, so they can't hold you back. All your straight friends are stuck at kids sporting events. You're laughing.

— presley (@innerpres) May 22, 2018
6.
why is my stomach so flat in the mornings until i eat a crumb and i'm suddenly 8 months pregnant with twins

— Marley (@marleylaceyx) July 20, 2017
7.
Straight men: homosexuality is a disgusting sin get that shit out of my face it's gross

Also straight men: pic.twitter.com/fN6mAPt0Tz

— 🌈Alex🌈 (@Jellybeansdoe_) May 28, 2017

8.
This bumble claw crane with no prizes is a chilling metaphor pic.twitter.com/cdcuW3eSVJ

— Hannah Murphy (@dumb_hannah) May 30, 2018
9.
Liking the same stuff is one thing. But hating the same things? True friendship.

— Jen Doll (@thisisjendoll) January 14, 2016
10.
Your girlfriend arguing with you over text vs your girlfriend arguing with you in person pic.twitter.com/YEC0DkhEXE

— Danny (@TheSagaofDaniel) May 8, 2017
11.
hey it's me, your friend who ignores everything going on in the group text and then chimes in every six days with a single "omg"

— Ashley Fetters Maloy (@AFettersMaloy) September 18, 2017
12.
literally just saw a 10 year old girl wearing a shirt with sparkles that said "doing my best" fucking same bitch where'd you get that

— summer (@summerjscott) August 27, 2017
13.
other girls wearing low ponytails: smart, classy, professional, beautiful

me wearing a low ponytail: will turner in pirates of the caribbean

— katie (sad girl autumn version) (@katiextoman) January 3, 2018
14.
seriously when two drunk women meet in a bathroom its an instant best friendship

— tracy aka bhad bhonnet (@brokeymcpoverty) October 27, 2014
15.
Having a period every month just because you didn't get pregnant is the epitome of "meetings that could have been emails"

— darth minnie (@xoMinnieJo) May 19, 2018
16.
You ever send ya man a funny meme & he say he already saw it..like wow u laughed at it & didnt think that maybe I wanted to laugh too wow ok pic.twitter.com/DoynOXdtGJ

— la loba (@vickto_willy) July 30, 2017
17.
[me as a DJ]
Where my single ladies at?
*drunk responses*
This one's for you
*turns off music, serious tone*
This is a bad place to meet men

— Jebby (@Jennuflect) September 18, 2015