We can't escape the cake discourse and the threat of being cut open to reveal if we're cake or not. Why? Well, theoretically, it's because BuzzFeed Tasty shared a compilation video of @redrosecake_tubageckil's realistic cakes, which truly take fondant and edible paint to the next level of optical illusions. The video features convincing-looking shoes, toilet paper, and so many other things you're sure are anything but cake. But they are. They are cake.
These Are All Cakes pic.twitter.com/ejArkJHaid

— Tasty (@tasty) July 8, 2020
This sort of craft isn't unheard of, and yet the video sparked intense Twitter talk about how everything around us could be cake. I think it's because many people have been in quarantine or isolated for months and months. Much of the stuff that made up their everyday life has been completely upended. A video that suggests everything in the world is actually cake hits very different under these circumstances.
Just as things were dying down, yet ANOTHER realistic cake video started circulating (though it had been released previously), sending people screaming onto Twitter yet again:
I've made A LOT of realistic food cakes over the past year! They are great for trying out new techniques You can see how I made all of these cakes at https://t.co/hH4Y6fKIOo If you're subscribed to my YouTube channel, I just want to say I love you pic.twitter.com/yg17IP6p86

— Natalie Sideserf (@NatalieSideserf) May 29, 2020
Many of the jokes are basically the same: what if this is cake? They're still pretty funny. At least until you start to actually wonder if everything in your life is cake. Which you will, because the world is just crazy enough for that to be true.
1.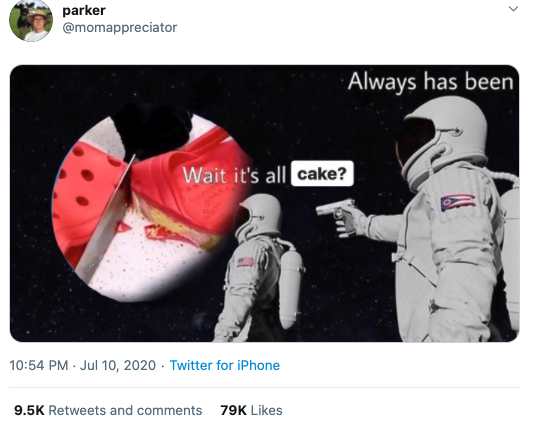 2.
dudes under 5'8 talkin bout "what if I'M a cake??" uhh maybe a shortcake LMAO

— yeet lover's pizza (@chunkyfila) July 12, 2020
3.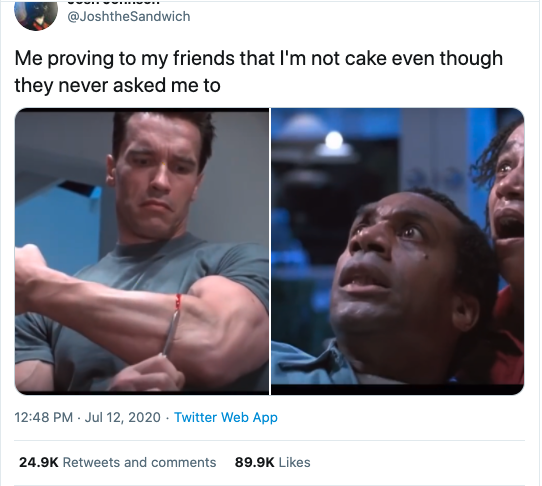 4.
— bobby wasabi (@bIondiewasabi) July 11, 2020
5.


6.
i have chained my roommate to the kitchen table. i will be cutting him open to see if he's a cake. he says he isn't, but that's exactly something a cake would say https://t.co/DdBFYGmHVg

— royse (@Roysenotes) July 10, 2020
7.
I'm so traumatized I thought this was going to be a cake https://t.co/sQyRXmlZ43

— KB (@KaraRBrown) July 12, 2020
8.
unbelievable cake pic.twitter.com/R2IkHmcYmA

— maureen monahan (@momonahan) July 9, 2020
9.
The year is 2030. Bakery art is so realistic, literally anything could be cake. The uncertainty has gripped the world in fear. I go to hug my wife for comfort. She is cake.

— MehGyver (@TheAndrewNadeau) July 9, 2020
10.
me trying to find out if im a cake too pic.twitter.com/GIIoz6nYej

— jay (@yajpeg) July 10, 2020