A few months ago, British TV music writer Nick Harvey asked his Twitter followers an interesting question. "Every evening, before going to bed, I hide the front door keys so that my eldest son, who sleepwalks most nights, doesn't inadvertently let himself out," he explains. "What daily rituals do you suspect you're alone in following?"
Tons of people responded to Harvey's question with their unique daily rituals and odd routines that were funny and sweet. But surprisingly, judging by how many people related to others' replies, a lot of these "unique" and "weird" daily rituals aren't all that unique or weird after all. Who knew all of us had such ludicrous and funny habits, especially when it comes to pets and kids?
Read through some of these people's unique daily rituals, and see where your own stack up. You may wind up feeling like less of a "weirdo" than you originally thought.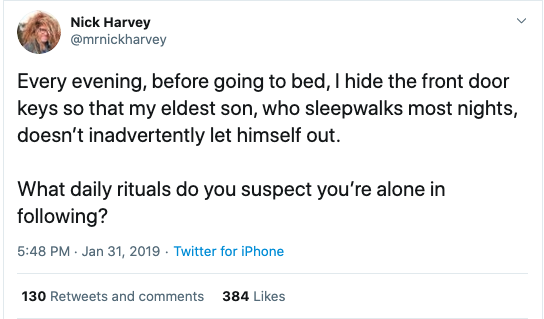 1.
Every time we hear a car horn outside our house, I say to my wife 'your taxi's here'.

— Andrew Nelson (@bunkum) February 1, 2019
2.
Every day as I leave for work I cheerily trill "have a nice day being a cat!" to the cat, because she has a lot of catting to get done. When I come home I enthusiastically enquire "have you had a nice day being a cat?" – she always has.

— Mitten d'Amour (@MittenDAmour) February 1, 2019
3.
Every day I leave the TV on for the dogs. I feel bad if it's on something shit like the shopping channel, so I spend 10 minutes searching for something they might like.

— Twinks (@tinytwink) February 1, 2019
4.
When I make tea for me and my wife I like to use the two mugs that have stars on. I cannot put the kettle on without singing* "Staaaaar mugs, fill them full of tea, it's love-ly beverage, just for you and me…" to the tune of Star Man by Bowie.

*For a given value of 'singing'

— Kevin Lloyd (@KevBLloyd) February 1, 2019
5.
When I was a child, when we went out in the evening my parents used to leave the tv on to deter burglars, but mum refused to ever leave it on ITV in case said burglars were to think we were common …

— Loushippers (@Loushippers) February 1, 2019
6.
Every night before we go to sleep I say "Love You" to my wife, she replies "Love You Too", to which I reply "What the band?". Every. Single. Time.

— Ian Price (@goatteeboy) February 1, 2019
7.
My boys are 21 and 19. #eldest is at uni. I go to their rooms and say good night to them every night, whether they're home or not.

— Wonky McParkinson's (@Myboysmum) February 1, 2019
8.
Every morning I, or my girlfriend (depending on who gets up first) sings a "good morning song" to our pet rabbit, to let him know his breakfast of parsley is on its way.

— Pete Strange (@petestrange) February 1, 2019
9.
When in the supermarket if I leave my husband with the trolley while I go to grab something in another aisle I will grab his face and say in a dramatic disaster film way, 'wait for me, I WILL COME FOR YOU'. And then walk away laughing, every time!

— Leah Turner (@LeahTurner19) February 1, 2019
10.
Every night the last person up to bed has to take the knobs off the oven because our toddler is a maniac

— Katie Villa (@KatieVillaUK) February 1, 2019