If you've managed to avoid hearing about Untitled Goose Game, you've probably avoided seeing Untitled Goose Game memes. Also, you probably don't have a kid or access to the Internet.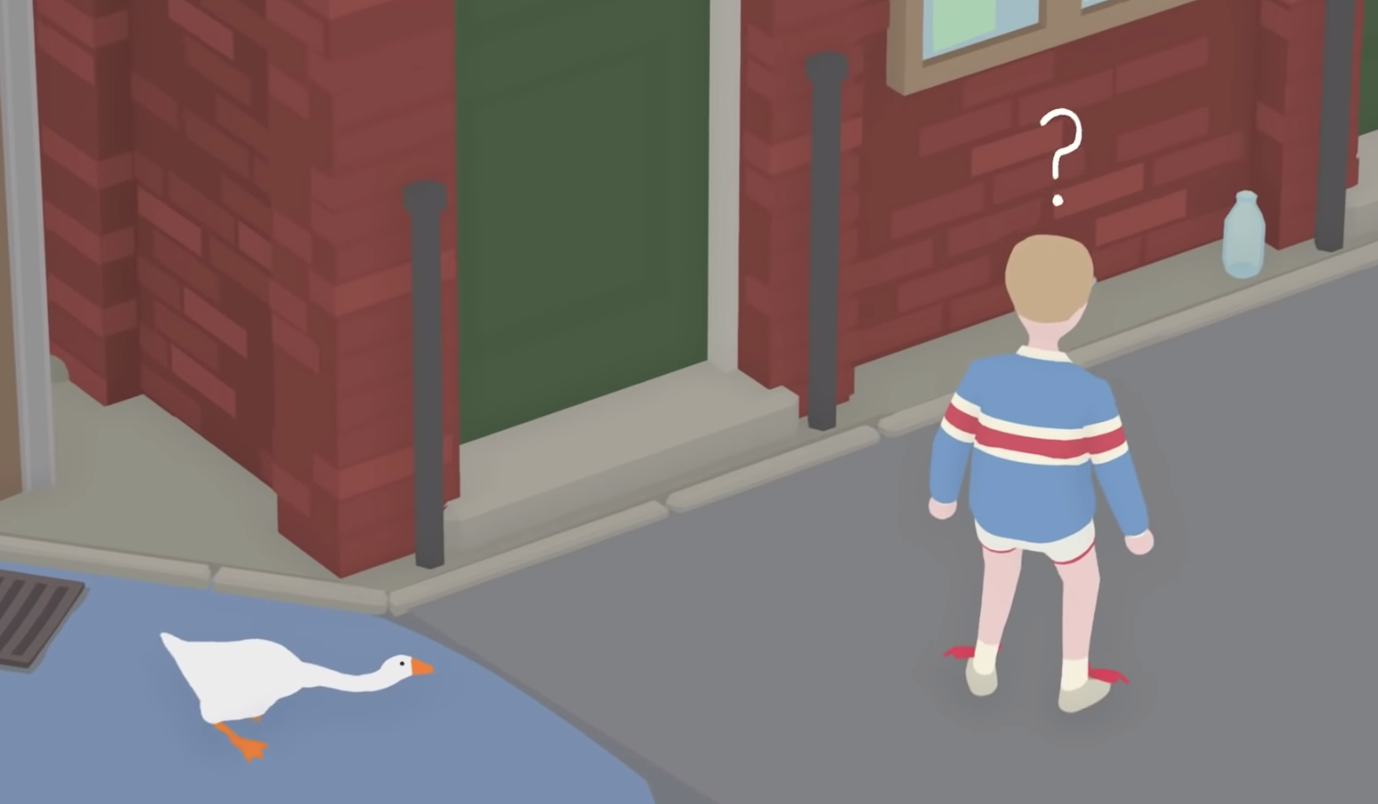 What is Untitled Goose Game?
Untitled Goose Game has taken over since being released about a week ago by House House.
The stealth puzzle game has simple graphics and a simple objective—you're playing a goose who annoys people. People are completely enamored by the dead-eyes, feathered monster wreaking havoc on a pixelated world, and they've developed all sorts of jokes about it.
Some people identify with the goose, some fear it, some anticipate its growing power. Twitter is full of screenshots of the goose abusing others, destroying property, and happily making others miserable. The jokes have gotten more complicated as the goose is Photoshopped into other video game scenes, taking on even more digital landscape to spread its malevolence.
What's especially funny is that if you've ever met a goose, they are pretty mean. The original angry bird, in a way. Of course, this game is dominating social media. That's what geese do. And we all wish we could be a little more goose-like.
Here are 30 of the funniest Untitled Goose Game memes and tweets we could find:
1.
I am a:
⚪️Man
⚪️Woman
🔘Goose

Looking for:
⚪️Men
⚪️Women
🔘Lives to ruin

— Daniel Linssen 🦊 (@managore) September 26, 2019
2.
https://twitter.com/varimatsu/status/1176037900439494656
3.
I played Untitled Goose Game with my kids tonight

Now my son won't go to bed. I asked him to be good and he said: "I don't want to be good, I want to be the goose"

… what have I done

— Ryan Evans (@rje) September 21, 2019
4.
— Ea Olotoa (@EaOlotoa) September 24, 2019
5.
I HAVE RIGHT TO FREEDOM OF SPEECH. THIS IS CENSORSHIP. TWITTER WILL HEAR ABOUT THIS. pic.twitter.com/AaEKQx9toN

— Charkie (@charkie) September 20, 2019
6.
not everyone hates the horrible goose pic.twitter.com/xgLmfHzmWc

— John Cullen (@nellucnhoj) September 21, 2019
7.
https://twitter.com/roxiqt/status/1176956726643478530
8.
Game devs: "But do people *want* to play evil characters?"

Untitled Goose Game: pic.twitter.com/7zIMBVrpLr

— Morgan Lockhart (@missdoomcookie) September 23, 2019
9.
Honk recognise honk #UntitledGooseGame @house_house_ pic.twitter.com/AJvqqf8h4m

— Alex The Honking Bird (@AlexTheHonk) September 22, 2019
10.
My reaction to the signs in #untitledgoosegame I'm the best worst goose. pic.twitter.com/QmgKCmdcNF

— TAKE THAT YOU ORANGE TURD! (@CherissD) September 21, 2019
11.
are u tired of being nice? dont u just want to be the goose from the untitled goose game

— LEON de galon (@q_woru) September 22, 2019
12.
Untitled Goose Game (2019) pic.twitter.com/pAlqXJAmSk

— Liam Robertson (@Doctor_Cupcakes) September 23, 2019
13.
"Let me see what you have!"
*HONK!
"NO!!!" pic.twitter.com/xt2Q5BxzgX

— Gabby DaRienzo (@gabbydarienzo) September 21, 2019
14.
untitled goose fan art (unthreaded) pic.twitter.com/TK14r0xCCR

— kc green (@kcgreenn) September 23, 2019
15.
day 3 of owning the goose game….thinking about the horrible Town Boy and how i must destroy him not only in body, but in spirit as well

— CFO of Theytheon (@Lubchansky) September 24, 2019