I've LONG said that I want my funeral to be fun — people sitting around feeling sad just doesn't feel right to me — and I'm in absolute awe of a woman who surprised her guests with a flash mob at her own sending off.
For her last farewell, Sandie Wood gave her loved ones a wonderful memory that would recall her spirit more than the loss. She hired an actual flash mob to dance to a famous Queen song.
She passed in September of 2022 after a battle with tongue cancer. Wood had been planning her funeral for about six months and it included her own casket arriving late — a nod to her penchant for late arrivals in life.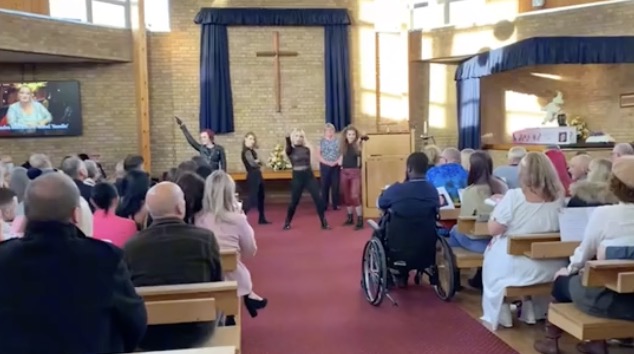 The casket was surrounded by sparkly heels and bejeweled to say "Going out in style."
And then, of course, came the flash mob dance to Queen's "Another One Bites the Dust."
WILDLY, ten other performance groups passed on the gig (WHAT???)
Eventually, a friend of Wood's connected her with Claire Phipps, who led the ten-person dance group, Flaming Feathers.
Phipps said, ""Her best friend Sam, booked us, but this was about six months before she passed, so Sandie basically planned her own funeral. It was definitely not your normal gig."
The dance troupe got to the funeral and acted as though they were regular guests. They sat in the pews and waited for their song to start playing. Once it did, they moved to the back of the sanctuary and began to dance.
"It was very odd to first pretend to be there for the funeral, and then to see family and friends crying and upset," Phipps continued. "To then have to get up and rock out to Queen felt very weird, but it did go really well."
Wood's friend Sam Ryalls said the funeral was perfect for Sandie. "She was always very loud, very out there, and just the center of everything. She was one of a kind, so she left the world how she lived it, being herself."