It's safe to say almost everyone is dreaming about their next well-deserved vacation. If you've been living under a rock, Airbnb is a super easy method to rent entire properties in almost every corner of the Earth on an easy-to-use platform. People have been flocking to Airbnb rentals in their areas just as a way to get out of the house and have a break from working from home.
These cool Airbnb properties offer the peace of a vacation getaway with the extra bonus of staying in a truly unique home. They range from $27 per night (#11) to a whopping $2,625 per night, with a huge range in between.
Don't forget to bookmark your favorites to save for when you're ready for your next trip!
---
Airbnb says: The dome rests in an isolated but easily accessible off-grid setting in one of the few remaining territories under a dark sky ordinance, which offers unmatched views of the night sky, and a completely unobstructed view of a horizon that delivers truly majestic sunrises and sunsets. Though the dome is isolated, the entrance to Big Bend National Park is just a 25-minute drive, and the historic Terlingua Ghost town about the same.
Sleeps: 3 guests
Price per night: $108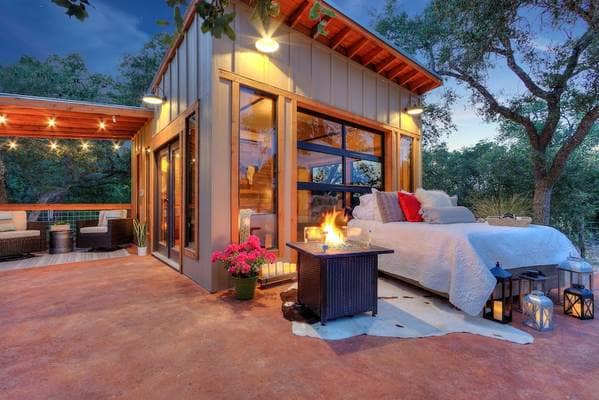 Airbnb says: Just an hour from San Antonio, yet a world away. 72 acres of rolling hills give privacy and seclusion. Glass walls open up to endless views of the stars, nature and wildlife.
Sleeps: 2 guests
Price per night: $133/ night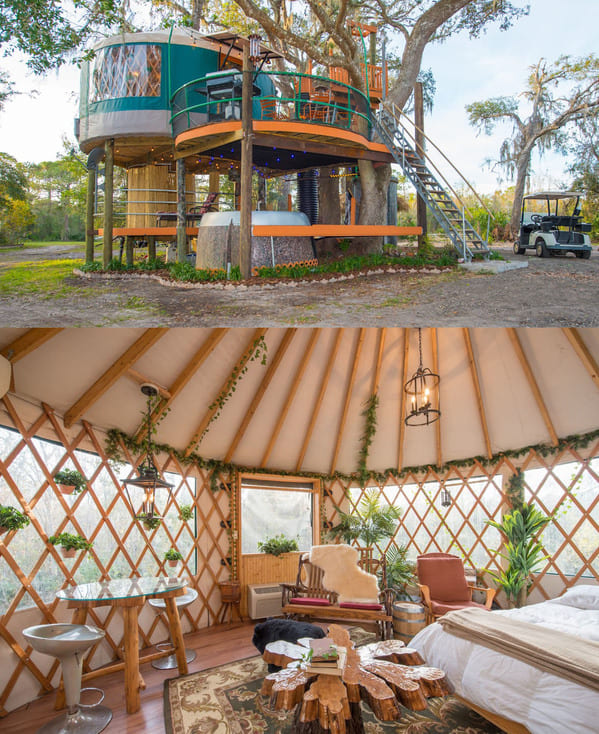 Airbnb says: Fulfill your dream of staying in a treehouse! The Treehouse has a tree trunk elevator, private shower, air-conditioning, and real toilet so that you can bring your significant other(no compost toilet here). This 18-foot yurt has accent lighting to create the mood of living in the trees on a starry night.
Sleeps: 2 guests
Price per night: $180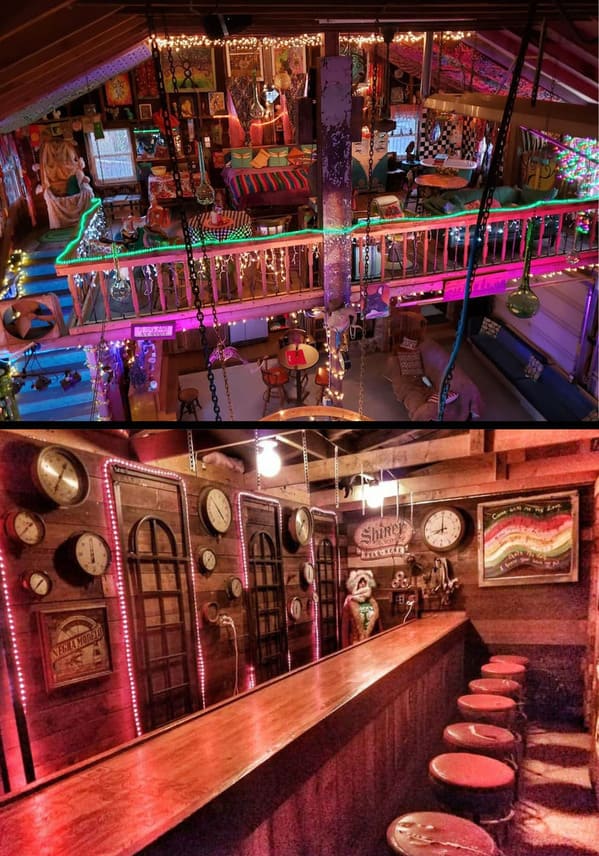 Airbnb says: This recycled barn has a private entrance, tons of space, tons of huge old antique lead glass windows for tons of natural light, huge loft with King size bed, and tons of fun twinkle lights, couch, open concept clawfoot tub with sprayer in the loft.
Sleeps: 4 guests
Price per night: $182
Airbnb says: When we think about our dream vacation, most of us imagine Bali – it's the place where almost everyone wants to got at least once in their lifetime. And, well, you can't really blame anyone, because once you see that Bali offers Airbnbs like this one, it's pretty obvious why everybody wants to go there asap.
Sleeps: 4 guests
Price per night: $227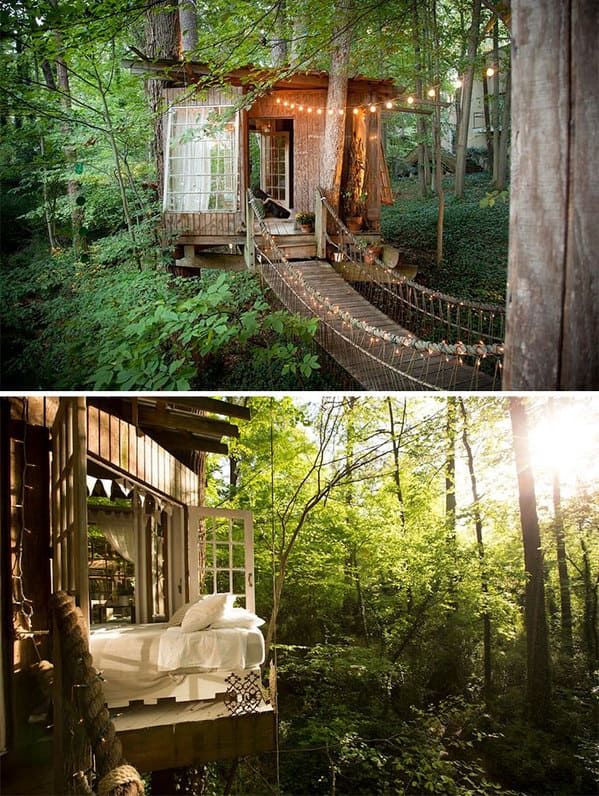 Airbnb says: Suite of three beautifully furnished rooms set among the trees. Just minutes from downtown, this secluded property is an urban retreat like no other. The treehouse provides an intimate, simple and restful retreat for 2 people. The treehouse is the subject of innumerable articles, blogs, Treehouse Master and Today Show.
Sleeps: 2 guests
Price per night: $389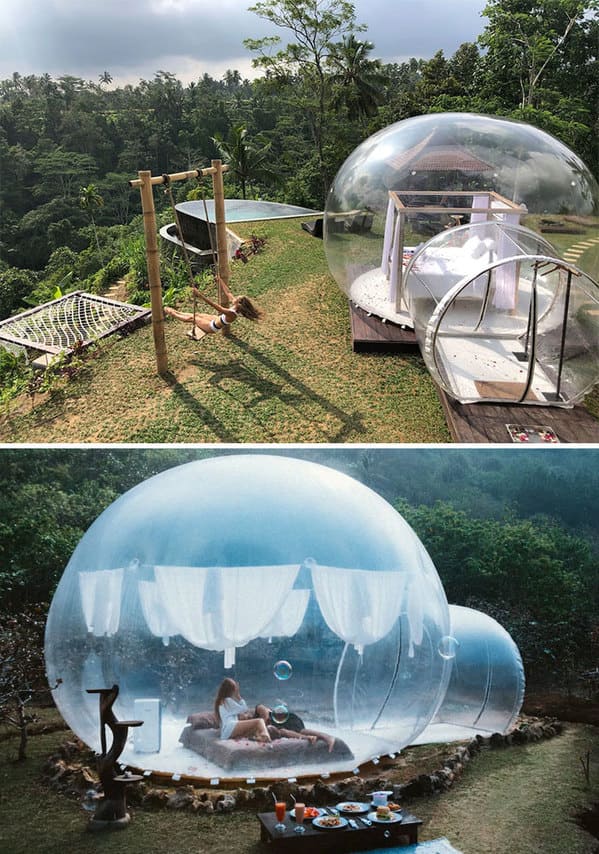 Airbnb says: This place is definitely every Instagrammers dream – from an amazing view to the unique bubble-shaped room and even your own private swimming pool, this place will definitely help you have your dream vacation with your loved one. Oh boy, if only every one of us could visit it.
Sleeps: 2 guests
Price per night: $232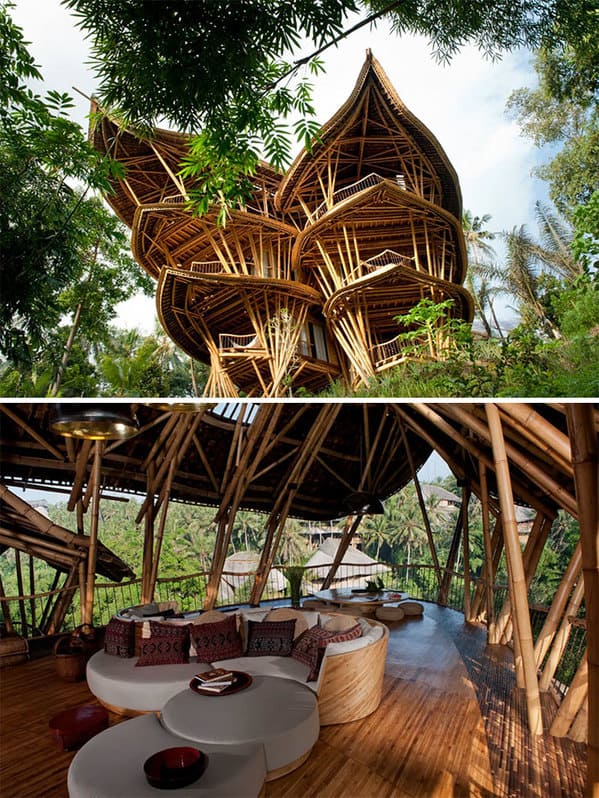 Airbnb says: This Airbnb is an entire villa with a river valley view to live in complete luxury. It has 5 floors, 4 bathrooms, a media room, and has 4 air-conditioned bedrooms. It also offers a private catering service to serve you lunch and dinner.
Sleeps: 12 guests
Price per night: $806
Airbnb says: Not everybody wishes to spend their holidays toasting up in the sun. So, if you're one of those people who'd much rather enjoy watching icebergs, an Airbnb in Greenland is the perfect spot for you.
Sleeps: 2 guests
Price per night: $188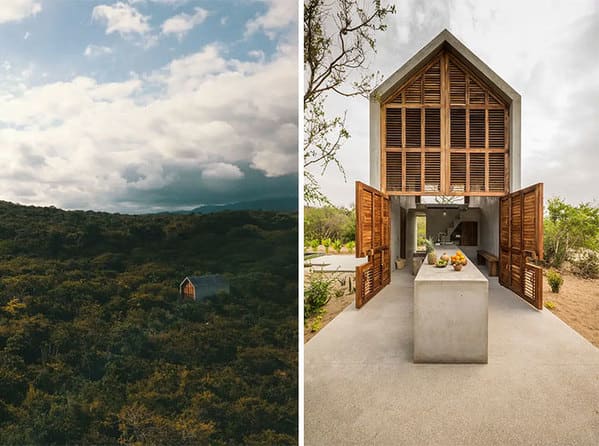 Airbnb says: This beautiful tiny house is the perfect escape, enjoy the private beach, private pool, and vegetation. Perfect for a couple or just to relax alone in the hammock. Be part of the tiny house movement in this luxury designer's house. The private beach will make your stay a great escape from the city noise and crowds. Try the pizza oven.
Sleeps: 2 guests
Price per night: $174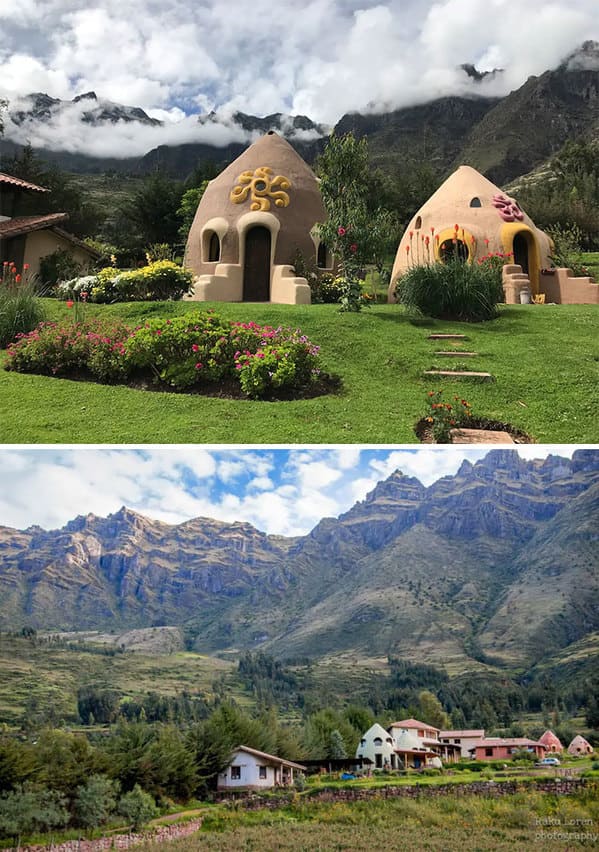 Airbnb says: Beautiful and peaceful double occupancy dome room in the base of the Pachatusan Mountain, ideal for couple or a single person, one double bed, feather duvet, private bathroom with hot shower, kitchenette, drinking well water, wifi access in the garden, and amazing 360 degrees of gardens and views.
Sleeps: 2 guests
Price per night: $27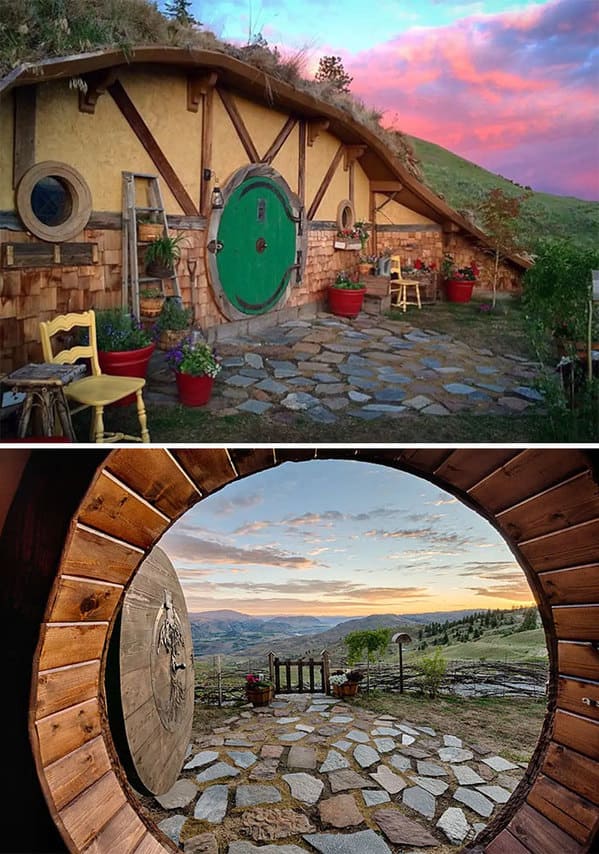 Airbnb says: This inspired dwelling nestled right into the breathtaking Columbia River Gorge mountainside. Reverently framed by the iconic round doorway, the wondrous views will entrance your imagination and inspire an unforgettable journey. Every nook of this little habitation will warm your sole, every cranny will charm your expedition of repose. Up the pathway, tucked into the earth, an unbelievable adventure awaits!
Sleeps: 2 guests.
Price per night: $400
Airbnb says: It's impossible to make a list about the coolest Airbnb's around the world and not mention the iconic Casa Caracol that looks like a house that should belong to Willy Wonka.
Sleeps: 4 guests
Price per night: $302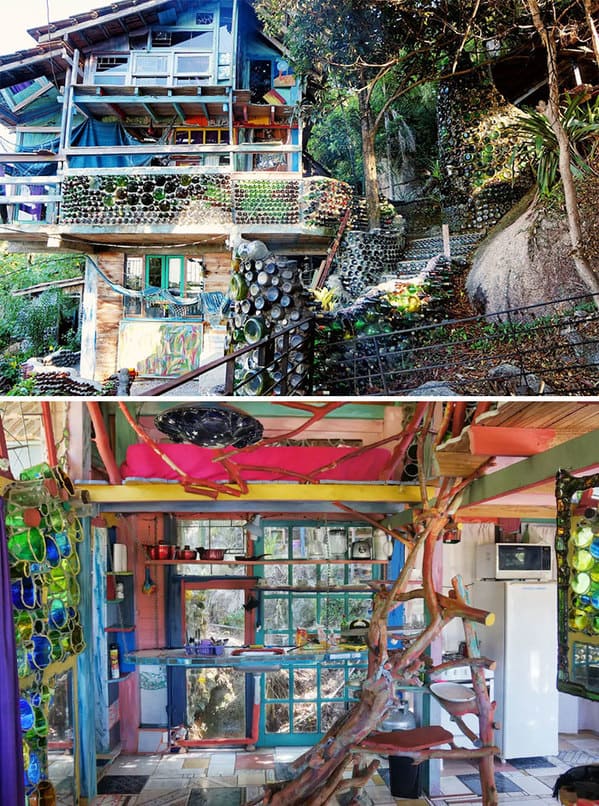 Airbnb says: Floripa house is a space that seems to levitate on the mountains thanks to its glass walls that allow to enjoy a 360 degree view over the territory. it was conceived with ecological awareness and the idea reusing materials.
Sleeps: 4 guests
Price per night: $37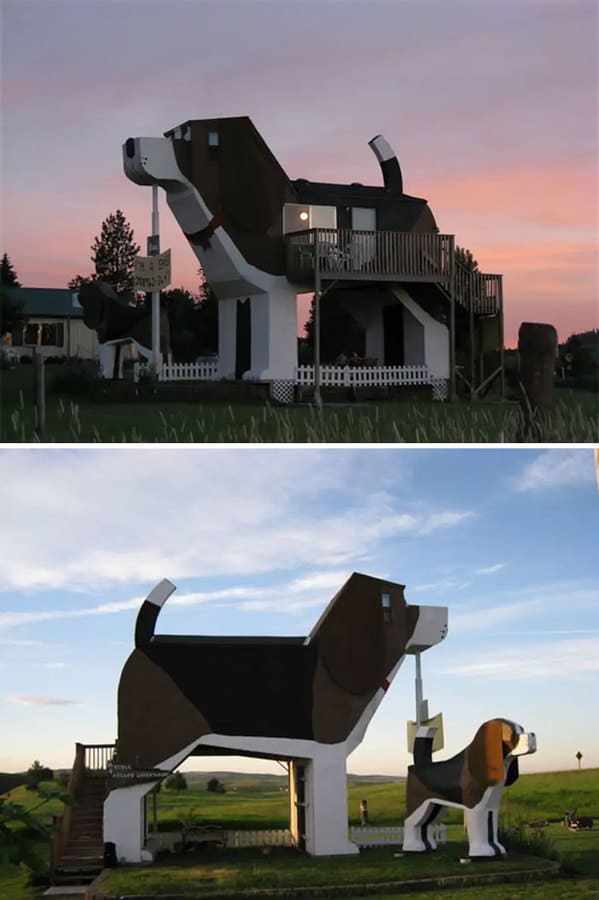 Airbnb says: Stay inside a beagle-shaped building with comfort and a unique style. Cozy up with selections from our library of books, games & puzzles many of which are dog-themed. Light snacking foods and in-the-dog breakfast is included. Wi-Fi if needed.
Sleeps: 4 guests
Price per night: $132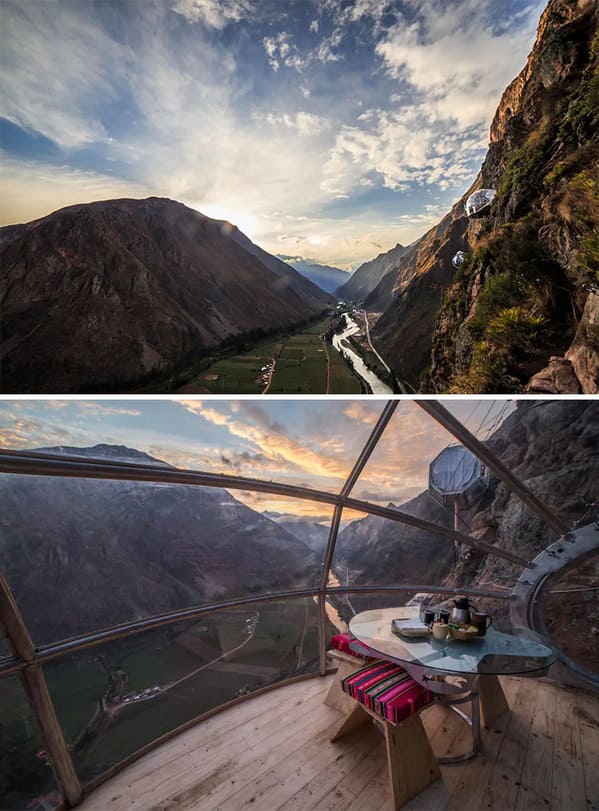 Airbnb says: Have you ever wanted to sleep in a condor's nest? Here is the next best thing! A transparent luxury capsule that hangs from the top of a mountain in the Sacred Valley of Peru.
Located in the Sacred Valley of Cuzco, Peru, the exclusive Skylodge Adventure Suites offers you the chance to sleep within a completely transparent hanging bedroom, that allows you to appreciate the impressive view of this magic and mystic valley.
Sleeps: 1 guest
Price per night: $581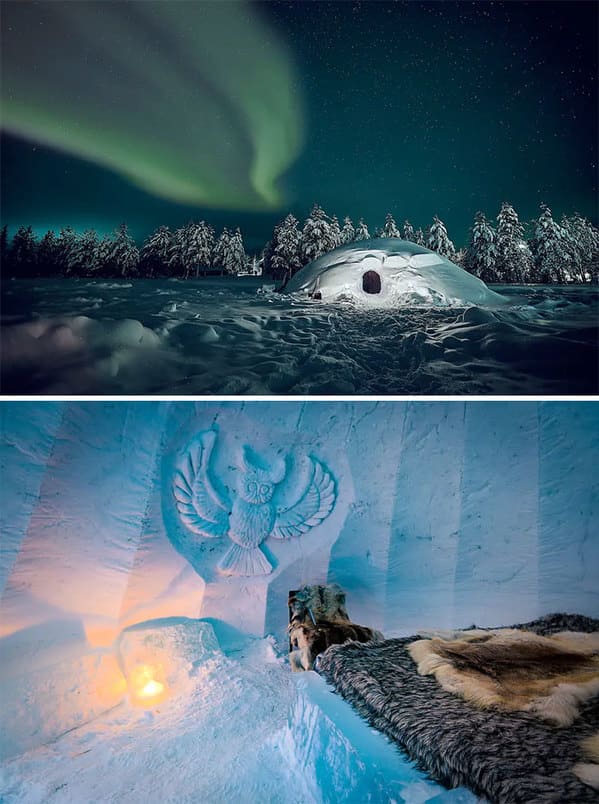 Airbnb says: Have you ever tried to imagine what it's like to sleep in an actual snow igloo? Did you know that the inside of an igloo can get as warm as 16 °C (61 °F)? Well, if that doesn't sound too cold you can try visiting Findland and experiencing sleeping in ice.
Sleeps: 6 guests
Price per night: $133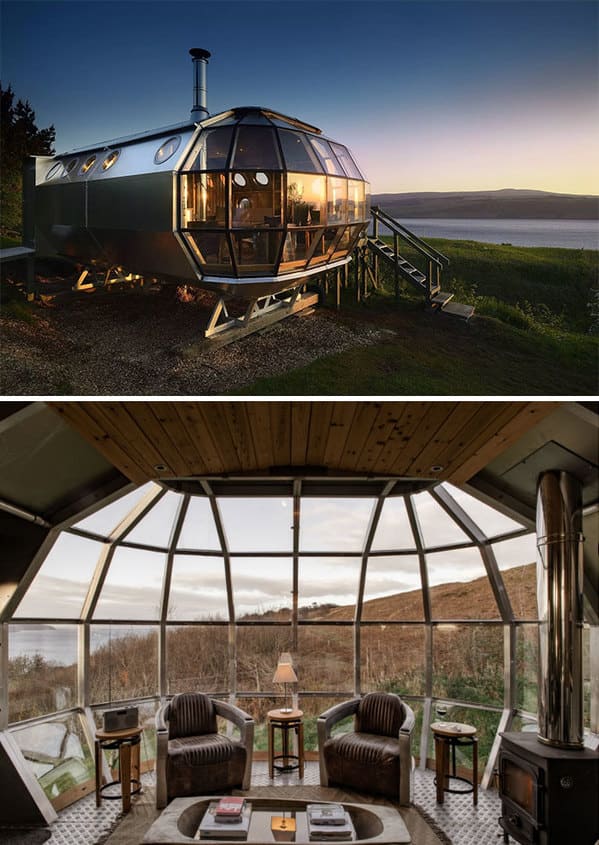 Airbnb says: Retreat to the deck of this sustainable getaway and gaze at the twinkling constellations under a cosy tartan blanket. AirShip 2 is an iconic, insulated aluminum pod designed by Roderick James with views of the Sound of Mull from dragonfly windows.
Sleeps: 2 guests
Price per night: $209
Airbnb says: Large artist's house and studio located in a tranquil suburb near Fox Chapel. The exterior of the house is covered with mirrors and the interior carries out the mirror theme and includes many original artworks and furnishing.
Sleeps: 10 guests
Price per night: $175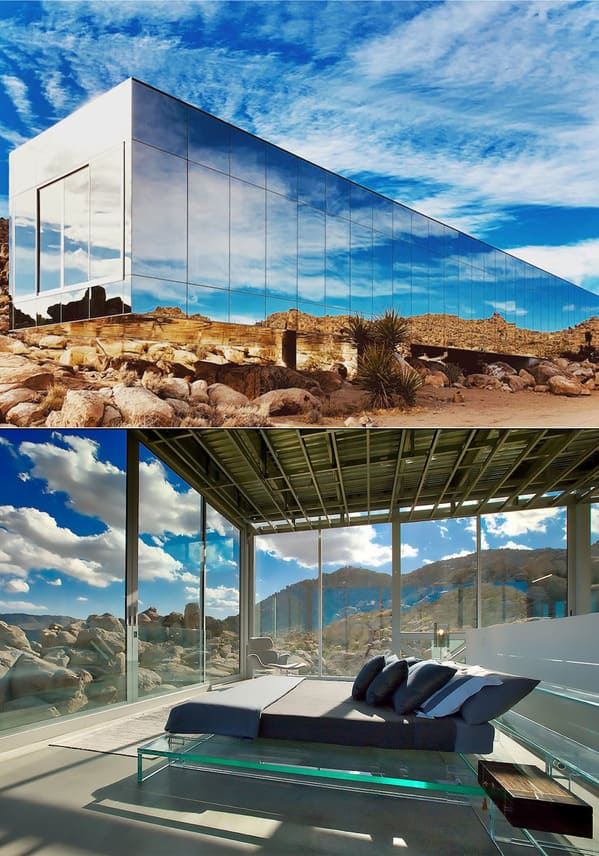 Airbnb says: The luxurious 100-foot indoor swimming pool contrasts with the High Desert surroundings. The 90-acre property has its own 4000ft mountain and shares half a mile border with Joshua Tree National Park.
Sleeps: 8 people
Price per night: $2,635