Everyone knows to avoid typos and grammatical errors on résumés, but are you including your full address? You are? What is this, 2013?
Résumés have changed significantly in the last ten years, and even more during the pandemic, so if you haven't updated yours recently, it's probably time!
And what better source for advice on keeping your CV current than a recruiter at one of the world's most selective companies — Google!
Meet Erica Rivera (@careerdivacoacking), a popular TikTokker in the career advice space, as well as a Chicago-based senior recruiter at Google.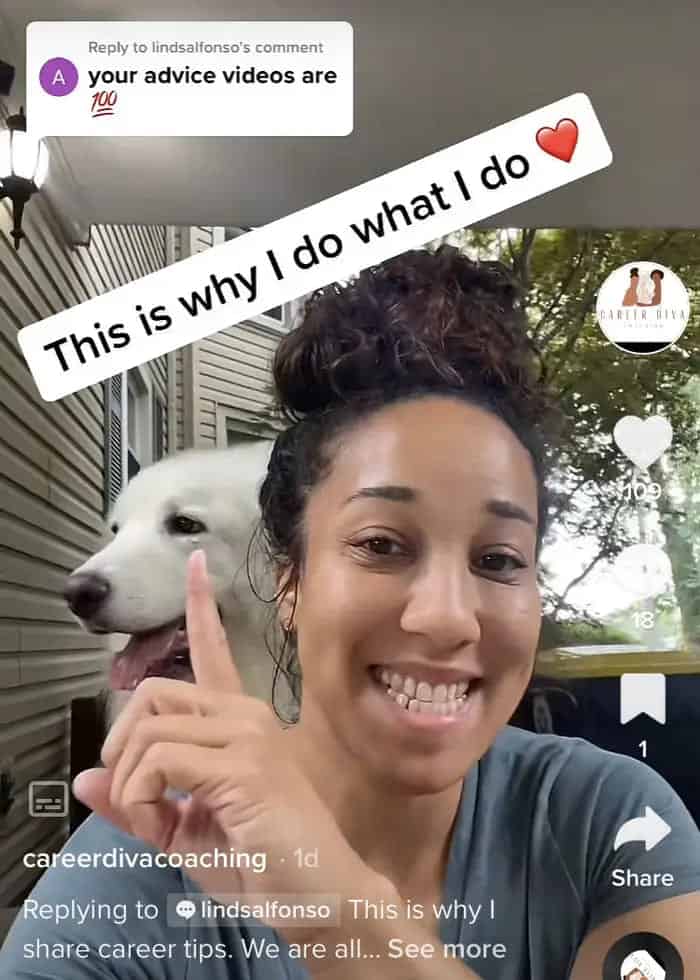 Recently, Erica shared some résumé tips that went viral on TikTok, racking up more than 2 million views.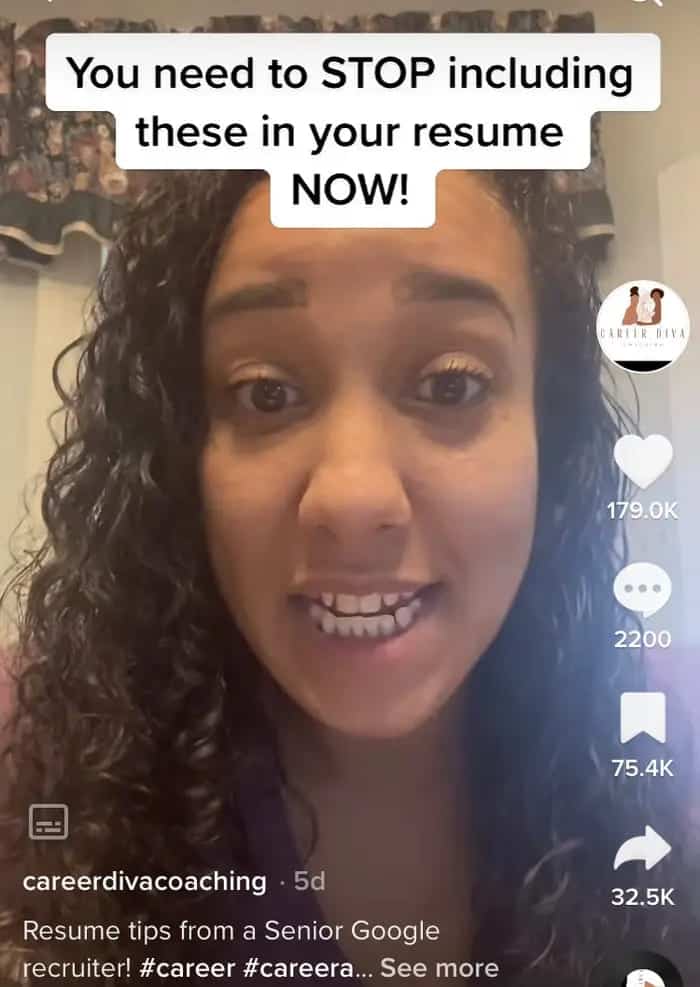 Here's what she says…
1. Your address.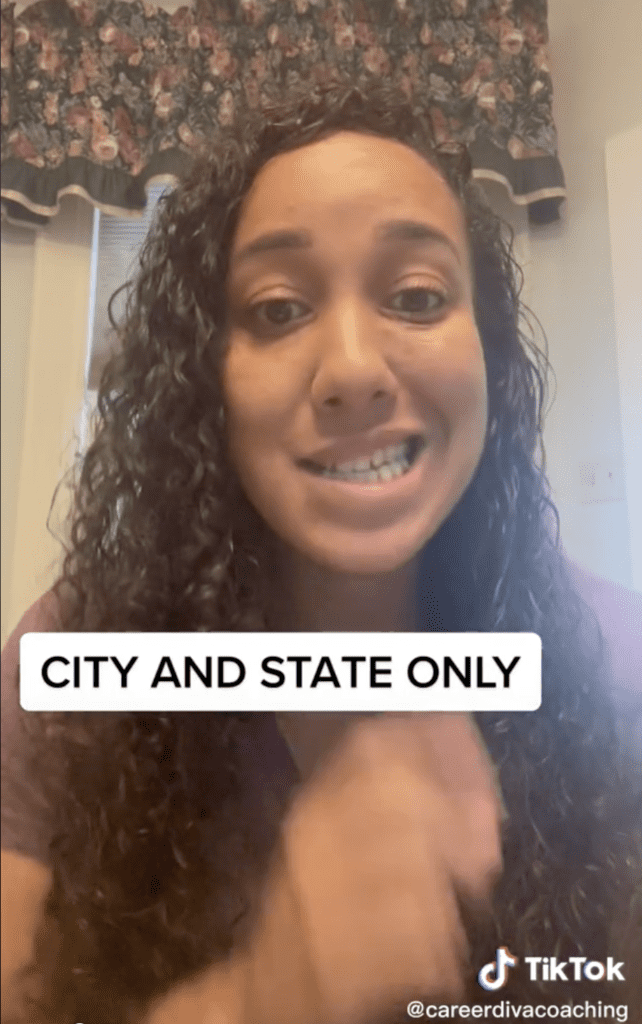 "We don't need the full address: city and state only," says Rivera.
This makes total sense because employers are likely not mailing you any packages or responding to your job applications with snail mail. Really the only thing they need to know, if you're working in the office, is that you're in the metropolitan area. And if you're working remotely, maybe they just want to know where you live as an icebreaker? Either way, leave the house number off.
2. Your objective statement.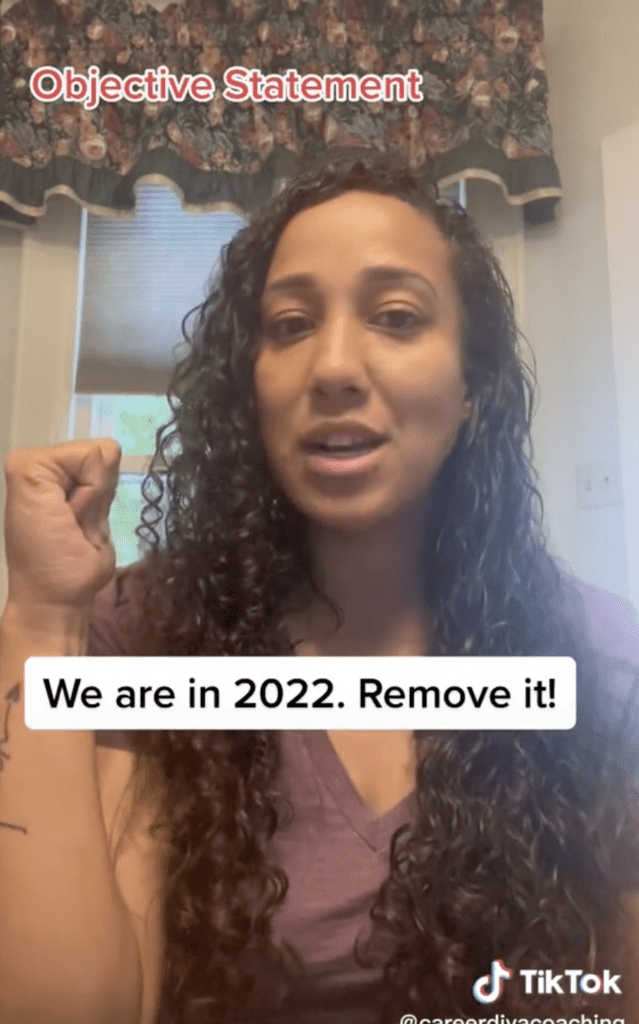 Don't you hate writing these? Well, good news, according to Rivera, objective statements "gotta go. That was 1970. We are in 2022."
3. Your entire work history.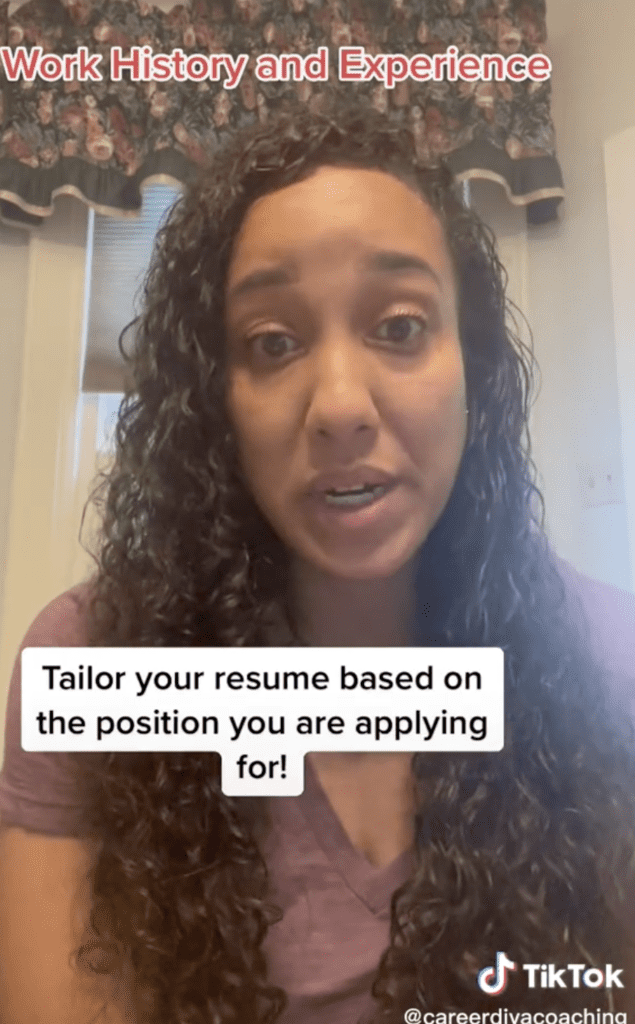 Oh did you work at Sonic when you were 16? That's great, but how is it relevant to the job you're applying for?
In the video, Rivea says: "Next, let's talk about your work history. So, we don't need your entire work history since you started your professional career. What we need to focus and hone in on is tailoring your search and résumé to the role you're applying for."
4. Mind your action verbs.
It's always awkward to describe exactly what you did at your old job, but if you're using weak action verbs like "I helped" or "I was responsible for," don't.
Rivera says "Next, weak action verbs. 'I helped,' 'I was responsible for,' nah. Take some of these recommendations I'm sharing here, and apply them to your résumé."
Instead of this kind of passive language, Erica recommends using active verbs like streamlined, managed, implemented, improved, strategized, increased, produced, and generated.
5. "References available upon request"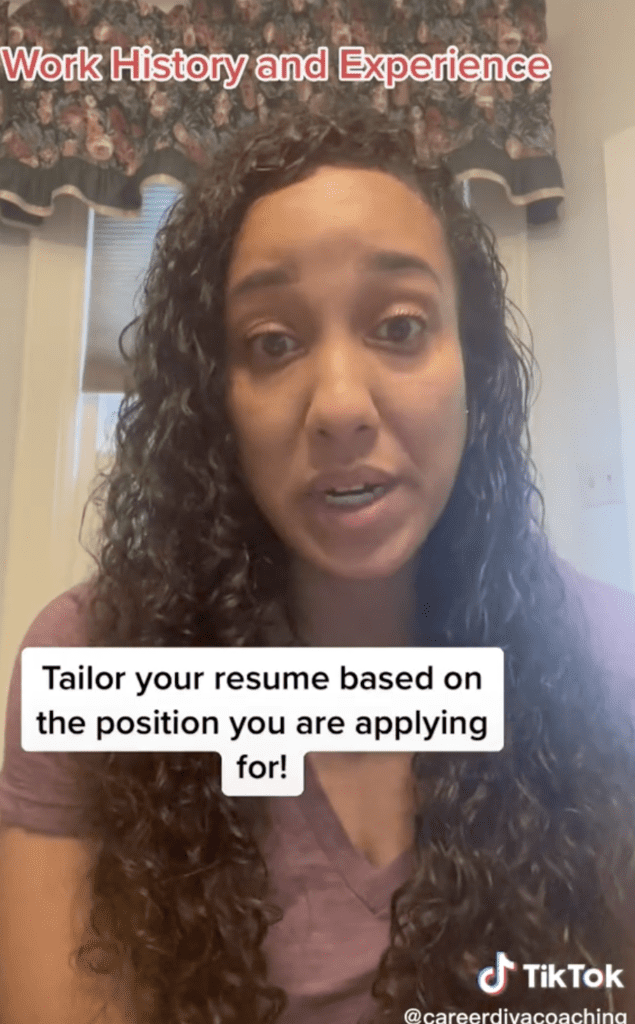 First off, I've never understood references on a resume, as if you're going to connect them with someone who will say something negative, but according to the video, you don't need them at all.
"Finally, references are available upon request. We don't need it. We will ask you if we need your references" Rivera concludes.
The video sparked lots of comments, from people praising Erica for her post to those critiquing it. Others added their own ideas.
There was one debate about what is and isn't important on a resume in the comment section; it seems like it's very hard for applicants to know what to include. Some people noted that industry standards may be different; what works for your industry may not jive for mine. The market is also in flux, which means it's hard to know exactly how to style the resume.
Whatever you do, you should make sure you craft a custom resume for that specific job; recruiters notice. Highlight your individual strengths and character qualities; show what you're good at and passionate about.
Erica recently spoke with BuzzFeed about her role. "I currently support a variety of roles at all levels in Application Engineering, Data Analysts, Software Engineering, Product Management, Program Management, and UX Design."
She explains that you can leave Excel and Word off your skills section now, "We live in an era where it is assumed that more people than not possess these skills, so it is best to leave them off."
"Using a variety of fonts, inconsistent bolding, different date formats, etc., will make it seem like you've gradually added sections to the same document over the course of several years," Erica went on.
Are keywords helpful? YES. "Because of the volume of résumés I receive at a given time, I typically skim the résumé to see if the individual has keywords listed pertaining to the job at hand that I am recruiting for. This will determine if I spend time further reviewing the candidate in-depth."
She ends with some encouragement, "I just want to send encouragement to all those out there who are actively searching and feeling as though they keep striking out. You've got this, and you will land a role! LinkedIn is an amazing resource. If you see a position that you feel passionate about, don't be afraid to reach out and send a direct message to a recruiter or hiring manager. You just might hear back!"
Watch her full video below and, if you're in need of some fine career coaching (who isn't), be sure to follow her on TikTok or Instagram.