Navigating social media while considering real-world implications can take some time to get the hang of, especially when you aren't used to those two facets of life colliding. But one young woman learned this the hard way after losing her dream internship thanks to a Twitter interaction.
Someone known only by the name Naomi H shared some exciting news online by announcing in all caps, "Everyone shut the f—k up. I got accepted for a NASA internship."
Her enthusiastic post got shared by others excited for her, and eventually caught the attention of Homer Hickam, a prominent former NASA engineer, who replied with a simple warning: "Language."
"Suck my d*ck and balls I'm working at NASA," Naomi fired back, which prompted Hickam to inform her he's on the National Space Council that oversees NASA.
The full interaction:
If things would have stopped there, maybe it could have just been an embarrassing slip-up and nothing more. 
Unfortunately, Naomi's friends started piling on and using hashtags that grabbed the attention of others at NASA, according to a since-deleted blog post from Hickam, who said he had nothing to do with the consequences that followed.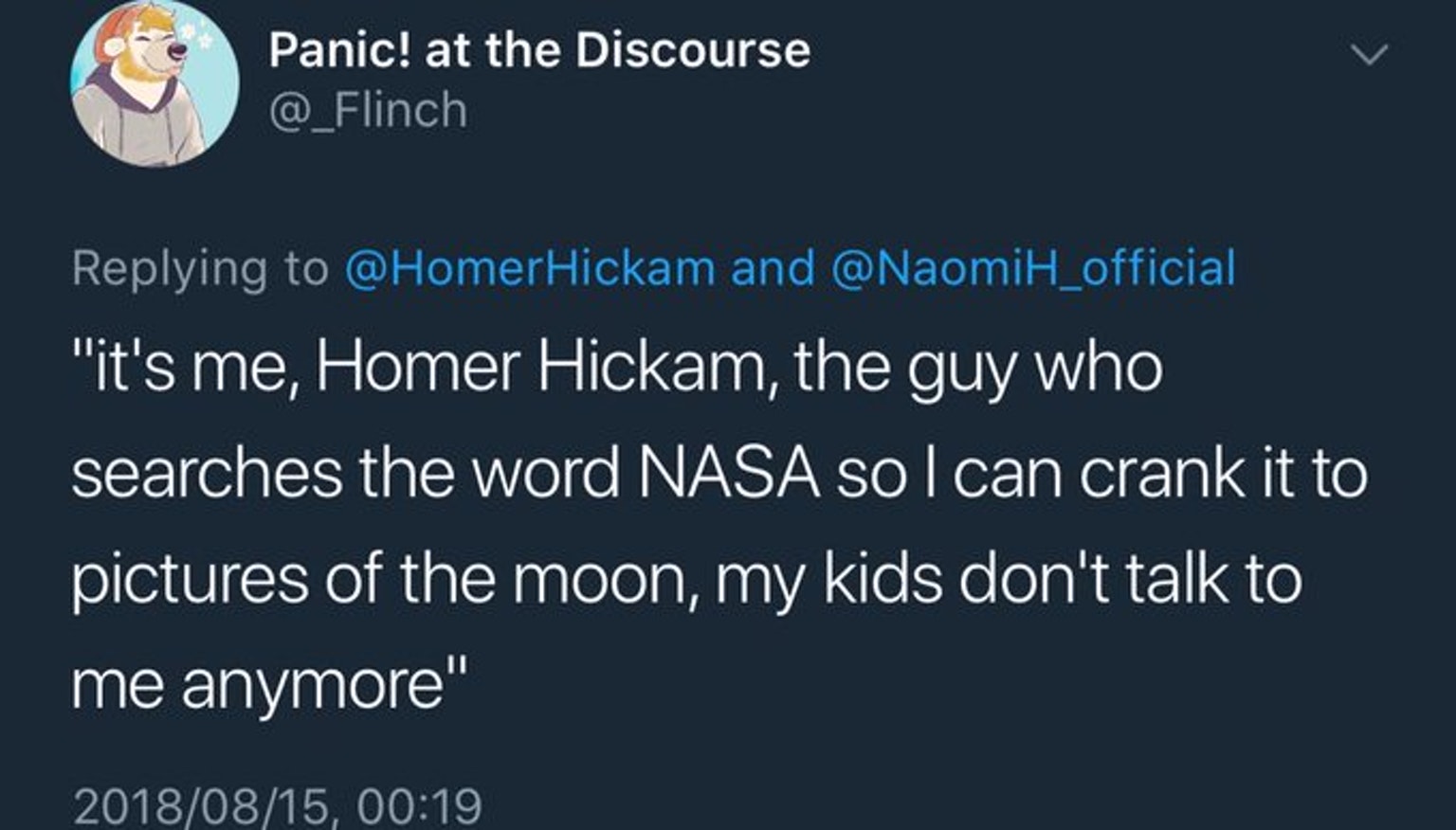 "I'm a Vietnam vet and not at all offended by the F-word," he wrote.
"However, when I saw NASA and the word used together, it occurred to me that this young person might get in trouble if NASA saw it so I tweeted to her one word: 'Language' and intended to leave it at that."
He continued:
"Later, I learned she had lost her offer for an internship with NASA. This I had nothing to do with nor could I since I do not hire and fire at the agency or have any say on employment whatsoever. As it turned out, it was due to the NASA hashtag her friends used that called the agency's attention to it long after my comments were gone."
Hickam also said Naomi reached out to apologize to him, which he felt was unnecessary.
"After talking to her, I am certain she deserves a position in the aerospace industry and I'm doing all I can to secure her one that will be better than she lost," he wrote. "I have also talked to the folks that had to do with her internship and made absolutely certain that there will be no black mark on her record."
Naomi herself deleted social media after the back and forth, and didn't comment on the matter further publicly.
The interaction happened back in 2018 but still circulates from time to time today as a good reminder to be careful how you interact with people online — and to be wary of accidentally prompting a pile on from well-intentioned friends who could ultimately lose you the job of your dreams.