Getting engaged is a huge life milestone. For the partner doing the proposing, it can take days, even weeks of planning to pop the question just right. After all, a thoughtful, memorable proposal increases the chances of getting a "YAAAS LET'S GET HITCHED." Now, one couple's beautiful proposal is going viral for its extensive planning — with a little help from a friend.
Charbel Abillama wanted to give his girlfriend a proposal that she would remember. Buzzfeed News reports that the lovebirds had been together for 10 years before Abillama decided to pop the question. Along with his friend Wael Mansour, he planned the proposal down the tiniest detail, with schematics for where rose petals, helium balloons, and floral arrangements would decorate the steps of the Château Laurier Hotel in Ottawa, Canada.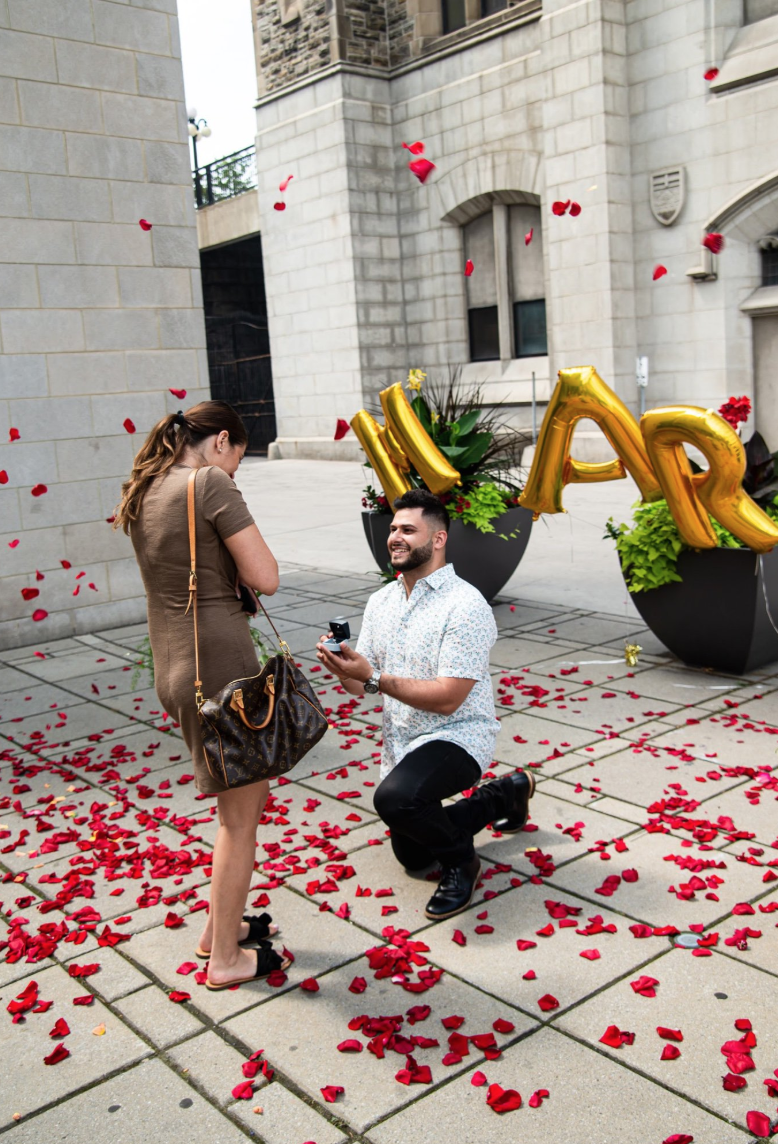 Abillama and Mansour had everything timed down to the minute, in order to surprise this bride-to-be, Kristina Hanna.
we stumbled upon a public proposal in the byward market today pic.twitter.com/xExtHrgJhO

— Alison Mah (@alisonmah) August 3, 2019
Unfortunately, the plan went awry when Mansour and Abillama were told they couldn't use the stairs of the hotel. "We were freaking out and scrambling and literally told security 'Sorry, but I'm not leaving, this has been planned for way too long.' So we ended up doing it at the bottom, beside the stairs with about 50-60 people watching," Abillama told Buzzfeed News.
Mansour, seizing on the improvisational spirit of the now funny proposal, decided to toss rose petals in the air. As Hanna was in full-on OMG IS THIS A PROPOSAL shock (complete with hands clasped around her mouth), Mansour threw petals at her and around her and just basically covered the ground in roses petals.
Video of his contribution to the cause when viral, because everyone loves a happy proposal. Mansour, for his part, is taking his newfound fame in stride, telling Buzzfeed News that "I still don't know what's happening or how it happened. It's funny because I've always been an outgoing and goofy guy but never thought I'd go viral for throwing petals as a last minute idea at my friend's proposal."
Imagine the scene at the reception if Mansour is the best man!
If you dont have friends like the guy throwing the petals then you need new friends

— Pablo 👻🎃ESCAPE🎃👻 (@Gentlebeast_p) August 5, 2019
I loved rose petal guy, made it so human, a buddy backup for his friend. Lovely!

— suepeac 🌈 (@suepeac) August 3, 2019
What would I do without my main man @petalthrower #FinishedProduct pic.twitter.com/qrs870tP8s

— Charbe Bellama (@cbellama3) August 6, 2019
Did anyone else find it hilarious when she paused for a second to look at the guy throwing the rose petals 😂😩 he stayed launching them 💀 pic.twitter.com/pQyw1tAUhV

— Steph (@StephSaysLess) August 6, 2019
I want the flower petal guy to marry ME!! 😂❤️👍🏼👍🏼👍🏼👍🏼

— Kathleen Edwards (@kittythefool) August 4, 2019