Actress Donna D'Errico was one of the stars in the classic 1990s beach-going series Baywatch, and recently took to Instagram to clap back at folks making ageist and body-shaming comments on her posts. 
D'Errico is 54 years old and routinely posts photos of herself in bikinis to her Instagram account. For the Fourth of July, the actress posted a reel of her in an American flag-styled bikini and was inundated with comments and criticism from the majority of women who told her she was "too old" for bikinis and "desperate" for attention. 
She captioned the reel with a simple, "Happy 4th of July everyone! 🇺🇸"
D'Errico, however, wasn't swayed by the trolling comments and posted a photo of herself in a different bikini along with a body-positive message.
"Quite a few women complained about the 4th of July video I posted in a red white & blue bikini because they thought I was 'classier than that' and 'too old to wear a bikini' and, my favorite, 'desperate,'" the Baywatch star wrote. "Let me tell you something that might surprise you. I can actually wear and do literally whatever I want. On that note, here is me in a bikini squatting on a coffee table ❤️"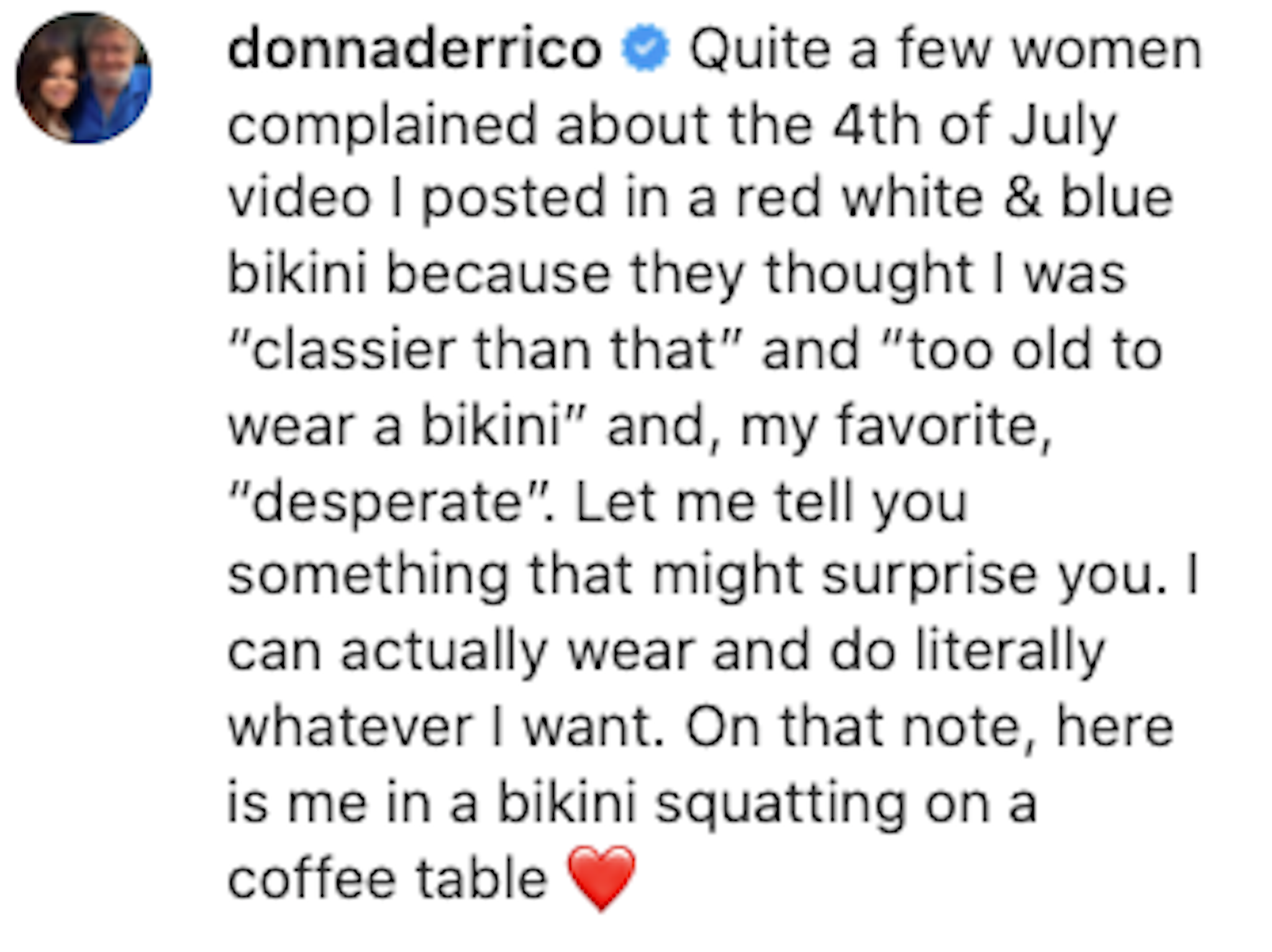 She went on in the comments section of her post to say that she hadn't removed the supposedly-offensive video from her page, and that it was still available in her Instagram's reels if anyone wanted to watch it.
"For all those asking, no I didn't remove the red white & blue 4th of July video. It's still up under the 'reels' tab on my page."
While D'Errico posts glamorous photos of herself in anything from bikinis to body stockings to evening gowns, she has admitted that she sometimes struggles with self-confidence, making the message of this latest post all the more important.
People applauded and supported the actress in the comments of her post.
"Be you. You are an amazing person no matter what❤️❤️ Annie and I just adore you," said 90 Day Fiancé star David Toborowsky.
Fellow actress Tracey Bregman commented, "Gorgeous and F anyone who tries to tear you down. You look incredible period ❤️"
"Those ladies are jealous and want to steal your sunshine. You are a beautiful woman, inside and out. Love you, my friend ❤️," one user said.
Others posted hearts and fire emojis in response to her post.