After hackers threatened to release nude photos of actress, model, and recording artist Bella Thorne, earlier this week she clapped back by releasing the photos herself.
"F*ck u and the power u think you have over me," Thorne wrote in a righteously angry Twitter post, revealing creepy text messages she'd exchanged with the hacker, accompanied by photos and videos of Thorne in various stages of undress.
She also included a screenshot of an explanation detailing her decision to release the salacious material herself.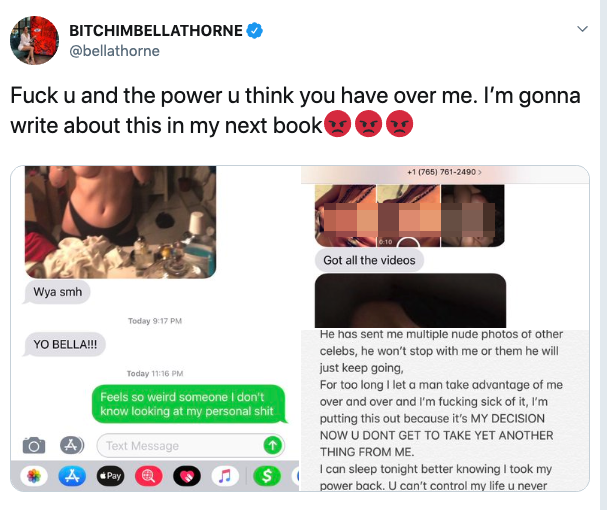 Initially, most people cheered Thorne's response to the hacker, however, The View host Whoopi Goldberg had her own hot take: Bella should never have taken the photos in the first place.
On the show, Whoopi said:
"If you're famous, I don't care how old you are. You don't take nude pictures of yourself. Once you take that picture, it goes into the Cloud and it's available to any hacker who wants it, and if you don't know that in 2019 that this is an issue, I'm sorry. You don't get to do that."
BELLA THORNE POSTS NUDE PICS TO THWART HACKER: Actress Bella Thorne said she took her "power back" by sharing nude photos of herself after blackmailers threatened to leak them – the co-hosts discuss if this was the right move. https://t.co/1091s9Fn2d pic.twitter.com/VqFXmggPle

— The View (@TheView) June 17, 2019
Sadly, Bella stumbled upon Whoopi's comments and responded in a tear-filled Instagram video, calling out Goldberg for slut-shaming her.
Bella said:
"I'm not gonna lie, I wanna say that I feel pretty disgusting. I feel pretty disgusting, Whoopi, knowing that everyone's seen my sh*t. And I just want to say that me watching this interview made me feel bad about myself. And I hope you're happy. I really do. I hope you're so f*cking happy….You're so crazy for thinking such terrible things on such an awful situation."
Watch Bella's full statement here:
We'll be sure to keep you updated on the inevitably half-hearted apology Whoopi will be forced to make at eh behest of The View's parent network, ABC.
More celebrity news: