As someone who works from home, my post-baby wardrobe included sweatpants and large T-shirts—much like many peoples' quarantine wardrobe. But if you're a celebrity and need to hustle right after giving birth, you might find yourself struggling to fit into pre-baby clothing.
Blake Lively recently called on clothing brands to be more inclusive of bodies, including post-partum bodies.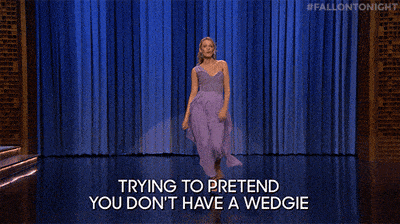 According to Lively, after giving birth to her third daughter, Betty, in 2019, it was a nightmare to find clothing that fit her.
Lively shared a series of throwback photos showing outfits she tried to put together post-partum for appearances.
"Because no one had samples that fit me after giving birth. And so many clothes from stores didn't fit either," Lively said. "So. Many. It doesn't send a great message to women when their bodies don't fit into what brands have to offer. It's alienating and confusing."
https://twitter.com/ericuhh13/status/1355578512422277121
"That body gave me a baby. And was producing that baby's entire food supply. What a beautiful miracle. But instead of feeling proud, I felt insecure. Simply because I didn't fit into clothes. How silly is that in retrospect."
Lively tagged Megababe founder Katie Sturino, saying she is "challenging brands to do better, helping women to not feel alone."
"She reminds me, we all can ask for better from the brands we love."
In 2016, Lively spoke to The Sun about the anxiety many women have about looking hot and ready for a string bikini after gestating a human being for nine months.
"Women put pressure on themselves to look like a Victoria's Secret model after having a baby," she said. "It's absolutely absurd. It was my job to look that way."
Lead image: Instagram