As cases of COVID-19 rise across the world, it seems like we're hearing about a lot of celebrities who have tested positive for the virus. One reason for that is it's really hard to get a test—unless you're rich with connections. Another reason is that celebrities have a lot of fans who they often keep updated. There might be more celebrities who have received a positive diagnosis and are keeping quiet about it, but many seem to be posting about their condition as they find out about it.
Like everyone else, the experience of having COVID-19 seems to run the gamut for celebs. A few have said they aren't experiencing any symptoms. Some have been in bed for weeks. Several have been hospitalized. All of them are warning people to take the virus seriously and to stay home as much as possible. A celebrity with a big platform should be sharing that message. We all need to stay home and flatten that curve. These are all the celebrities saying so:
1. Pink
View this post on Instagram
"Two weeks ago my three-year old son, Jameson, and I are were showing symptoms of COVID-19. Fortunately, our primary care physician had access to tests and I tested positive. My family was already sheltering at home and we continued to do so for the last two weeks following the instruction of our doctor. Just a few days ago we were re-tested and are now thankfully negative. It is an absolute travesty and failure of our government to not make testing more widely accessible. This illness is serious and real. People need to know that the illness affects the young and old, healthy and unhealthy, rich and poor, and we must make testing free and more widely accessible to protect our children, our families, our friends and our communities. In an effort to support the healthcare professionals who are battling on the frontlines every day, I am donating $500,000 to the Temple University Hospital Emergency Fund in Philadelphia in honor of my mother, Judy Moore, who worked there for 18 years in the Cardiomyopathy and Heart Transplant Center. Additionally, I am donating $500,000 to the City of Los Angeles Mayor's Emergency COVID-19 Crisis Fund. THANK YOU to all of our healthcare professionals and everyone in the world who are working so hard to protect our loved ones. You are our heroes! These next two weeks are crucial: please stay home. Please. Stay. Home."
2. Tom Hanks and Rita Wilson
View this post on Instagram
Hello folks. @ritawilson and I want to thank everyone here Down Under who are taking such good care of us. We have Covid-19 and are in isolation so we do not spread it to anyone else. There are those for whom it could lead to a very serious illness. We are taking it one-day-at-a-time. There are things we can all do to get through this by following the advice of experts and taking care of ourselves and each other, no? Remember, despite all the current events, there is no crying in baseball. Hanx
3. Sara Bareilles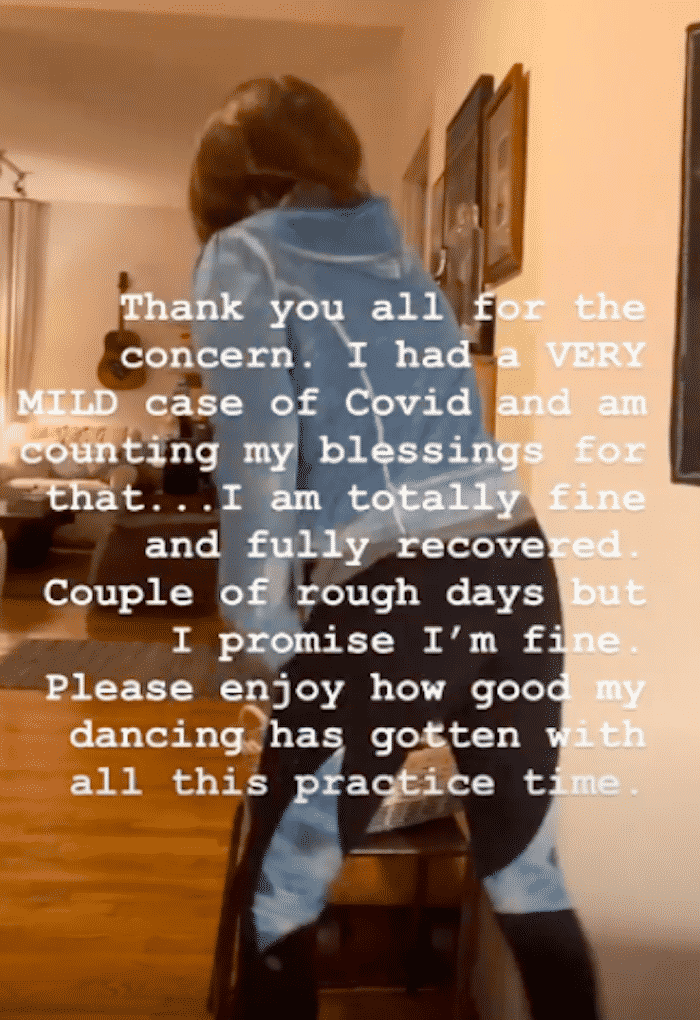 4. Andy Cohen
View this post on Instagram
After a few days of self-quarantine, and not feeling great, I have tested positive for Coronavirus. As much as I felt like I could push through whatever I was feeling to do #WWHL from home, we're putting a pin in that for now so I can focus on getting better. I want to thank all the medical professionals who are working tirelessly for all of us, and urge everybody to stay home and take care of themselves.
5. Idris Elba and Sabrina Dhowre
This morning I tested positive for Covid 19. I feel ok, I have no symptoms so far but have been isolated since I found out about my possible exposure to the virus. Stay home people and be pragmatic. I will keep you updated on how I'm doing 👊🏾👊🏾 No panic. pic.twitter.com/Lg7HVMZglZ

— Idris Elba (@idriselba) March 16, 2020
6. Sean Payton
Appreciate the well wishes. I'm feeling better and fortunate to not have any of the respiratory symptoms. 4 more days at home.#BEATCovid pic.twitter.com/vvjbnqoeZx

— Sean Payton (@SeanPayton) March 19, 2020
7. Prince Charles
View this post on Instagram
Thank you for all your 'Get Well Soon' messages for His Royal Highness. He is enormously touched by your kind words.
8. Colton Underwood
View this post on Instagram
I tested positive and I have been following all of the social distancing rules since last week. My symptoms started a few days ago, I was tested and just received my results today. For anyone out there that is hesitant to self quarantine… please do yourself and your loved ones a favor and stay home. We will all beat this and come out stronger on the other side. I'll keep you posted, Love y'all.
9. Daniel Dae Kim
View this post on Instagram
My experience fighting the coronavirus. Hi everyone- yesterday I was diagnosed with COVID-19, the disease caused by the coronavirus. Looks like I'll be ok, but I wanted share my journey with you in the hopes that you find it informative or helpful. Hope you all stay safe, calm, and above all, healthy.
10. Ali Wentworth
View this post on Instagram
have tested positive for the Corona Virus. I've never been sicker. High fever. Horrific body aches. Heavy chest. I'm quarantined from my family. This is pure misery. #stayhome