Sometimes, the Internet really wants to see two celebrities come together. Not always for kind reasons, but often for funny ones. Right now, everybody's jokes about Chet Hanks and Adele hooking up seem to be manifesting.
It all started with Adele posting a picture on Instagram of herself dressed up in honor of Notting Hill Carnival, an annual festival celebrating the Caribbean diaspora in the U.K. In the picture, Adele wears a Jamaican flag bikini and her hair is in Bantu knots, a tradition Black hairstyle. She looks uncomfortable with herself and she definitely made everyone else uncomfortable, too.
"Black people have been through enough in 2020."

Adele: pic.twitter.com/4RwWF7B0Ou

— Frederick Joseph (@FredTJoseph) August 30, 2020
The outfit reignited the debate around what cultural appropriation means. That's a fire that never really goes out because it happens all over. For example, here is Chet Hanks, the white son of actor Tom Hanks, speaking in patois:
UPDATE: Chet went to Smoothie King on rodeo drive told y'all "RESPECT TO MI ISLAND MASSIVE " pic.twitter.com/UaxdbyhyTk

— Brittny Pierre (@sleep2dream) January 6, 2020

Chet's bizarre adoption of Black cultural signifiers made people immediately think of him when they saw Adele:
Chet Hanks has 24 hours to respond. pic.twitter.com/fBF4Quw38E

— Nike & Calvin Klein (@_heyyymscarter) August 30, 2020
Chet Hanks was literally describing Adele pic.twitter.com/LDmX8hadY1

— ͏glixxy mujahid (@keepingthis0n3) August 30, 2020
Chet Hanks when he saw that Adele pic: pic.twitter.com/jgNIkjAGJh

— *6 down, 10 to go* (@DeiondreBlair) August 30, 2020
Rare footage of Adele and Chet Hanks in Jamaica pic.twitter.com/mZGnP3zc91

— Blackdumbgirl©️ (@Blacksmartgirl) August 31, 2020

It was all fun and jokes until it suddenly got VERY REAL. I don't know if Chet was encouraged by the Internet or if he just saw Adele and knew she was the one, but he went all in.
In a short clip, he yells her name over and over again in a fake accent, tells her she looked hot AF in her Carnival outfit, and then cranks her music on his stereo system and tells her to slide into his DMs:
Don't worry, there's a second video:
View this post on Instagram
And he's proud of it!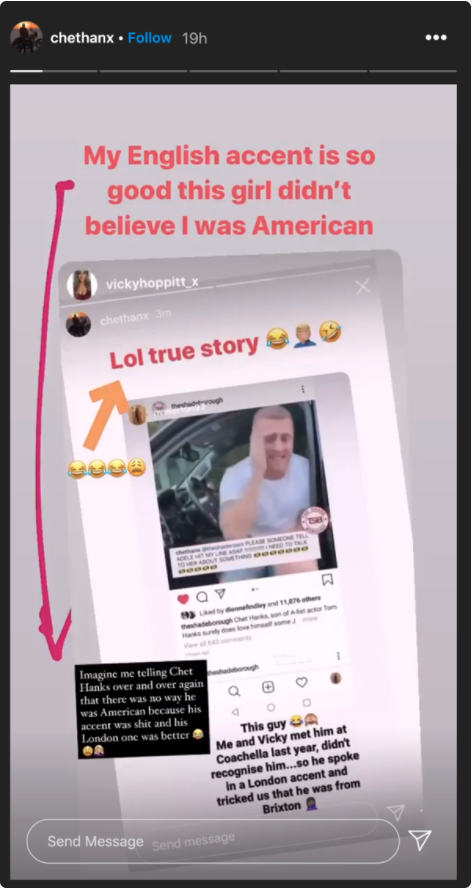 I seriously doubt Chet has Adele's number and I'm guessing she's gonna keep it that way.
More celebrities on social media: