Queen of Twitter, Chrissy Teigen, has removed her crown. On Wednesday night, Teigen sent Twitter into a tailspin when she announced she'd be leaving the platform.
In Teigen's goodbye, she wrote, "Hey. For over 10 years, you guys have been my world. I honestly owe so much to this world we have created here. I truly consider so many of you my actual friends."
"But it's time for me to say goodbye," she continued. "This no longer serves me as positively as it serves me negatively, and I think that's the right time to call something."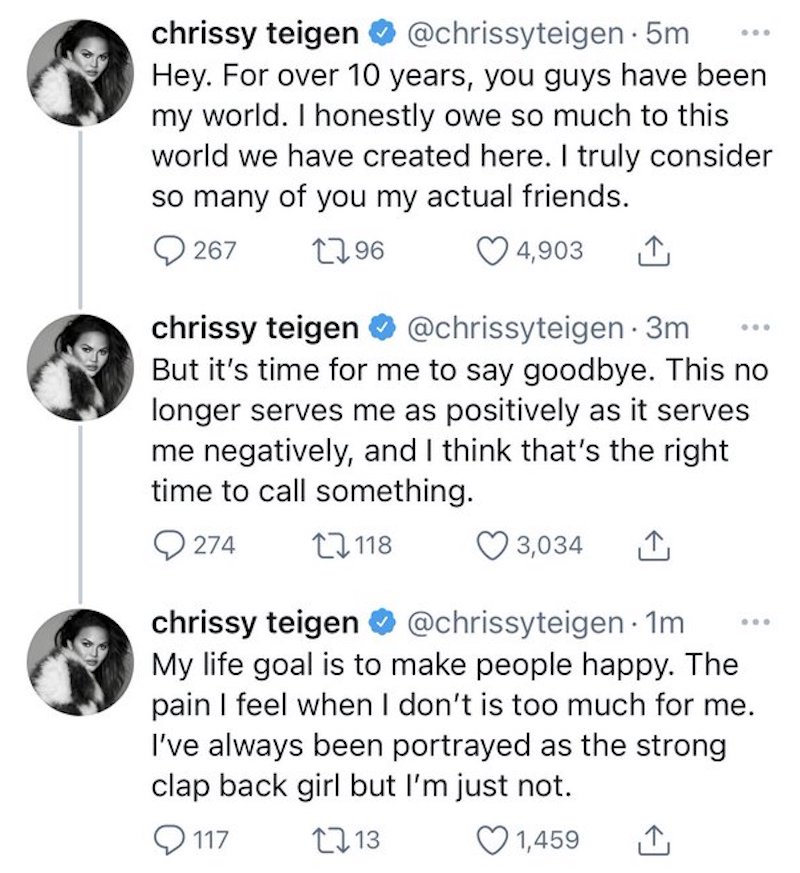 "My life goal is to make people happy," she concluded. "The pain I feel when I don't is too much for me. I've always been portrayed as the strong clap back girl but I'm just not."
And she followed through: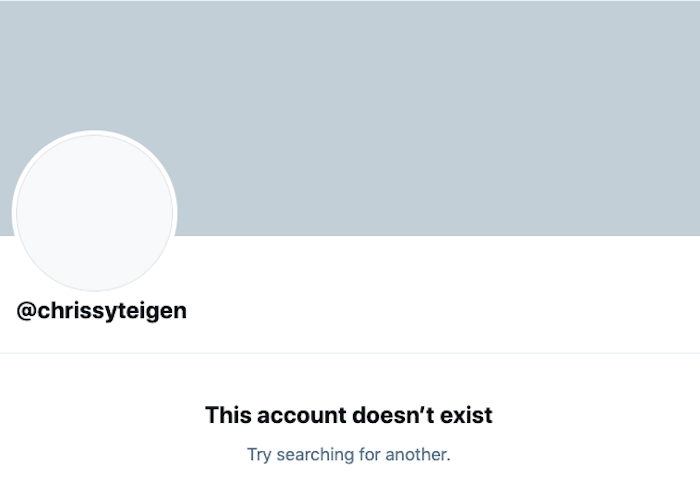 Chrissy Teigen's account is gone and a lot of her fans are deeply upset by the model and cookbook author being "bullied" off the app:
Teigen has faced all kinds of criticism on the app, particularly about her posts regarding wealth and privileges during the pandemic. She's also gotten harassed and criticized following her posts about her miscarriage.
There's pretty much nothing Teigen can say or do that didn't attract some negative attention—but she was followed by many fans who loved and supported her openness about her life as well.
Twitter, however, is not a place that builds nuanced dialogue or understanding, and that's a problem for the platform. A high profile account like Teigen voluntarily leaving is bad for business and Twitter's ability to moderate harassment, according to reporter Kurt Wagner:
There are plenty of people who are happy to see Chrissy Teigen go, and many of the top posts around her name are about this joy:
Chrissy Teigen's presence on the site definitely dominated a lot of conversations, partly because so many people have opinions about her that they really don't need to have. That's also bad for Twitter, because someone who drives engagement disappearing loses money for them, too.
As for Teigen, we should all genuinely wish her some peace and joy from her decision. Twitter doesn't seem to make many people happier. Recognizing that and making the right choice for yourself is probably for the best.