Dax Shepard and Kristen Bell have been celebrity marriage inspiration for a long time. They've been dating since 2007 and married since 2013. That's so long it's almost ordinary couple inspirational.
For a celebrity marriage, it's practically unheard of. Tabloid magazines love picking at celebrity marriages, blowing up every fight they find out about, sharing rumors, or just making them up. Shepard and Bell have exactly the kind of relationship they most want to pick apart, because it would be such an explosive story.
Too bad. These two really know how to support one another.
In a recent post, Dax Shepard shared an email from Life & Style on Instagram, asking him for a comment on a soon to be run story about how he and Kristen Bell are falling apart. Specifically, they wanted to know more about how his addiction issues are destroying their relationship.
Shepard talks very openly about his former use of drugs—he even has a podcast about it! But if there's anything tabloids love as much as a broken marriage, it's an invasive exploration of someone's struggle with addiction.
Shepard had a pretty funny response to their intrusiveness.
https://www.instagram.com/p/B1Met5Eh323/?utm_source=ig_embed
He captioned the post:
DAMNIT! Who in the inner circled leaked?! I want names! My "addiction issues" are between me, my sponsor, and the 3-4 folks listening to me speak about it for 4 hours a week on my podcast!!! How dare you!!! Now if you will excuse me, I have a marriage to save…
Bell was right there to support him in the comments, joking about their trials and tribulations: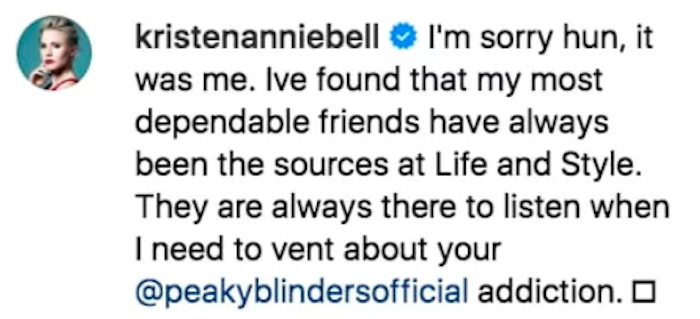 She wrote:
"I'm sorry hun, it was me. I've found that my most dependable friends have always been the sources at Life and Style. They are always there to listen when I need to vent about your @peakyblindersofficial addiction."
Scandal!
Then she added:
"Honey, I dare u to respond 'by 5pm tomorrow' with an email of ALL (eggplant) emojis."
Honestly, if Life & Style published that I might start reading it.