It's always weird when family members comment on your social media. There's always that weird aunt who doesn't really know how to use Facebook, or that cousin who constantly posts weird memes under all your selfies.
The worst is when relatives see your more scandalous pics that were not meant for their eyes, and the absolute worst is when they decide to comment on those pics. It's especially bad when you're a celebrity and the whole world is watching. That's exactly what's happening in the Baldwin family, and it's pretty cringeworthy.
Ireland Baldwin has been in public eye since before she was born thanks to her movie star parents Alec Baldwin and Kim Basinger, so she's definitely no stranger to sharing her life with fans. As she's gotten older, she's gotten used to sharing a whole lot, including some near-nude photos of herself. Her latest Instagram features a shot of her bare butt, and (unfortunately) her dad definitely saw it.
Alec Baldwin commented on his daughter's raunchy Instagram and it's clear he's pretty uncomfortable.
On July 17, Ireland posted a photo of herself on the roof of a Sixty Hotels property. In the photo, she stands with her back to the camera, showing off her, shall we say, assets.
https://www.instagram.com/p/B0CpOW7HFUa/?utm_source=ig_web_copy_link
Alec was not too happy to see his daughter share so much of herself online.
He wrote in the comments, "I'm sorry. What?"

Alec wasn't the only family member to take issue with Ireland's post. His brother (and Ireland's uncle) Billy Baldwin also commented on the photo, and he got into a little more detail about the weird situation. He wrote, "Tough one for Uncle Billy to 'like.' #awkward ♥️"

This isn't the first time Ireland's raunchy photos have been an issue in the Baldwin family. Last year she posted a photo of herself riding a motorcycle in a bikini.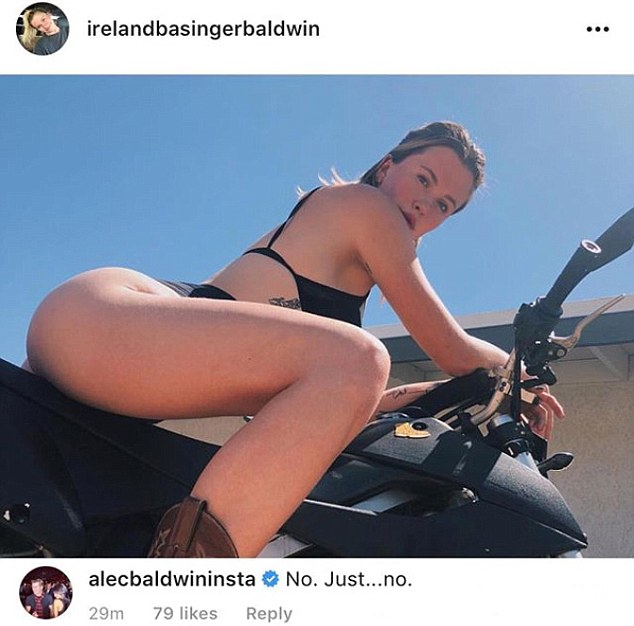 Alec commented, "No. Just…no." Ireland has also posted a few topless pics on her Instagram in the past, and those were also met with some disdain from his date, which is evident from his comments like "There you go again…" and "Oy veh."
Ireland probably won't stop posting photos of herself any time soon, so her family will probably just have to get used to them… or stay away from the comments.