This week has not been kind to Chris Pratt. On Saturday, filmmaker Amy Berg tweeted, "One has to go," along with photos of the four Chrises. Our of Chris Pine, Chris Pratt, Chris Evans, and Chris Hemsworth, Pratt was overwhelmingly named the worst Chris. And to be candid, I also would put him in the "worst Chris" category. Who gives up their aging cat because it craps all over the house?
One has to go. pic.twitter.com/HUWnbQOA43

— Amy Berg (@bergopolis) October 17, 2020
But there's more. According to the New York Post, many of the social media users who said Chris Pratt had to go explained that they believed he was a Trump supporter as well as a supporter of a church that maintains anti-LGBTQ beliefs. While Pratt has denied that he is a Trump supporter, he has been vocal about his love for his church.
The martyrdom of…. Chris Pratt? Okay.

— roxane gay (@rgay) October 21, 2020
According to Vox, Pratt and his wife Katherine Schwarzenegger both attend Zoe Church in Los Angeles. Last year, actress Ellen Page, who identifies as part of the LGBTQ community, criticized Pratt for choosing to attend that church: "But his church is infamously anti lgbtq so maybe address that too," she tweeted after Pratt appeared on The Late Show With Stephen Colbert.
Oh. K. Um. But his church is infamously anti lgbtq so maybe address that too? https://t.co/meg8m69FeF

— Ellen Page (@EllenPage) February 8, 2019
Now, Pratt's wife is coming to her husband's defense on Instagram after the "Worst Chris" incident.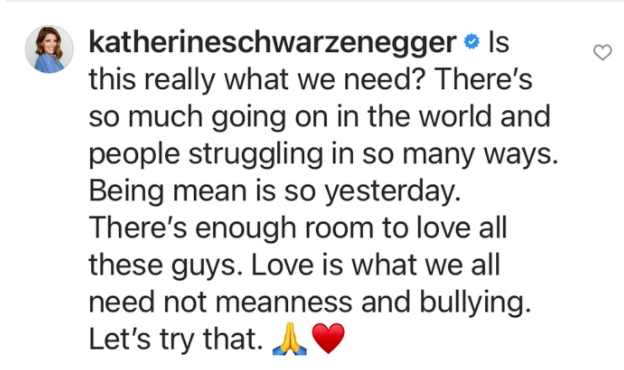 "Is this really what we need? There's so much going on in the world and people are struggling in so many ways. Being mean is so yesterday," she wrote. "There's enough room to love all these guys. Love is what we all need not meanness and bullying. Let's try that."
While Pratt hasn't disclosed who he is voting for yet, Schwarzenegger, who is Arnold's daughter, is definitely not a Trump supporter. She urged her social media followers to vote for Joe Biden after President Trump tweeted about his medical care at Walter Reed.
I will be leaving the great Walter Reed Medical Center today at 6:30 P.M. Feeling really good! Don't be afraid of Covid. Don't let it dominate your life. We have developed, under the Trump Administration, some really great drugs & knowledge. I feel better than I did 20 years ago!

— Donald J. Trump (@realDonaldTrump) October 5, 2020
"If that tweet itself is not enough to get you fired up to want to elect Biden and get rid of Trump as president of our country, then I don't know what is. That's the sickest tweet I've ever seen. Please vote," Schwarzenegger wrote.
You may or may not also enjoy these high-quality links: