Kim Kardashian West and her husband Kanye West welcomed their fourth child (second via surrogate) last Friday. Though the couple has yet to share a photo or the name of their new baby boy, multiple reports about the family's first few days together have emerged—including several that hint at his name.
Kourtney Kardashian on The Ellen Show on Friday announced that the Kardashian-West surrogate had gone into labor. Later that morning, Kim announced the baby's arrival on Twitter.
He's here and he's perfect!

— Kim Kardashian West (@KimKardashian) May 10, 2019
Kim added that the new baby is "Chicago's twin."
He's also Chicago's twin lol I'm sure he will change a lot but now he looks just like her ✨

— Kim Kardashian West (@KimKardashian) May 10, 2019
A couple of days later, Kim shared photos of her CBD-themed baby shower alongside a caption mentioning how she "was freaking out for nothing" because the newborn "is the most calm and chill of all of my babies so far and everyone loves him so much."
View this post on Instagram
The Keeping Up With the Kardashians star and beauty mogul added a teddy bear emoji at the end of her caption—a fact that Kardashian fans did not overlook.
In fact, Kim shared an entire batch of photos on Twitter which she captioned with *just* the teddy bear emoji.
https://twitter.com/KimKardashian/status/1127307252434554880
Leading many to believe that the fourth Kardashian-West child is named…Bear.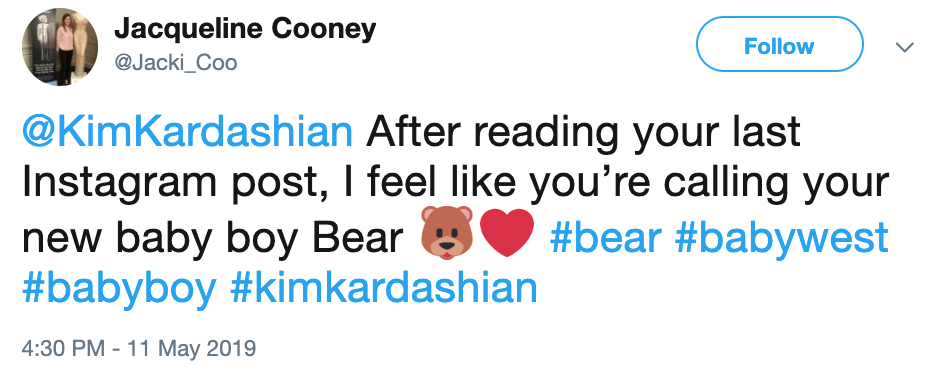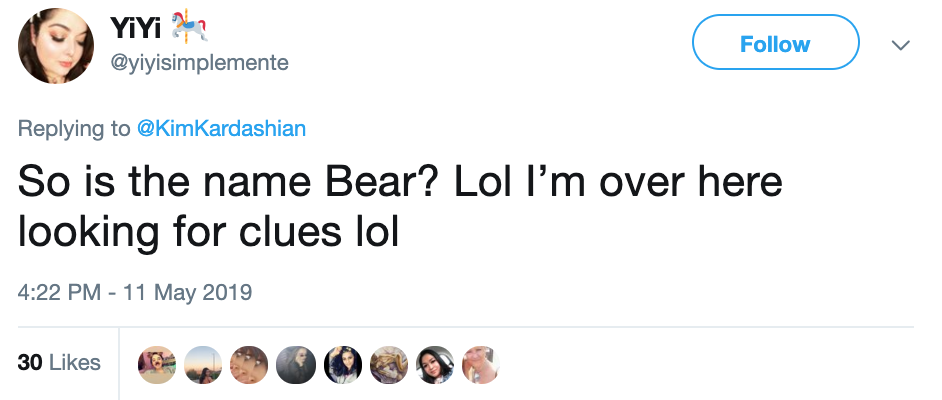 One fan pointed out the connection to the Chicago Bears—the NFL team associated with Kanye's hometown.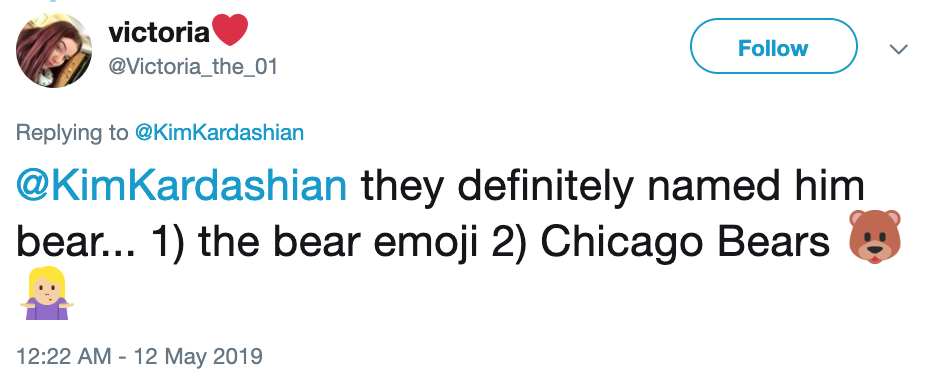 BuzzFeed also notes that Kim has never used the teddy bear emoji before, and that a family friend had used the same emoji in a comment she posted below Kim's Instagram photos.

A source close to the family recently told People that the family has almost settled on a name for the new baby.
"They have had a name in mind, but wanted to meet the baby before they decided," said the source. "Kim and Kanye were both present for the hospital birth on Thursday. They are ecstatic. Their little boy is super cute and looks like Kim."
But before we get too excited about the prospect of a Bear West, it's worth noting that Kim back in April said she wanted an Armenian name for the baby. She also told Jimmy Kimmel on an episode of Jimmy Kimmel Live! that month that she was considering the name 'Rob' as tribute to her brother and her late father.
https://www.instagram.com/p/BvHwNtCH4ss/
The name 'Rob' popped up again during Kim's baby shower. During the CBD-themed party, guests got to pick unique names for the baby boy—and Kim specifically zoomed in on a note on the wall that read: 'Robert Harut.'
Underneath the name, it is revealed that 'Harut' is Armenian for "he has risen."
Which name do you prefer? Bear or Rob?