The Brief: Video of Kobe Bryant explaining what appears to be the particulars of a basketball game to his daughter Gianna has gone viral on Twitter, birthing the "Kobe Bryant Explaining" meme.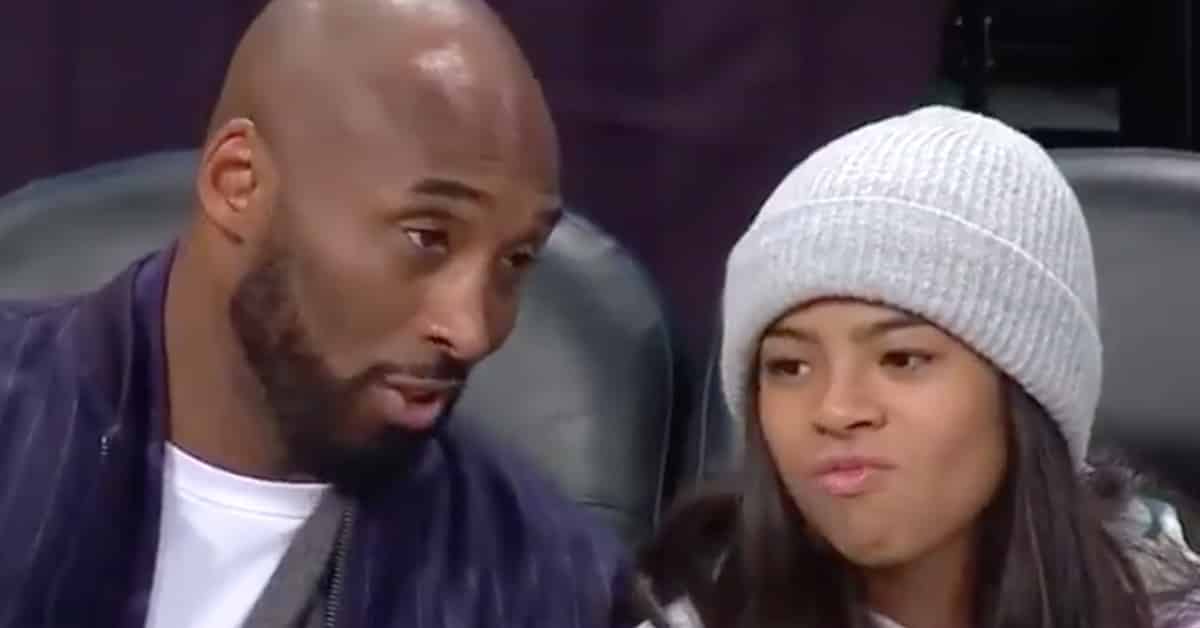 No matter how cool you think you are, once you have a kid, you learn that you're a dork. Moms and dads figure this out around the time their kids start going through puberty. It's tough, but it must be way worse for parents who are actually supposed to be cool.
Like Kobe Bryant, who is an actual (ex) NBA player. Now that his kids are growing up, he can explain basketball to his daughter Gianna, as shared by Twitter user @MomoLcztt:
Bomboclaat pic.twitter.com/j5mq8GSicu

— – (@MomoLcztt) December 27, 2019
The clip shows Gianna patiently nodding and smiling at an appropriate moment as her dad appears to break down an NBA game that is happening right in front of their courtside seats.
Gianna seems to be having a perfectly nice time, but the expression on both their faces is funny for being so relatable. Dads love explaining stuff. And even if you didn't have the kind of dad who wanted to show you how the garbage disposal works or something, their looks are still so familiar.
The cute conversation quickly turned into a meme, as people labeled what the conversation was actually about, taking either Kobe or Gianna's side, depending on who they identified with the most. Scroll through the best ones below and find the Kobe Bryant explaining meme that works for your situation. It can all be found in their faces—and on Twitter, of course.
1.
me explaining to people that i dont have control over my resting bitch face https://t.co/4S4g4ASmSv

— h (@whatvrthoughts) January 3, 2020
2.
Me trying to explain to my mum that I took a break just before she came to my room and that I haven't been chilling for the past 5 hours https://t.co/uB17F0dH4G

— mikias (@MikiasLemma) January 1, 2020
3.
me telling my crush why she should choose me and not her crush. https://t.co/MxkADIqfI8

— da'i alep spm 2020 (@heunoras) January 3, 2020
4.
Me at age 18, explaining to my mom, that the bottle of henny she found is for my friend and I'm holding it for them

— Kwame Owusu (@Kwamdog25) January 1, 2020
5.
My nana explaining how I'm related to everyone at the party https://t.co/hAWBiZstGb

— chan freska (@youngbiha) January 5, 2020
6.
Me explaining to my mom why i can't pause an online games https://t.co/XHf7Ktg8W8

— meL spM (@Syhmellllll) January 5, 2020
7.
Me explaining to my professor that my 89.99 can be rounded to a 90 if he/she were to be considerate of how hard I worked throughout the semester.

— Løŕđ M£łł¥ (@Lord_Melly) January 1, 2020
8.
Me explaining that just because I take forever to text back, doesn't make it acceptable for you to do the same pic.twitter.com/H5MtISy2ZO

— I am a Melon. (@SmdSzn) January 3, 2020
9.
Me explaining to my girl that if I haven't seen the movie either… I can't tell her what's going on.

— Ian Harris (@ianharris) January 1, 2020
10.
Me explaining to the military I can't partake in world war 3 cause of my knee injury https://t.co/O3w5b58f2r

— pdp. (@WHOISPDP) January 3, 2020