Mia Khalifa is in her late twenties, but when she was 21 she worked for about three months in the porn industry. According to an interview she recently did with Hero magazine, Khalifa does not own any of the videos she's in, and a huge conglomerate owns the web domain with her name attached. She says she was paid a flat fee of about £9,000 pre-tax. The company that owns all her videos and pictures has made an estimated $50 million.
Mia Khalifa only did porn for THREE months. Omg… pic.twitter.com/BhBzKSi0jJ

— Lasciate ogni speranza (@yevangeIion) June 23, 2020
At the time Khalifa's porn career was beginning, she was a very well-known name, in part because she wore a hijab in a scene despite being Catholic. To be honest, I have not followed her at all and I still knew exactly who she was! And I had no idea how brief her film career was, nor the fight she's had to put up to distance herself from it or get the rights back to her name. That's how powerful a reputation can be.
All of that might be why Khalifa recently told a girl on TikTok that she shouldn't get into porn. In a TikTok made by a young woman that has now been set to private, the TikToker wrote, "When you realize pornhub pays you 20k to be in a video w/o your face in it."
— rayyan (@puteraryans) June 22, 2020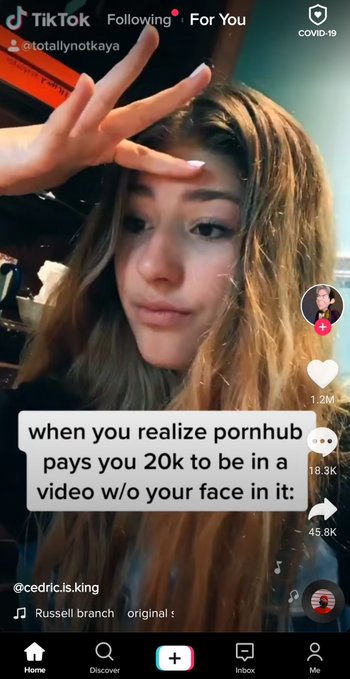 Khalifa commented on the video, saying, "Girl don't do it…….. iss not worth it."
She also wrote in an Instagram Story that she is "reeling from the level of love" people are showing her, adding: "I…..am…utterly overwhelmed by the support from every woman on social media tonight…And I don't want to go to bed because I want to hug each and every one of you until I fall asleep."
"Those 11 videos will haunt me until I die," she wrote in another story. "And I don't want another girl to go through that—Because NO ONE should."
"Long story short: don't do porn. And if you do, don't do it with a company," Khalifa wrote. "Do it for yourself, on your own terms. And if you consume porn, make sure it's ethical and not from giant corporations who profit off exploiting women."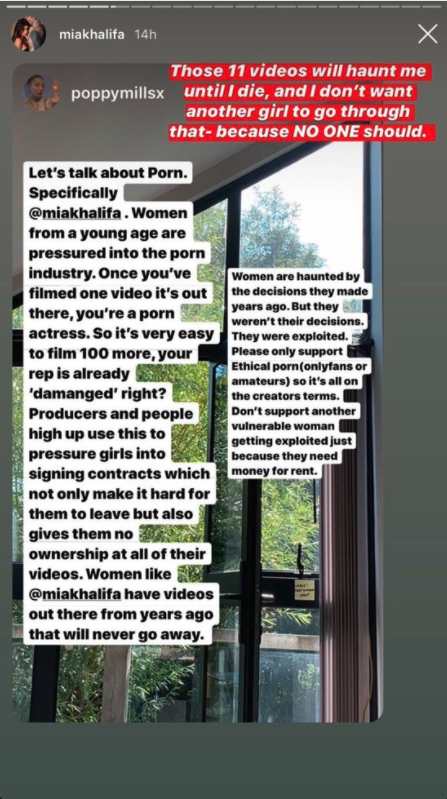 Khalifa's comment soon had her name trending on Twitter, probably because a lot of people hadn't necessarily been aware of Khalifa's feelings if they don't follow her on social media:
mia khalifa constantly being harassed online and in person for previously working in the porn industrt by the men that used to watch her porn makes me incredibly fucking angry! what the fuck!(?)

— ria (@RlDOKI) June 23, 2020
Mia Khalifa did porn for 3 months when she was 21 and still has it held over her head everyday as if it were a crime. While half of Hollywood can be rapists/abusers/child-traffickers but forgiven after half assed apologies. I wish y'all hated injustice as much as you hate women

— freebobbyshmurda (@arianna__may) June 24, 2020
Mia Khalifa isn't wrong you know.. pic.twitter.com/DLGwmAOkVZ

— Sameer (@CurryKhn99) June 24, 2020
Ok i thought the porn industry woudl be cool cuz you can make some good money, but comkng from mia khalifa, i don' think i want to anymore pic.twitter.com/3IH4ZMV2Tf

— read my bio | Trans SCUM Rosa (@_the_ants_) June 24, 2020
if you think mia khalifa deserves to be dehumanised & mistreated because of her past choices and refuse to accept her wishes of being separated from her past out of some "principle" i have big news for you: you are simply, objectively, and undeniably a bad person.

— letícia (@apolobelvedere) June 24, 2020
fuck man i honestly feel rly fkin bad for mia khalifa like imagine all the shit that she has to go through 😔

— lucï-fer (@malikersssss) June 24, 2020
Mia Khalifa was only in the porn industry for 3 months where she was paid just $12,000 for less than a dozen videos that have 800M+ combined views and has been an outspoken advocate against sex abuse and trafficking ever since and yet men are still like ha ha ha i seen ur tiddy https://t.co/5X16Z4K4EG

— Sarah McGonagall (@sarahmcgphoto) June 23, 2020
i am sorry but i have so much respect for mia khalifa, being under a contract really sucks and being pressured into doing things that you don't want to do is beyond real and i am saying it by experience. pic.twitter.com/PK9H478ngq

— Jahsved (@jahsved) June 23, 2020
mia khalifa is trending cuz men suck but let's talk about how she's been promoting BLM on her social media w her platform better than some of y'all's favs pic.twitter.com/isFbOj5lFp

— ahja 🙂 (@ahjagr) June 23, 2020
Khalifa has also commented on the stuff she has lost since her porn career on Twitter:
Got death threats ✅
Lost my family ✅
Lost my sense of privacy ✅
Lost the right to my body ✅
Lost my dignity ✅
Lost my mental health ✅
No chances at first impressions ✅
Few brands will work with me ✅
Makes my marriage harder ✅
I worry about my future kids ✅ https://t.co/P9LxZLWZkq

— Mia K. 🇱🇧 (@miakhalifa) June 23, 2020
In her interview with Hero, Khalifa explains that she has done a lot of work on herself to escape the need for validation, which motivated a lot of her decision making when she was younger. But she also says that there is a predatory aspect to porn that people don't understand from the outside, and she was not ready for when she signed her contract.
She suggests that if you want to watch porn (and her fame indicates that people really do!), buy it directly from performers as much as possible to avoid supporting exploitation. And if you're a young person considering entering the industry, research more than just the money.
Enjoy More Trending Memes & News, Or Don't: