Rainn Wilson, the actor best known for playing Dwight Schrute in The Office, has changed his name to 'Rainnfall Heat Wave Extreme Winter Wilson' to draw attention to climate change.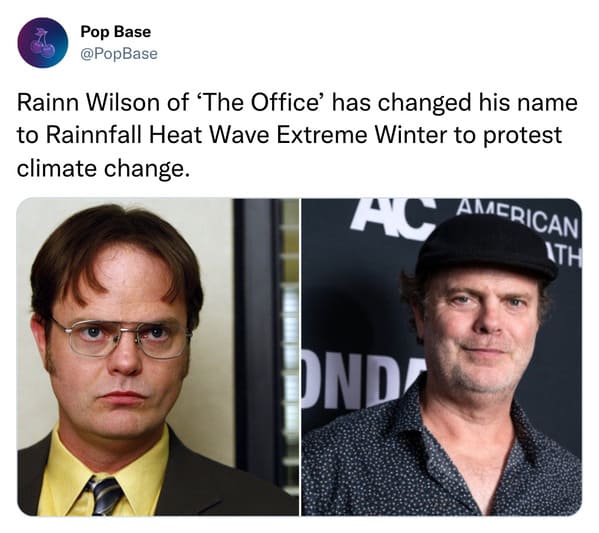 Wilson is also urging others to follow suit to spread awareness about the effects of climate change.
Go to link in bio ⬆️ and create a name that will bring attention to this problem. Then – and this is the important part – change your social media profile or display name to match your new ArcticRisk name.

— RainnWilson (@rainnwilson) November 9, 2022
The actor revealed that he used the Arctic Risk Name Generator to come up with the new name.
And if enough of us do this, then maybe @cop27_egypt will be where our world leaders sit up and notice Arctic risks and introduce a solution…

Make Arctic Name Changer a Game Changer!#ArcticRisk#ArcticNameChanger#ClimateCrisis#cop27

— RainnWilson (@rainnwilson) November 9, 2022
Folks on Twitter couldn't help but notice that this is exactly something Dwight from The Office would do.
— Owen 🧡 (@Ovirtuous_) November 10, 2022