In case you missed it this weekend, HBO and Game of Thrones released a new trailer for the final season, along with a premiere date of the first episode. Posted on Twitter and other social media outlets, the "official teaser" featured the remaining Stark family members walking through the crypts at Winterfell, as voiceovers of those from the Stark family who have died play in the background.
April 14. #ForTheThrone pic.twitter.com/Mzy22yxM6Z

— Game of Thrones (@GameOfThrones) January 14, 2019
As the three remaining Starks walk through the crypt, we're reminded of all of those family members who are no longer in the show—including their parents, Ned and Cat Stark. The short teaser finishes with the three hitting a wall in the crypt, staring at their own statues.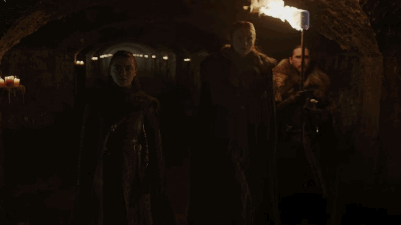 Before you know it, Jon's flame dies out and, an icy frost takes over the entire crypt—foreshadowing that the long night is here, and the Army of the Dead is coming for them.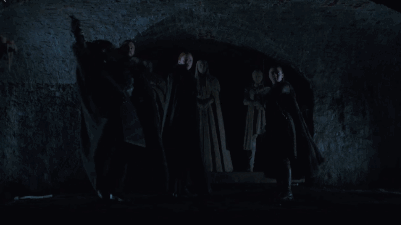 Since the teaser dropped, fans online have been freaking out over the fact that we officially have a date and, some more information on what will go down (kind of).
https://twitter.com/Bria_dia/status/1084641618475520000
JON AND ARYA PULLING OUT THEIR SWORDS AT THE SAME TIME IS MY NEW SEXUALITY https://t.co/HImBZD3Kr0

— Suzie Sainwood (is away) (@suzannesamin) January 14, 2019
https://twitter.com/J__m__8/status/1084641653162459139
I almost threw up from nerves/excitement https://t.co/RVQrBxBNJH

— Liz Gonzales (@TheLizGonzales) January 14, 2019
Well I'm about to spend the rest of my night reading 50 trailer breakdowns https://t.co/LMHskVO0sQ

— Ari Alexander (@AriA1exander) January 14, 2019
https://twitter.com/alicialutes/status/1084636340824592384
hbo: *gives us the bare minimum with that game of thrones teaser*

our desperate asses: pic.twitter.com/VM1LPqnHQU

— s (@thronesrings) January 7, 2019
Jon and Sam warned them. They warned them all. #WinterIsHere https://t.co/x3W8VClHWD

— Patrik [No C] Walker (@VoiceOfTheStar) January 14, 2019
Wow the game of thrones teaser https://t.co/cNtNAq4xsE

— dewek (@DerekMHayes) January 14, 2019
My emotions after watching the Game of Thrones teaser: pic.twitter.com/YAF3g8m23N

— María (@nerdIndy) January 14, 2019
Mark your calendars, y'all, April is only 3 months away.