** This post is dark and full of spoilers **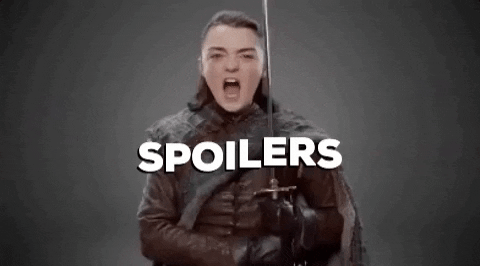 After defeating the Night King in an epic (and dark) battle, the gang on Game of Thrones went back to what they usually do—fight over the Iron Throne. This time around, Cersei Lannister made her way back into the story and Daenerysset sail for King's Landing with her beat-up army and her remaining two dragons.
But, instead of having a normal entrance and welcome into King's Landing, Cersei greeted Dany by killing off one of her children—Rhaegal—and then taking her most trusted friend and advisor, Missandei, right out from under her.
At the end of the episode, Cersei had Missandei displayed for her entire fleet of people in chains—a huge metaphor knocking Dany for being the "breaker of chains." Missandei herself was once a slave before Dany saved her from a life of servitude. Cersei then had the Zombie Mountain decapitate her in front of everyone—including her love, Grey Worm.
Her last words left a lasting impression on fans—as Missandei screamed "Dracarys," hoping Dany would just burn King's Landing to the ground. Fans who watched the episode were just about as heartbroken and outraged as Grey Worm was watching his girl die right in front of his very eyes.
1.
https://twitter.com/waltermurimi92/status/1125283228699566085
2.
https://twitter.com/_michaelmncube/status/1125282758866161669
3.
missandei's final word was dracarys, and that's exactly what dany is going to do to them. AS SHE SHOULD #gameofthrones pic.twitter.com/3etVnvoglN

— ًٓ (@danyskylo) May 6, 2019
4.
"Dracarys."

Pour one out for a real one.

Y'all weren't worthy. #GameofThrones #ThronesYall pic.twitter.com/08bIxaUFTK

— B. (@brufff22) May 6, 2019
5.
Us: Nooo, Dany don't go MAD and kill innocents in King's Landing. U better then that, gurll.

*Cersei kills Missandei*

Us: FUCKING BURN THEM ALL! LET THEM SUFFER. 'DRACARYS' THEIR ASSES.#GamefThrones pic.twitter.com/OfenNrcALI

— Chanel Lerm (@LermChanel) May 6, 2019
6.
https://twitter.com/crystalsullied/status/1125352606493134849
7.
greyworm was supposed to take missandei to see the beaches again #gameofthrones pic.twitter.com/xqczKcCXA6

— mo ☾ (@magenlayne1) May 6, 2019
8.
Everybody's like "Missandei could have grabbed Cersei and jump!". #GameofThrones pic.twitter.com/KpFgIbF9aQ

— Super Panda🤸🏼‍♀🇦🇷 (@soysuperpanda) May 6, 2019
9.
Cersie: Any Last words ?
Missandei: Dracarys.

Entire GOT fanbase:#GameofThrones pic.twitter.com/ZTvY25hJ3g

— Salman Abjani (@SalmanAbjani) May 6, 2019
10.
cersei: if you have any last words you should say them now

missandei: pic.twitter.com/vrGuWwu7UV

— Elena M (@yellingnstuff) May 6, 2019
11.
so y'all had to kill Missandei,I here I was thinking black would prevail and greyworm and missandei would move to wakanda and have beautiful life together but that can't happen if her head is detached from her mf body.
I feel played,I don't accept this#gameofthrones #missandei pic.twitter.com/LRnd1BJzoI

— FitzgeraldThomasGrantTheThirdIsStillABitchBaby (@nomfundoG_) May 6, 2019
12.
daenerys freed missandei from chains, only for her to die in chains. she deserves so much better. pic.twitter.com/WxeKs0Ts7n

— hadeel 3 (@emiliacIarked) May 6, 2019
13.
Cersei: Kills #Missandei

Euron: Kills #Rhaegal 🐉

How would you like your King's Landing?
Dany and everyone else: WELL.FUCKING.DONE.#GameOfThrones pic.twitter.com/odayOPDpod

— Kristen (@Kris_10_San) May 6, 2019
14.
Missandei was the most innocent, pure character we've ever had, all she wanted was to support the queen that freed her from years of slavery and enjoy life with the man she loved, I have no sympathy anymore burn them all #GameofThrones pic.twitter.com/nf9DEAn8uG

— come back? (@livelovebread) May 6, 2019
15.
Everyone tonight after watching Missandei be executed in front of Grey Worm, rhaegal shot down, Varys conspire against Dany, Jon send Ghost away without saying goodbye, Jamie leave Brienne for Cersei, and Dany lose almost everything she has: pic.twitter.com/kTMeFeGRei

— IJFWY (@IJFWY) May 6, 2019
16.
we ride at dawn for missandei #DemThrones pic.twitter.com/8TPuaZOF3K

— BAP I (@beforemoonlight) May 6, 2019
17.
Me crying knowing I'll never see Missandei, Ghost, and Rhaegal again:

Vs

Me watching Dany burn the city alive: https://t.co/8tHaTLdmF9

— ☁️ Gae Boi (@michael_for_day) May 6, 2019
18.
I will never forgive the writers for making Missandei die in chains. SHE DESERVED BETTER#GameofThrones pic.twitter.com/sHvPj7OJIa

— Nala (@currambalana) May 6, 2019
19.
He had no fear 'til he met Missandei of Naath.

DRACARYS.#GameofThrones pic.twitter.com/MerNoAqxzy

— lara (@itziartuno) May 6, 2019
20.
Grey Worm after The Mountain killed Missandei #gameofthrones pic.twitter.com/GvZoBBrRzs

— liss (@pimpdaddylissy) May 6, 2019
21.
Daenerys & Drogon headed to westeros next episode to avenge Missandei's death #GameOfThrones pic.twitter.com/HKgf2Ou91j

— Cara (@NovakCara) May 6, 2019
22.
Fuck Cersei and the mountain up grey worm. For Missandei.#DemThrones pic.twitter.com/gqxeQPkTnK

— Curiosities (@CuriositiesGuy) May 6, 2019