Those of us who are unphased by the actual football part of the Super Bowl prefer to look forward to the halftime show performances. Every year showcases an insanely famous musical artist or even multiple if we're lucky.
Past performances have included the likes of Prince, Paul McCartney, Beyonce, and Justin Timberlake to name a few.
This year, the 53rd annual Pepsi halftime show featured Maroon 5 with guest appearances by Travis Scott and Big Boi.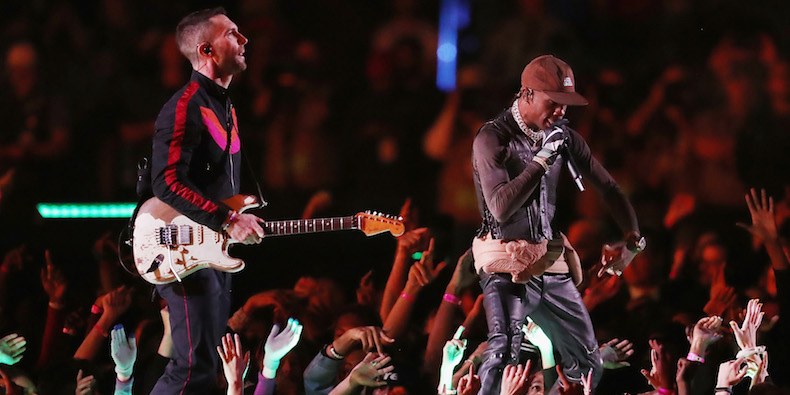 While it seemed like a solid lineup, fans were less than impressed with the performance and took to Twitter to mercilessly roast Maroon 5.
1.
Adam Levine at the #SuperBowl halftime show is every white person at a wedding with at least 7 nonwhite people pic.twitter.com/FtNcqLIOBq

— MelsLien (@MelsLien) February 4, 2019
2.
Adam Levine is the left shark of this year's #HalftimeShow pic.twitter.com/gkfG8eem09

— The Athlete's Playlist (@AthletesPlylst) February 4, 2019
3.
maroon 5 is a Facebook mom band

— jimby (famous)🧃🐛 (@JimmyWhetzel) February 4, 2019
4.
Theory: They made this halftime this bad in order for the game to look good by comparison.

— (((Harry Enten))) (@ForecasterEnten) February 4, 2019
5.
https://twitter.com/chloebryan/status/1092229471460081664
6.
https://twitter.com/DanaSchwartzzz/status/1092231236062330881
7.
That halftime show sounded like the playlist at Chili's.

— FK (@FunKelly) February 4, 2019
8.
https://twitter.com/SeanClements/status/1092231227073941506
10.
Maroon 5: "If you're listening to us, you've given up"

— pixelatedboat aka "mr christmas" (@pixelatedboat) February 4, 2019
11.
Adam Levine dancing to Sicko Mode #superbowl pic.twitter.com/cZvTIINt43

— Stephanie McNeal (@stephemcneal) February 4, 2019
12.
adam levine looks like a human hollister cologne

— Hannah Giorgis | ሀና ጊዮርጊስ (@hannahgiorgis) February 4, 2019
13.
https://twitter.com/MartysaurusRex/status/1092231116092665856
14.
I don't want to spoil the ending of the halftime show but whatever: Adam Levine throws a handful of CVS gift cards at the crowd.

— Louis Virtel (@louisvirtel) February 4, 2019
15.
I no longer have a crush on Adam Levine and feel great relief at this time

— Megan Reynolds (@mega_hurt) February 4, 2019
16.
I know nothing about Maroon 5, but I did recognize that last song because I have often been to Walgreens.

— phillip anderson (@phillipanderson) February 4, 2019
17.
Adam Levine trying to dance to sicko mode #SuperBowlLlll pic.twitter.com/ObN6bB2Wa6

— Lil Affirmative Action Hire (EJ) 🇲🇽 (@erickdaRed) February 4, 2019
18.
Adam Levine looks like if Target designed a rock star.

— Claire Suddath (@clairesuddath) February 4, 2019
Viewers were also very unhappy that the clip of Spongebob's "Sweet Victory", an ode to Stephen Hillenburg's recent passing, was only played for a few short seconds.
19.
Who did the #Superbowl Halftime better?
Retweet for Spongebob
Like for Adam Levine pic.twitter.com/e4wClGIs70

— Jon (@MrDalekJD) February 4, 2019
20.
https://twitter.com/HaydenBush98/status/1092245498780540929
21.
Well Spongebob made a brief appearance but no Sweet Victory… Way to phone it in super bowl 53 🙄#SuperBowl2019 #PepsiHalftime #SpongeBobSuperBowl #spongebobdeservedbetter

— EtotheP (@ethe_destroyer) February 4, 2019
22.
Adam Levine dancing next to Travis Scott #SuperBowl pic.twitter.com/TFr6fn4nnc

— Lo (@littIe_lo) February 4, 2019
23.
Watching Travis Scott interrupt Sweet Victory at the #SuperBowl2019 pic.twitter.com/GCDa2s8hCk

— _Deezo_ (@TheRealDNichols) February 4, 2019
We can only hope 2020 will be a better Super Bowl year.