If fantasy football isn't your thing, but Game of Thrones and cutthroat inter-office competition is, then this recent Reddit post from u/xsupajesusx (AKA 'Max') is right up your alley.
Max shared a photo of a pool his boss organized in preparation for the eighth and final season of GoT, and to call it anything less than brilliant would be a lie. He wrote, "My boss made a GOT prediction sheet for all the fans at work. I feel like we are filling them out like people fill out their March madness brackets."
(If you aren't caught up, LOOK AWAY.)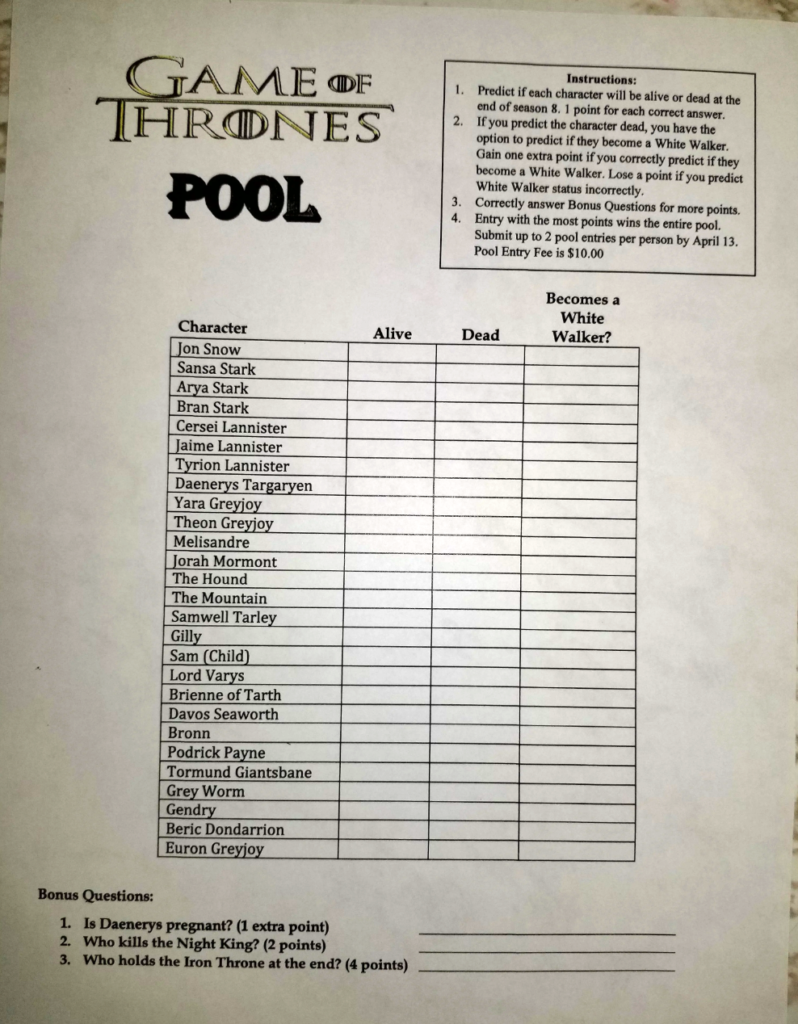 The chart is comprised of a list of various characters, and next to each name three columns that read "alive," "dead" and "becomes a white walker?" respectively. Employees pay $10 to enter the pool and must mark in the corresponding column what they believe will be the fate of each character. They gain a point for each one guessed correctly and lose a point for each incorrect guess.
Bonus questions below read, "Is Daenerys pregnant" (yes), "Who kills the night King?" (Jon Snow) and "Who holds the Iron Throne at the end?" (Dany??? HOT PIE???)
After an influx of demand, Max posted the sheet online for other offices to use. He explained that his boss "is the best" and that he works at a veterinary hospital, in case you're wondering.
Redditors shared jokes and questions.
GentleLion2Tigress wrote:
Jon Snow needs two more columns, add 'alive again' and 'dead again' with the first two checked off.
agent_uno wrote:
"Also needs bonus questions of 'Is Sansa pregnant?' and "If so and carried to term, will she raise it as her own?' or 'Will the Boltons try to kidnap it?'"
As well as dozens of their own predictions for Season 8.
faisca2 wrote:
"I just ran down this list in my head and I'd bet on 75% of this list being dead by the end."
411inthe412 wrote:
"I'll go all in with the Mountain alive. I'm really good at gambling."
customerservice_28 wrote:
"I think Jon becomes the night king, sacrifices himself."
While YerDaDoesTheAvon thinks:
"I think Bran becomes the night king, as a closed loop, which is how the night king knew where bran was in the visions"
Many pointed out how notably missing from the character list are Missandei, along with Qyburn (sooo dead), Lyanna Mormont, Drogon and Rhaegal, Nymeria and Ghost, Daario, Dolorous Edd, and Hot Pie.
And yes, we know: When someone dies they don't become a White Walker, they become a wight.
Who do YOU think will live, die, and wight?