Lots of folks dream about the delicious meals served on Thanksgiving Day, but not I. I know better—and now you will too. Once you see this utterly gross Thanksgiving food, you will race to the nearest pizzeria for the most comforting slice imaginable.
The only thing I got when my Norwegian grandmother died was her allergies and her satanic cookbook. In that everything is from hell in it. pic.twitter.com/IX3417fEnh

— CynicalTherapist (@CynicalTherapi1) November 23, 2019
I'm just kidding, though these Thanksgiving recipes are pretty horrendous. But let's celebrate Thanksgiving creativity instead of Thanksgiving cruelty. Let's rebrand by designating Thanksgiving a day where people come up with most wackadoodle dishes they can imagine and just laugh about them. And thank each other. For being weird.
That's kind of what this viral twitter thread is about. Laughing with horror at the evolution of what was considered "fancy" or "delicious" food. You know someone's going to laugh about our kale salads today. I already am.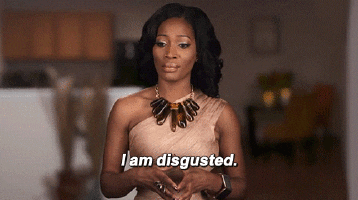 Enjoy this list of atrocious and gross Thanksgiving food made with love. May your Thanksgiving meals this year be batsh**t crazy.
i cannot wait to hear about the recipes you're all excited to make for thanksgiving but i am also here to hear about the weird inexplicable retro family recipes that end up on your thanksgiving table per tradition or nostalgia or whatever.

— maya kosoff (@mekosoff) November 23, 2019
ours is a wild creation called seafoam salad. i thought this was a normal thing every family made and served for thanksgiving next to the turkey and the stuffing until i was 18. pic.twitter.com/xE7mQ8W99R

— maya kosoff (@mekosoff) November 23, 2019
1. This Green Blob
That awful lime green jello "salad" with crushed pineapple, cottage cheese and walnuts… every single year. None of us kids ever ate it. pic.twitter.com/KJdZfo9bK1

— Marie Chestnut ⚜ (@mobunny) November 23, 2019
2. Pear "Salad" With Iceberg Lettuce
This reminds me of the Pear "salad" my mom used to make growing up. We never had a cherry on top but it was served on a bed of lettuce (iceberg obviously). pic.twitter.com/78z9viniyN

— I'm Betty Blackwell (@mjprestarri) November 23, 2019
3. Cream Cheese With Shrimp?
Block of cream cheese on a plate. Top with a jar of cocktail sauce and a healthy portion of bay shrimp. Dip with Ritz. I just eat the shrimp and cocktail sauce with a water cracker.

— bliccy (@bliccy) November 23, 2019
4. Boiled Eggs Smothered In Campbell's tomato soup
God knows why my grandmother from Alabama insisted on creoled eggs. Sliced boiled eggs smothered in Campbell's tomato soup topped with bacon.

— Dog. Beer. Rinse. Repeat (@Andy_Langston) November 23, 2019
Please sign the attached waiver before cooking at your own risk. My uncle compiled many of her recipes before she died. I learned to love Southern cooking growing up in Alabama from the many great women in my family. pic.twitter.com/dxOs7DHebJ

— Dog. Beer. Rinse. Repeat (@Andy_Langston) November 23, 2019
5. Meatballs By Way Of Welch's Grape Gelly
I personally cannot put this near my mouth but I once witnessed a distant relation by marriage make "meatballs in brown sauce" by dumping frozen meatballs, a can of mild salsa, and a jar of Welch's grape jelly into a crockpot. It's "brown"

— Alissa Wilkinson (@alissamarie) November 23, 2019
6. "Ambrosia Salad"
I've seen it mentioned in this thread: green jello salad or my aunt called it ambrosia salad. Here she is in action sometime in the 80s in our family cookbook. It says crushed pineapple 'untrained' should be undrained. Trained pineapple is a whole different deal. pic.twitter.com/xtaVc7GDeD

— Stephanie Scott (@StephScottYA) November 23, 2019
7. Canned Tuna With…Things
I have repeatedly been exposed to "Tunies": canned tuna mixed with margarine and a shelf-stable jar cheese, then baked on an English muffin. One year they were burned. A burned English muffin is its own kind of violence, but a burned Tunie? Forever seared in my sinuses.

— Ellen DeCandia (@ellendecandia) November 23, 2019
8. Bologna Cake
Boyfriend made this for my family's Thanksgiving last year. It's a bologna cake with ranch cream cheese icing. It was pretty good. pic.twitter.com/uNLblLvI9n

— HOMODEMON️‍ (@jaymesPRS) November 23, 2019
9. An "Ungodly Frittata"
This has nothing on @jakatak4's Party Cheese Salad: Lemon Jello, crushed pineapple, walnuts, cream cheese, Cool Whip, green bell peppers, pimentos, and shredded American cheese. Looks like some sort of ungodly frittata. pic.twitter.com/BbsqKpVukV

— 3rdGeneration GermanAMERICAN (@Rev_Dr_Robert) November 23, 2019
10. Magic Tomato Soup Cake
My grandmother, who had zero cooking skills, used to make this every holiday.
While I miss her presence at the table, I'm definitely happy we don't have to pretend to enjoy this abomination anymore. pic.twitter.com/h2gHrOJctV

— Jennifer Volpe Douglas (@Volpinator1) November 23, 2019