Fast-food workers are badly paid and treated like crap by customers, which is why a lot of people jumped on TikToker Crysten Chyvonn's back after she posted about her bad Wendy's sandwich.
In her defense, it's a really bad sandwich.
The first part of her story that she shared on TikTok revealed that she ordered a chicken sandwich combo meal, with extra mayo. It's also supposed to come with lettuce and tomato.
What she got looked more like a mayo sandwich, and she didn't realize it until she was already home.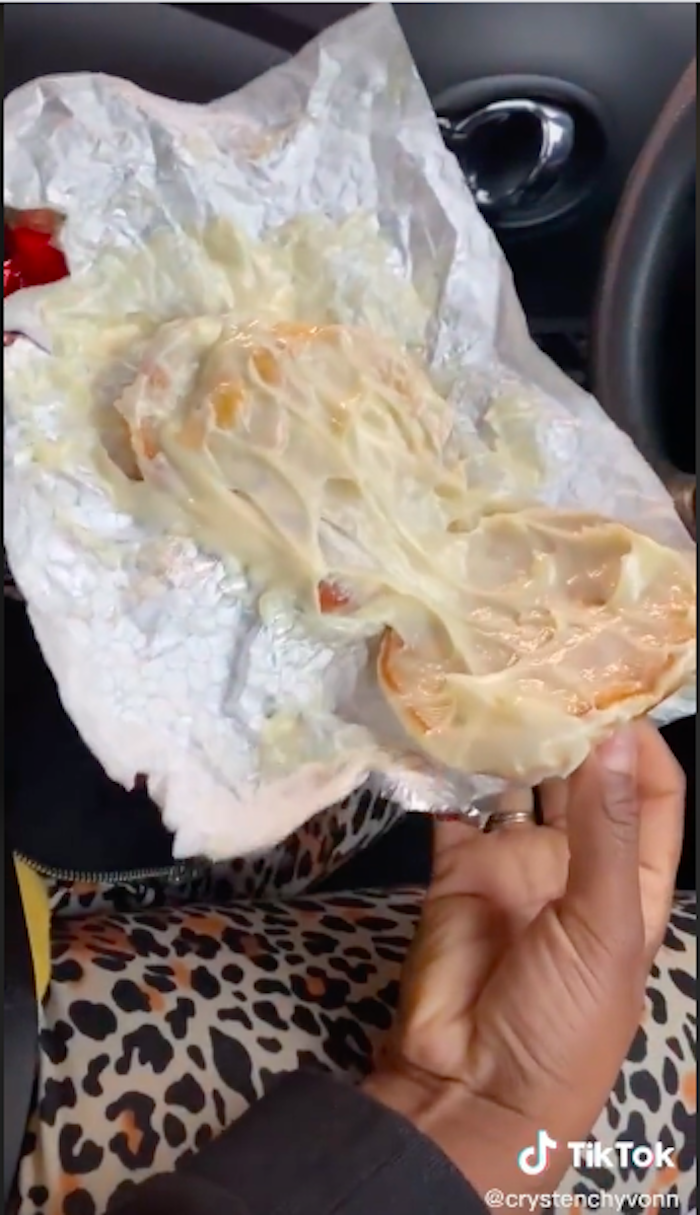 "Look at this sh-t, now I'm finna drive right back up there, and go off on her," she says.

The comments on the initial video are pretty mixed. Most people kept repeating some variation on "well, you asked for extra mayo" and others were completely on her side, saying that this was obviously on purpose.
Others were hesitant to back up Chyvon because she had mentioned one of the workers kept getting her order wrong and they wondered if it was something she said.
Also, it's a terrible job? Maybe Chyvon is rude and demanding and we, the viewers, have no way of knowing if this mayo sandwich was a long time coming.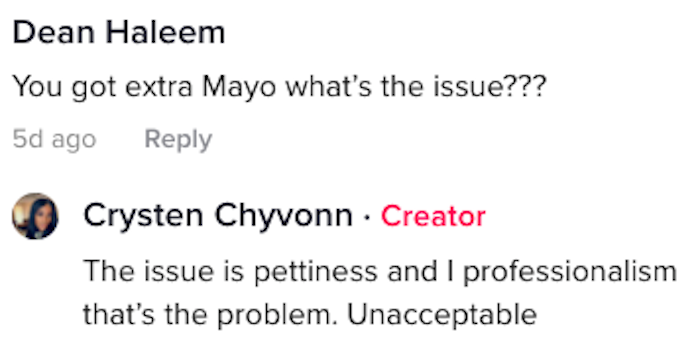 She made a TikTok in response to a comment telling her to leave them alone and said that the first teller she spoke to didn't have any issue with her chicken order. They kept mixing up her nugget order until someone else stepped in to handle it.
"I go there all the time and ask for extra mayo on my sandwich," she said. "It never looks like that. That's unacceptable."
She posted a video of her confrontation with the workers. In the comments, she says she "didn't scream and fight," she just got her money back. She does sound pretty pissed though and claims that teens could be heard giggling in the background, implying it was at her mayo sandwich.

Overall, I'd be inclined to side with Chyvon, because it does seem like her sandwich was sabotaged. But then there's this throwaway comment she doesn't address anywhere else that seems to say the worker who did it was fired?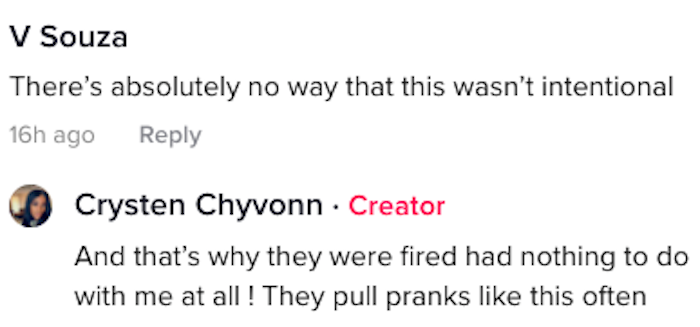 Yikes. I'd have kept that to myself.