Kids have no filter. So the words that they spout are often hilarious, either because they're blunt and honest, incredibly rude, or just plain bananas.
They might loudly proclaim that the nice lady at the supermarket is "SO OLD!" or ask you why a unicorn is so horny.
They might hide under their beds because their blanket looked at them funny or cry for an hour because they miss their own poop.
Then there's the top-notch whining of kids who want to come home early from summer camp, the disproportionate freakouts of kids who didn't get exactly what they wanted, and the whimsical observations of kids whose powers of imagination haven't yet been crushed by the cynical adult world.
Whatever it may be children never cease to amaze us with the verbiage that issues from their partially formed brains.
The funny things kids say can make you wish you were a kid again or make you wish your kid would grow up and move out. It all depends where you fall on the Grinch-meter really.
Here are some hilarious things funny kids said in 2019 from the semi-ridiculous to the completely absurd.
1.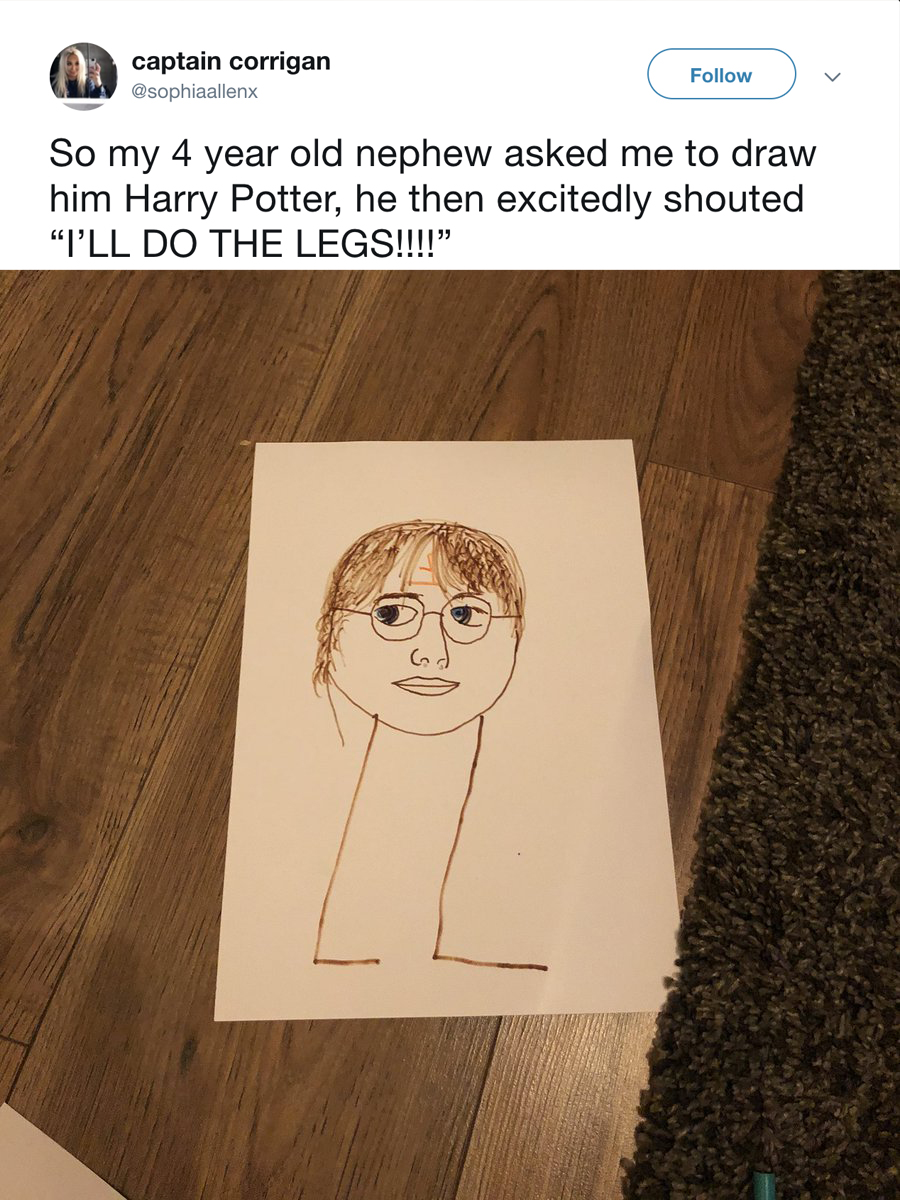 2.
my three year old niece ordering the jacket potato then crying when it arrived because she thought it was a potato wearing a jacket was the highlight of my night like

— maisey davison (@maiseydavisonx) September 28, 2019
3.
My child is throwing a fit.

Reason: Didn't get to see her poop before grandma flushed it down the toilet.

Grandma is apologising profusely.

Lea is refusing to be assuaged, she just wants her poop back.

It's been 20 mins.

Did you take your birth control?

You're welcome.

— Zino Ennaku (@ynalu_UK) May 8, 2019
4.
my niece has been moaning that she hasn't had a valentines card so my brother sent one signed '?' And she has been crying for hours saying she's got a stalker

— mollie banks (@_molliebanks) February 7, 2019
5.
View this post on Instagram
6.
We cracked the code to potty training our daughter. Spider man underwear. It took her picking out her own Spider-Man underwear to completely potty train herself. She won't have an accident because she "can't go potty on Spider-Man". I can't believe that's all it took lol

— sammy (@sammylynn_) November 22, 2019
7.
My eight year old has started talking back and then saying (outloud) "hashtag roasted" and dabbing. Not one of the parenting books prepared me for this.

— Ally (@TragicAllyHere) June 23, 2019
8.
View this post on Instagram
9.
My kids have had two fish and named them Dave and Dave.

I asked them how they can tell them apart and my youngest son said 'One of them is Scottish, so you pronounce his name differently.'

I mean. What do you say to that?

— Dr. Jessica Taylor (@DrJessTaylor) September 23, 2019
10.
yesterday morning after his soccer game, my 6 year old asked me how come the other team gets to change the color of their jerseys every week, while we always had to wear purple. when i explained that, in fact, we were playing against different teams each week, his mind was blown.

— Daniel Alarcón (@DanielGAlarcon) May 5, 2019