11.
In the best yet things-my-nephews-have-done, the 7 year old ordered a burger today, and was asked if he wanted it medium. "Could you please make it very large?" he asked. Told that the choice was between medium or well done, he asked if the chef could do the best he could. Yes.

— Andy Kesson (@andykesson) August 16, 2019
12.
me, laying on the couch

toddler: dad, I didn't go peepee anywhere. I want you to know I didn't.

me, getting off the couch

— Henpecked Hal (@HenpeckedHal) September 12, 2019
13.
Was on the bus the other day and two kids about 10 were in front of me. One of them said that his parents won't let him get a dog so he used to stare at the sun to try make himself blind so he could get a guide dog. No doubt he was waffling but you have to admire his imagination

— Joey D'Arcy (@JoeyDarcyy) March 11, 2019
14.
[At dinner]
Daughter: Daddy, how much of this meatball is meat?
Me: Probably like 90%
D: So it's 10% balls?
Me: *spits out food*

— Tim (@Playing_Dad) January 3, 2016
15.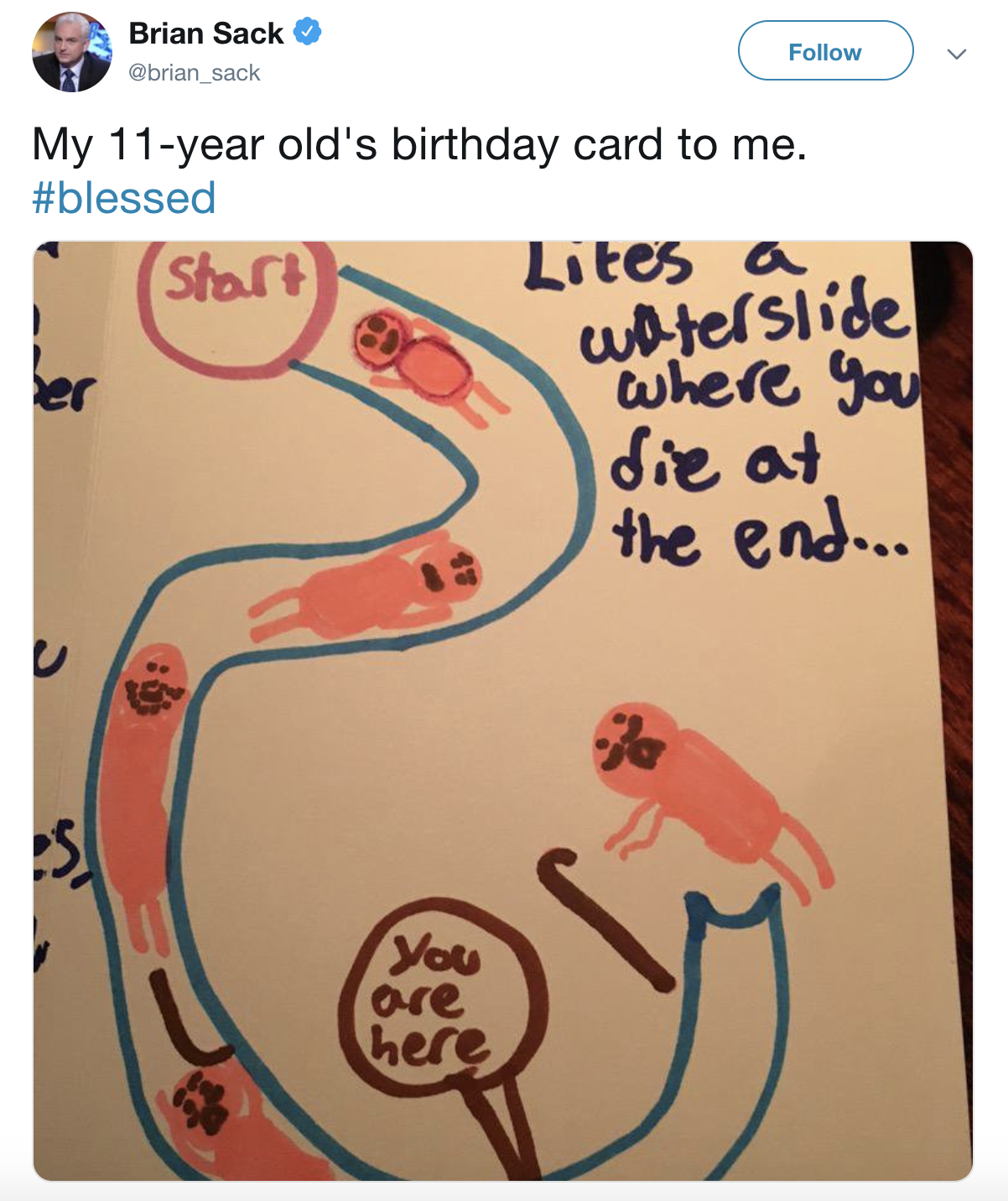 16.
4: Mama, I'm not feeling so good.

Me: What's wrong baby girl?

4: I haven't had spaghetti for so long my stomach misses it. Listen, *puffs up belly* you can hear my tummy cry.

— Mrs. Lucero (@cafchaosgrace) January 31, 2019
17.
I was arguing with my husband and my son screamed "yay! TWO christmases!" from the other room.

— JennyPentland (@JennyPentland) May 6, 2017
18.
4-year-old: Can I have some of your candy?

Wife: I got this for Mother's Day.

4: You're only a mom because of me.

— James Breakwell, Exploding Unicorn (@XplodingUnicorn) May 13, 2017
19.
My kid just called Fruit Loops "Pride Cheerios" and I've never been happier in my life that this little dude calls me mom.

— OutnumberedMother (@OutNumbMother) September 5, 2018
20.
I'm not saying that my daughter is overly dramatic.
I'm just reminding you that she calls tears "wet drops of sad."

— Kim Bongiorno (@LetMeStart) March 29, 2016