Remember back in grade school when you needed teacher approval to do anything or go anywhere outside of the classroom? And any freedom was contingent upon receiving the holy grail—a hall pass.
Typically, it came in the form of a piece of paper or a laminated card, but a lot has changed since those days. In fact, teachers in 2019 are outrageously creative with their hall passes and these are a few of the best ones we've seen so far.
1. The toaster.
@Mr_Osborne_MTZ I think you need to step up your hall pass game a little bit🤔😂 pic.twitter.com/XeSGdnW0yU

— Colton Allen🗝 (@_coltonallen_) September 20, 2018
2. This straight up cinder block.
Only Grif would make you use a cinder block as a hall pass #gfhsprobs pic.twitter.com/ds7s1LRGI1

— Kaden Sukut (@Kaden_Sukut) December 1, 2015
3. A bottle of dish soap.
My teacher lost her restroom pass so she gave me this….. pic.twitter.com/k8ksWJb0bk

— Øscar (@oscaryanez_) April 20, 2016
4. Just a giant lamp.
Couldn't find Mr. Baker's bathroom pass so I took his lamp instead. #ReallyBrightenedUpTheRoom pic.twitter.com/e4UzL0i1le

— Ashton Winters (@a_winters7) March 9, 2015
5. This muscular bust.
https://twitter.com/creamyculture/status/994230233787232257
6. A Nintendo controller.
are bathroom pass in my class is legit a gamecube controller pic.twitter.com/Mbeey0HhJY

— Wally #BLM (@RadSpaceGator) April 17, 2018
7. This standard pencil.
Just want to showcase the largest bathroom pass ever! Haha – Mr. Jackson! pic.twitter.com/B5dsW2bPPI

— Joshua Guthrie (@MrGuthrieWCS) December 20, 2017
8. A traffic cone.
I asked to go to the bathroom & this is the teacher's hall pass pic.twitter.com/g9cpMKDc2s

— ✰ maggie ✰ (@itsmaggiebates) February 15, 2018
9. This old school floppy disk.
My History teacher uses a floppy disk for her hall pass pic.twitter.com/kHL2HGjMxF

— Whoa City (@whoacity) September 20, 2018
10. A block of ice.
Someone stole Stewart's hall pass, froze it and gave it back 😂😂😂 pic.twitter.com/bt1nLI9SqG

— nikko rodriguez (@30_nikko) May 24, 2016
11. This hilarious teacher selfie.
Y'all.. my teacher got a new hall pass😭😂 pic.twitter.com/Y8cETDxuWU

— lil pimp😮‍💨 (@queen_halooo) March 24, 2017
12. A clever meme.
This cracks me up. This is a picture of Cardi B a popular rapper, when she was a little girl. One of our teachers made this her hall pass. I bet the kids love it! #itcreswellmnps pic.twitter.com/ZjMDkJiHxT

— Creswell Middle Arts (@ITcreswellmnps) August 9, 2018
13.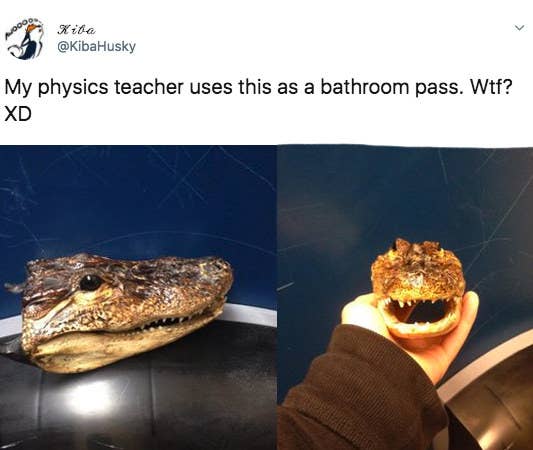 14. A whiteboard.
my study hall teacher is really extra with his bathroom pass pic.twitter.com/nLFz7Sell7

— amanda (@buteraqrande) December 7, 2017
15.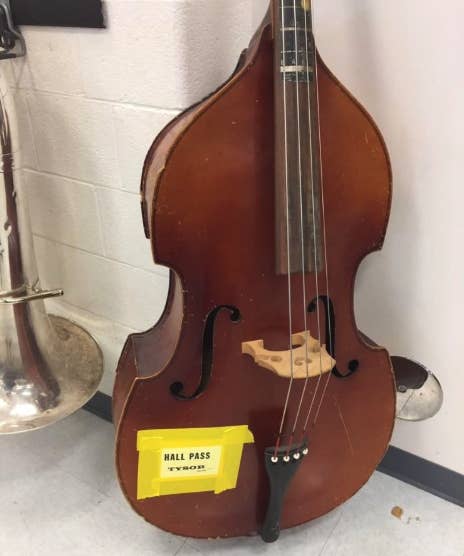 16. A trumpet.
https://twitter.com/ginger_mp4/status/989954766150172673
17.
18. A chair.
are bathroom pass in my class is legit a gamecube controller pic.twitter.com/Mbeey0HhJY

— Wally #BLM (@RadSpaceGator) April 17, 2018
19. This life-size bear.
New bathroom pass for 18-19 school year. She's 7ft tall and needs a name 🤔 pic.twitter.com/CRZeoooUCI

— Nathan Burcak (@CoachBurcak) September 27, 2018
20. A giant bowling pin.
my bathroom pass for art is literally a heavy ass bowling pin and when I walk around everyone looks at me ugh my teacher is so extra pic.twitter.com/c9arfmfg7W

— riny (@folklorexcx) May 17, 2018
21. This toilet seat.
this teacher got me caring around this as a hall pass,lawwwd the struggle pic.twitter.com/greUnLgT

— Ray✨ (@OVOheartssx) August 9, 2012
22. An oar?
This is my math teacher's hall pass thing- pic.twitter.com/xU78r7TnWu

— Patton Sanders ⭕🐶 (@Alex_IsGendrfld) November 9, 2017
23. This little tree.
Bathroom Pass #LoveThis pic.twitter.com/3dUTD7noa7

— Ann Schroeder (@schroeder_ann) May 3, 2018
24. A giant trash can lid.
} this big ass lid is the hall pass for my art teacher i cannot i physically cannot pic.twitter.com/9izLEe1unc

— 𝑪𝒉𝒂𝒓𝒍𝒊𝒆! (@RcgretfulAgent) February 13, 2018
25. A smiling Burt Reynolds.
Our classroom Burt Reynolds bathroom pass has taken on new meaning today… #RIPBurtReynolds pic.twitter.com/LRsE2hYumU

— The 1988 project (@1988project) September 7, 2018
26. Just a rock.
the art teacher really gave me a rock as the hall pass pic.twitter.com/gMKNACBnH7

— skylar (@skyl9r) August 30, 2017
27.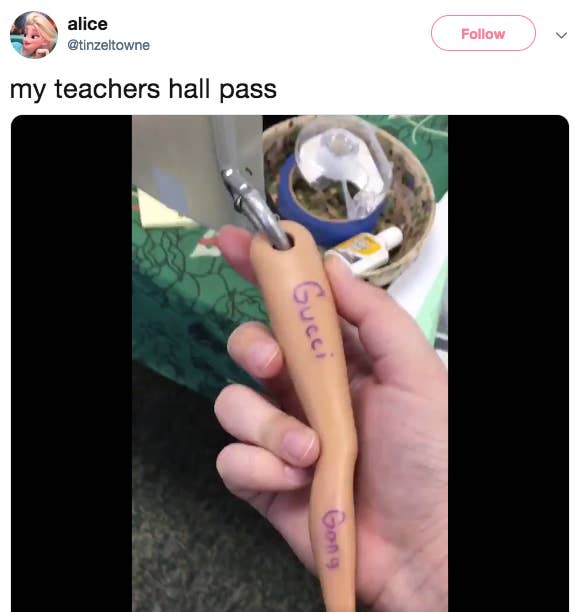 h/t BuzzFeed