I think we can all agree that millennials are just the worst. We feel entitled to every little luxury like access to public health care and having a roof over our heads—who do we think we are?
Ask any Baby Boomer you can find. Millennials are lazy, self-centered, and we put perfectly good establishments like JC Penny's and Office Depot at risk. How our generation has fallen so far from the tree is beyond me.
These are just a few of the many indisputable reasons why millennials are the worst.
1. They're incredibly stuck up.
Millenials. Walking around like they rent the place.

— Spence (@SpenceDen) January 3, 2018
2. They have no idea how to save money.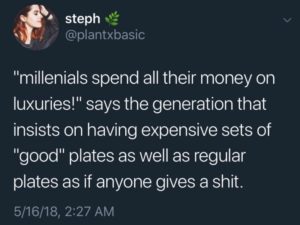 3. Seriously.
"Millennials are so entitled" says BabyBoomerBarbara as she loses her shit when the waiter takes longer than 30 secs to get her drink order

— alexis 👻 (@alexisclairefit) August 10, 2017
4. Everything comes so easy to them.
"kids these days have it too easy" said the generation that could buy a house on a wage from unskilled work at age 21

— sophie thompson (@sophxthompson) January 13, 2016
5. They're blatantly disrespectful.
absolute myth that us young folk are the ruder generation just offered a prehistoric dinosaur my seat and she replied 'i've got legs you know' haha you won't in a minute you old bat

— Catherine Bramley (@cathbramley99) May 17, 2018
6. Millennials are way too sensitive.
"This generation can't take a joke"

Our entire generation laughs at fucking internet memes all day long we just don't like racist jokes

— bee (@ahoybailey) August 22, 2015
7. They spend too much money on brunch.
Maybe if millennials spent less on brunch and more on particle physics research they could travel to 1974 and afford a house. Just a thought

— Brooks Otterlake (@i_zzzzzz) October 16, 2016
8. Millennials are easily offended.
9. They have little to no aspirations.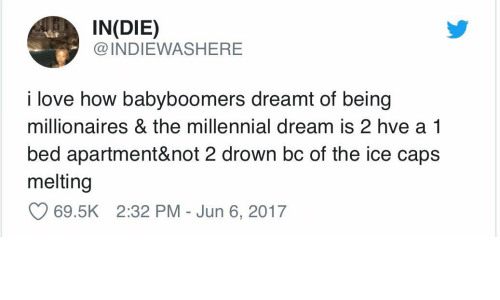 10. These youngsters don't even have diamonds.
Too busy filling out job applications that ask them to attach their resume and then enter what's on that same resume on the next page. https://t.co/94XmGcxUWj

— Harriet Tubman has left the chat (@Steph_I_Will) May 20, 2017
11. Their sense of style is questionable at best.
Baby boomers blame millennials for everything BUT WHO PUT CARPET OVER ALL THESE HARDWOOD FLOORS PATRICIA

— Mrs. Math Teacher (@MrsMathTeachr) March 4, 2018
12. They have no self-control when it comes to spending.
This dude got his start by borrowing $34,000 off his grandfather yet he wants to lecture others about their spending habits. Okay dude https://t.co/hWu4o6wjiz

— Brooke Binkowski (@brooklynmarie) May 15, 2017
13. Seriously, none.
14. And they're destroying our favorite stores.
"millennials killed department stores" baby boomers killed the polar bears but right right right my deepest apologies to jc penny

— giabuchi (@jaboukie) June 4, 2017
15.
If I had a dollar for every time a BabyBoomer complained about my generation, I'd have enough money to buy a house in the market they ruined

— Talia Outwrong (@talzir) March 15, 2015
16.
baby boomer: why r there holes in ur jeans? u rip those urself?

me (smart & woke): why r there holes in the ozone? u rip those urself?

— ʟᴜᴄᴀ ʟᴜsʜ (@LUCALUSH) October 6, 2016
17.
Baby boomers be making 170k a year and don't know how to rotate PDFs

— Dennis Celery (@LCyance) November 16, 2016
18.
#HowToConfuseAMillennial Crash their economy and then condescendingly ask why so many of them are living with their parents.

— Chinedu, Your Neon Lights Will Shine (@Notintheface1) September 4, 2016
19.
My dad is a loud climate change denier but also won't retire in south Florida cuz "it's going to sink into the ocean" lol baby boomers are fun

— Valerie (@ValeeGrrl) March 21, 2018
20.
Baby boomers talk a lotta shit for a generation that always needs help connecting to the wifi.

— Lauren West (@laurenwest) March 7, 2018
21.
"millennials are idiots" – the generation that made a millionaire out of the creator of the pet rock

— my pal andy (@andylevy) August 13, 2015