2018 ain't over yet, so there is certainly still time for a lot more idiocy to go down. And we aren't even talking politics here! The following list deals almost entirely in celebrities and viral Internet stories that seeped their malodorous way into The Real World.
It was a difficult list to compile. Some stories were only fleetingly dumb. Some stories were objectively not dumb, though my coworkers tried to convince me they were (Lindsay Lohan Mykonos. If you know, you know.)
The point being, our intention wasn't to bum you out, which is why we didn't include stories about how your Oreo addiction is literally making orangutans go extinct.  We did include the following:
1. DJ Khaled Announcing He Refuses To Go Down On Women
This past spring, the Internet was aghast to learn that rapper and motivational Snapchat guru DJ Khaled strictly refuses to go down on women. He explained his oral recalcitrance in an interview with The Breakfast Club originally given in 2015, exclaiming that he was the "king," made the money, and as a result, did not need to satisfy his wife in that way.
"If you holding it down for your woman I feel like the woman should praise. And a man should praise the queen. But you know, my way of praising is called, ha-ha, 'How was dinner?', 'You like the house you living in? You like all them clothes you getting? I'm taking care of your family, I'm taking care of my family…' You know, I'm putting in the work."
When pressed by the interviewer—"So, you're saying you don't go down?"—DJ Khaled emphatically declared, "Nahhh. Never! I don't DO that," several times before clarifying that the same rules do not apply to him.
"It's different rules for men. You gotta understand, we the king. There's some things that y'all might not wanna do, but it got to get done. I just can't do what you want me to do. I just can't."
2. Domino's Offering, Then Cancelling, A 'Free Pizzas For Life' Promotion To Customers Who Got A Tattoo Of Their Logo
Domino's in Russia severely underestimated millennial lack of care concerning our corporeal selves (we don't even need free pizza to get dumb tattoos! We get them all the time, gratis!) when they decided to run a two-month-long promotion offering lifelong free pizza to anyone who got inked with the company's logo.
Just five days in, Domino's was forced to cut the promotion way short as it tightened its rules: The first 350 people to post photos of their tattoos, which needed to be at least 2 centimeters in size, would get 100 medium pizzas yearly. They later announced that 381 people qualified for free pizza in the few days the promotion was running and estimated that over a million people would have gotten the brand logo tattoos had it ran the full two months. It's Russia, after all.
2018's Super Bowl LII was a watershed moment in NFL history: It was the Philadelphia Eagles first win and the event to which Patriots quarterback Tom Brady showed up wearing an utterly confounding but also super-chic gray trench coat.
Tom Brady walking in like a character from Zoolander 5. #Eagles #SuperBowl #FlyEaglesFly pic.twitter.com/9EO5kqT1iV

— Siobhan O'Hara (@SiobhanRois91) February 4, 2018
Twitter went wild with references to Zoolander, Tom Cruise's character in Paul Thomas Anderson's Magnolia, West German techno DJs, and Blade Runner. Pictures of Tom Brady in his fashionable trench were quickly overshadowed by pictures of Tom Brady looking really, really sad after his team lost the Super Bowl later that day.
4. The Laurel/Yanny Debate, AKA, "The Dress" Of 2018
What do you hear?! Yanny or Laurel pic.twitter.com/jvHhCbMc8I

— Cloe Feldman (@CloeCouture) May 15, 2018
The clip above was posted to every social media available. Chrissy Teigen weighed in. The country was torn asunder. Scientists and linguists weighed in and eventually determined that some listeners attend more to the lower frequency range and some attend more to the higher frequency range, and wherever you fall determines whether you hear Yanny or Laurel.
But also, the audio clip originated with a vocabulary website, meaning the *true* answer is "laurel" because the alternative is not an actual word. SORRY.
5. People Eating, Then Vaping, Tide Pods
What started as a terrible joke turned into an Internet challenge, leaving teens with no choice but to, uh, eat laundry detergent in order to prove their…??? Bravery? According to the American Association of Poison Control Centers, there were 39 cases of teens ingesting laundry detergent in the first two weeks of January 2018 (compared to 53 cases in all of 2017). YouTube quickly began removing Tide Pod Challenge videos. The Tide PR team was in a state of crisis. They had New England Patriot's tight end Rob Gronkowski explain that eating Tide Pods was a bad idea.
What should Tide PODs be used for? DOING LAUNDRY. Nothing else.

Eating a Tide POD is a BAD IDEA, and we asked our friend @robgronkowski to help explain. pic.twitter.com/0JnFdhnsWZ

— Tide (@tide) January 12, 2018
The notion that this horrifying challenge could get any worse seemed impossible. Until some dude vaped a Tide Pod. The video, in which the man is seen pouring liquid from a Tide Pod into a vape and inhaling it, was taken down across nearly every social media platform—hopefully before some poor teenager could see it and follow his example.
im tryna figure out how many legs reese witherspoon's got in here, it's been bothering me for the last five minutes pic.twitter.com/u1uQ63sDdd

— marga. (@leiascaptain) January 25, 2018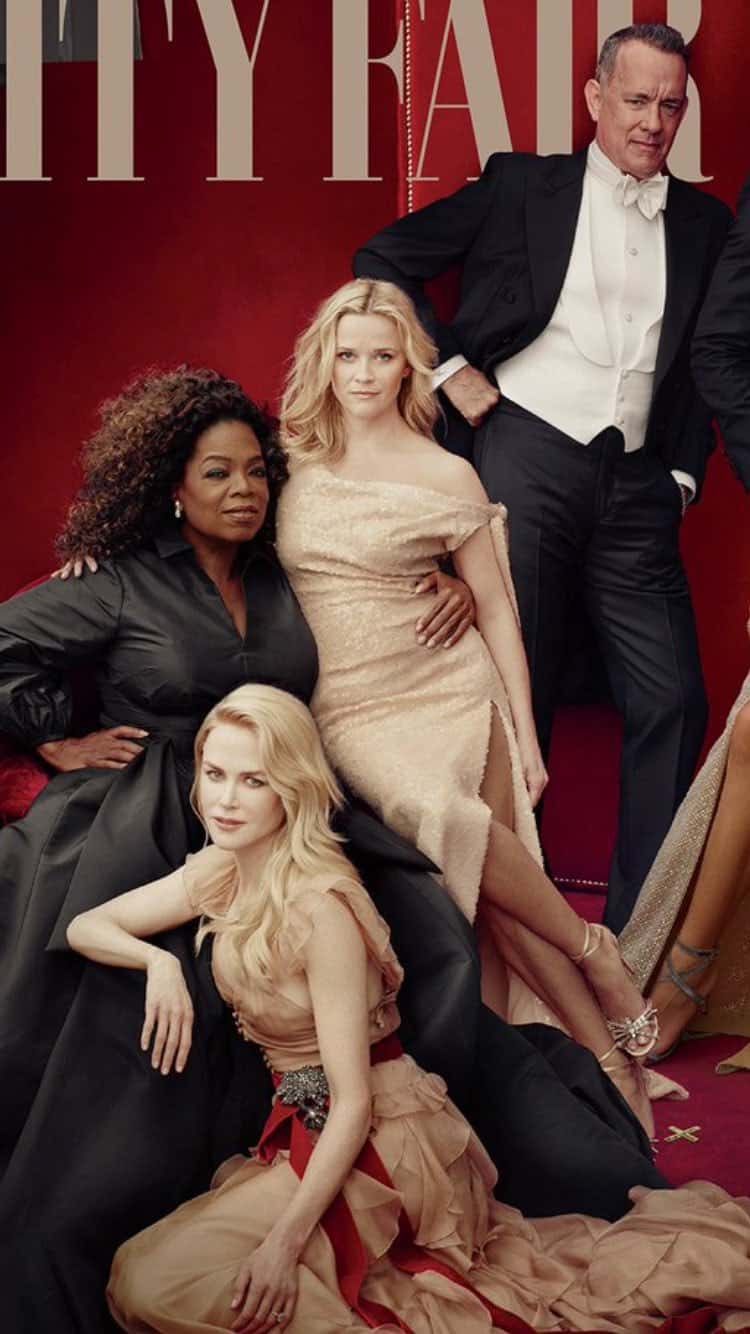 Vanity Fair's January 2018 Hollywood portfolio issue was notable for the legendary actors adorning its cover. But more notable were the Photoshop fails, which bestowed upon Reese Witherspoon three legs and gave Oprah Winfrey three hands.
Also lololol pic.twitter.com/9Vh7z1Dids

— Bob (@DoHoBOB) January 25, 2018
The magazine issued a tweetsplanation, noting that Witherspoon's third leg was merely the lining of her dress, and admitting that Oprah's third hand was, indeed, a SNAFU.
As for @Oprah, how can we expect her to juggle it all with just two hands?
¯_(ツ)_/¯_/¯ (We are correcting this error​ online​.) https://t.co/QNd74YtSTz

— VANITY FAIR (@VanityFair) January 25, 2018
7. Ariana Grande Defending Pete Davidson's "Butthole Eyes"

Back in August, when Pete and Ari were in the very midst of their social-media-saturated infatuation, Barstool Sports published an article about Pete Davidson's "butthole eyes." BS explained that what they meant by "butthole eyes" was "dark circles around the eyes," though they didn't explain the logic behind using such awfully descriptive and rude terminology.
Does Pete Davidson have butthole eyes?https://t.co/tGvTLCmOsd pic.twitter.com/005FFdo39g

— Barstool Sports (@barstoolsports) August 24, 2018
Davidson had at this point quit social media. No matter, because Ari came to his defense on Twitter, writing "y'all do kno this man has an auto immune disease …… right ? ….. like you do understand what you're doing when u do this right ? jus wanna make sure." (Pete Davidson has Crohn's disease, which causes sunken eyes as a result of dehydration.)
Everything about this is dumb. Responding to the article is dumb. Writing it in the first place was dumb. Getting engaged to someone after two weeks of dating is dumb.
8. Alec Baldwin Being A Dad (NOT A Zad(dy)) On His Daughter's Instagram Thirst Trap
Ireland Baldwin, young model daughter of two famous people, posted a spicy bikini-clad photograph of herself atop a motorcycle last August.
The Instagram comments were predictable, until her dad Alec Baldwin made an appearance. "No. Just…no." (Can't you just hear him saying it?)

9. IHOP Temporarily Changing Its Name To IHOb
Dear Internet, we abbreciate your batience. Now let's see who guessed right. B-hold!!!!! #IHOb pic.twitter.com/Fh3SkZ7s3Y

— IHOP (@IHOP) June 11, 2018
Back in June, the International House Of Pancakes announced they would be changing their name from IHOP to IHOb. The company managed to keep people guessing what the "b" could possibly mean until finally admitting what most everyone had already figured out; "b" stood for "burgers."
Soon afterwards, IHOb admitted the "name change" was a publicity stunt to promote their new line of burgers, which, surprisingly, did not catch on. They reverted back to IHOP the following month and confirmed on Twitter that the new burger line is still a go.